When it comes to watches, there are a lot of options out there. From high-end luxury brands to more affordable options, it can be overwhelming trying to find the right one for you. But if you're looking for a watch that offers both timeless style and reliable performance, the Bulova Men's Classic Automatic Leather Strap Watch is definitely worth considering.
Classic Design with Modern Functionality
One of the first things you'll notice about this watch is its vintage-inspired design. The rose gold-tone stainless steel case, domed mineral crystal, and croco-embossed leather strap all combine to create a look that's classic and sophisticated. But while the design may be inspired by the past, the watch's functionality is thoroughly modern.
The watch features an automatic movement that's powered by the motion of your wrist. This means you never have to worry about winding it or changing the battery, making it a low-maintenance option for anyone who wants a reliable timepiece. Additionally, the watch has a hack feature that allows you to stop the second hand when setting the time, ensuring accuracy down to the second.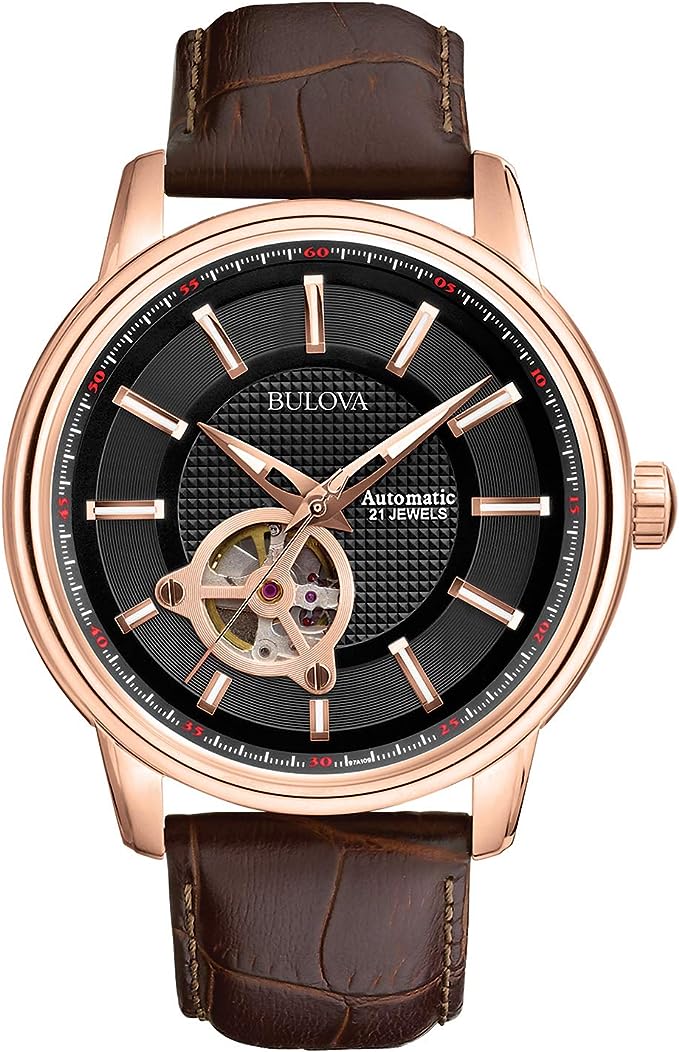 Open Aperture and Exhibition Case Back
One unique feature of this watch is its open aperture dial with exhibition case back. This means you can see the inner workings of the watch from both the front and back, giving you a better understanding of how it operates. It's a great conversation starter and can provide hours of fascination for watch enthusiasts.
Luminous Hands and Markers
Another practical feature of this watch is its luminous hands and markers. This makes it easy to read the time even in low light conditions, which is particularly useful if you plan on wearing the watch during nighttime activities.
Water Resistant and Limited Warranty
Finally, the Bulova Men's Classic Automatic Leather Strap Watch is water resistant up to 30 meters. While this doesn't make it suitable for deep-sea diving, it does mean you can wear it while swimming or doing other water-based activities without having to worry about damaging it.
And if you're concerned about the watch's durability, you'll be pleased to know that it comes with a 3-year limited warranty from Bulova. This means you can have peace of mind knowing that your investment is protected.
Conclusion
Overall, the Bulova Men's Classic Automatic Leather Strap Watch is an excellent choice for anyone who wants a stylish and reliable timepiece. Its vintage-inspired design, modern functionality, and practical features make it a versatile option that can be worn in a variety of settings. And with its open aperture and exhibition case back, it's a watch that's sure to draw attention and spark conversation wherever you go.
So if you're in the market for a new watch, be sure to consider the Bulova Men's Classic Automatic Leather Strap Watch. It's a piece of American craftsmanship that's sure to stand the test of time.
Price: $231