When it comes to watches, few brands have as much history and prestige as Bulova. Founded in New York City in 1875, Bulova has been a leader in watchmaking for over a century. The company's commitment to quality and innovation has made it a favorite among collectors, enthusiasts, and everyday wearers alike.
One of Bulova's latest offerings is the Men's Automatic Watch (model number B09DJD28KF). This watch showcases the brand's signature style and attention to detail, with a sleek stainless steel case and bracelet and an automatic movement that keeps accurate time without requiring a battery change. In this article, we'll take a closer look at what makes the Bulova Men's Automatic Watch a true classic.
Design and Construction
The first thing you'll notice about the Bulova Men's Automatic Watch is its elegant design. The silver-tone stainless steel case measures 42mm in diameter and is 12.3mm thick, making it a versatile size that looks great on a variety of wrist sizes. The brushed finish gives the watch a modern, understated look, while the polished sides add some shine and visual interest.
The dial of the watch features a black sunray finish, which creates a subtle texture that catches the light in different ways. The hour markers and hands are all applied and coated with luminous material, making them easy to read in any lighting conditions. A small date window is located at the three o'clock position, adding an extra layer of functionality to the watch.
One of the standout features of the Bulova Men's Automatic Watch is the exhibition caseback, which allows you to see the inner workings of the watch. The rotor, balance wheel, and other components are all visible through the sapphire crystal window, giving you a glimpse into the complex mechanics that power the watch.
The bracelet of the watch is also made of stainless steel and features a fold-over clasp with a push-button release. The bracelet is adjustable, so you can ensure a comfortable fit on your wrist.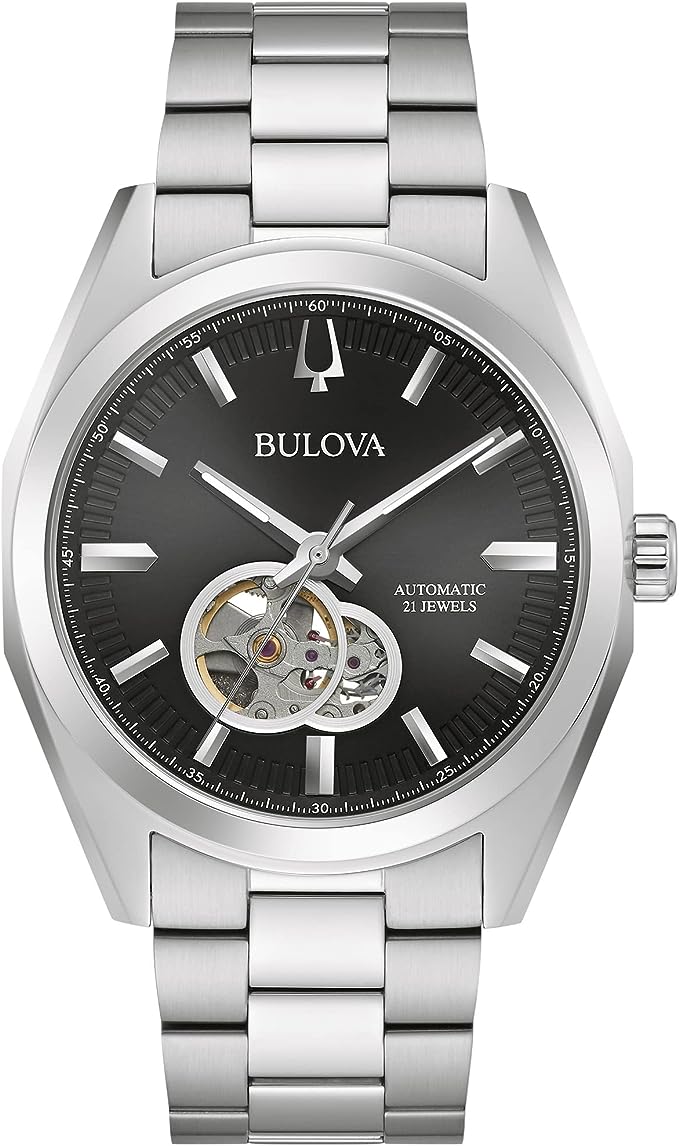 Movement and Performance
The Bulova Men's Automatic Watch is powered by an automatic movement, which means it winds itself as you wear it. This eliminates the need for a battery change and ensures that the watch keeps accurate time as long as it's being worn. The movement has a power reserve of up to 40 hours, which means you can take the watch off for a day or two without having to reset the time.
The movement has a frequency of 21,600 vibrations per hour (or six beats per second), which is standard for most mechanical watches. It also has a hack feature, which means the second hand stops when you pull out the crown to set the time. This makes it easy to synchronize the watch to a reference time, such as an atomic clock or another timepiece.
Water Resistance
The Bulova Men's Automatic Watch is rated water-resistant to 100 meters (or 330 feet). This means it can withstand splashes, rain, and even swimming or snorkeling, although it's not recommended for scuba diving or other deep-water activities. The screw-down caseback and crown help to ensure a watertight seal, while the sapphire crystal is scratch-resistant and durable.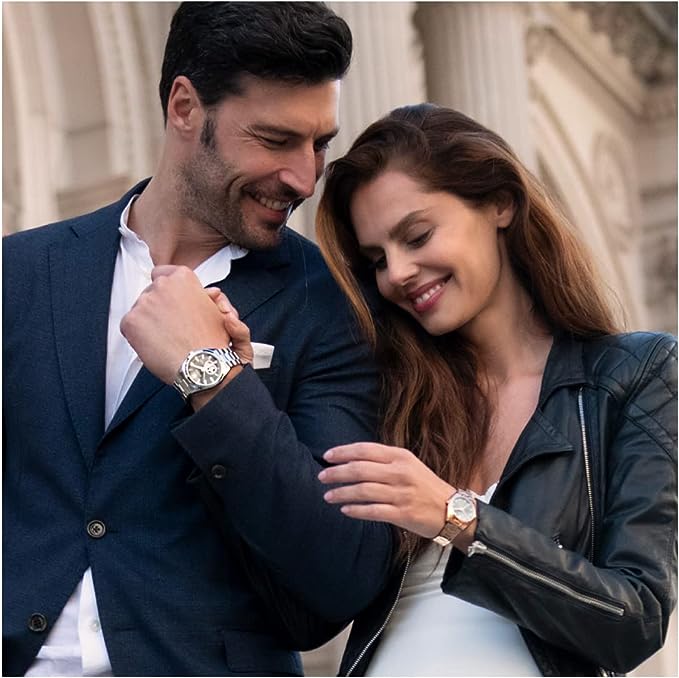 Price and Value
The Bulova Men's Automatic Watch is priced at [insert price here], which may seem steep compared to some other watches on the market. However, when you consider the quality of the materials, the precision of the movement, and the attention to detail in the design, it's clear that this watch offers excellent value for its price. Plus, when you buy a Bulova watch, you're investing in a piece of history and craftsmanship that will last for years to come.
Conclusion
In conclusion, the Bulova Men's Automatic Watch is a timepiece that combines style, functionality, and craftsmanship in one package. Whether you're a watch collector, an enthusiast, or simply looking for a reliable and sophisticated everyday watch, the Bulova Men's Automatic Watch is worth considering. With its automatic movement, exhibition caseback, and water resistance, this watch offers a level of performance and durability that's rare in watches at this price point. So why not add a piece of history to your wrist?