Finding the perfect fitness watch can be a daunting task, especially with so many options available on the market. However, the Casio G-Shock G-Squad GBD-100-1ER may just be the ultimate fitness companion you've been searching for. Designed with durability and functionality in mind, this watch offers a wide range of features that cater to both casual users and serious athletes alike. In this review, we will explore the various aspects of the Casio G-Shock G-Squad GBD-100-1ER and delve into why it stands out from the competition.
Design and Build Quality
The Casio G-Shock G-Squad GBD-100-1ER sports a rugged and robust design that is synonymous with the G-Shock brand. The watch features a black resin case and strap, which not only adds to its durability but also gives it a sleek and stylish appearance. The matte finish on the case prevents fingerprints and smudges, ensuring that the watch always looks clean and polished.
One notable feature of the GBD-100-1ER is its shock-resistant construction. This means that the watch can withstand accidental drops and impacts without sustaining any damage. Whether you're engaging in intense workouts or adventurous outdoor activities, this watch is built to endure the rigors of an active lifestyle. Additionally, its water resistance rating of 200 meters makes it suitable for swimming and snorkeling.
The watch face incorporates a digital display with a high contrast ratio, allowing for excellent visibility under various lighting conditions. The large numerals and bold text make it easy to read the time and other displayed information at a glance. The inclusion of an LED backlight further enhances visibility in low-light situations.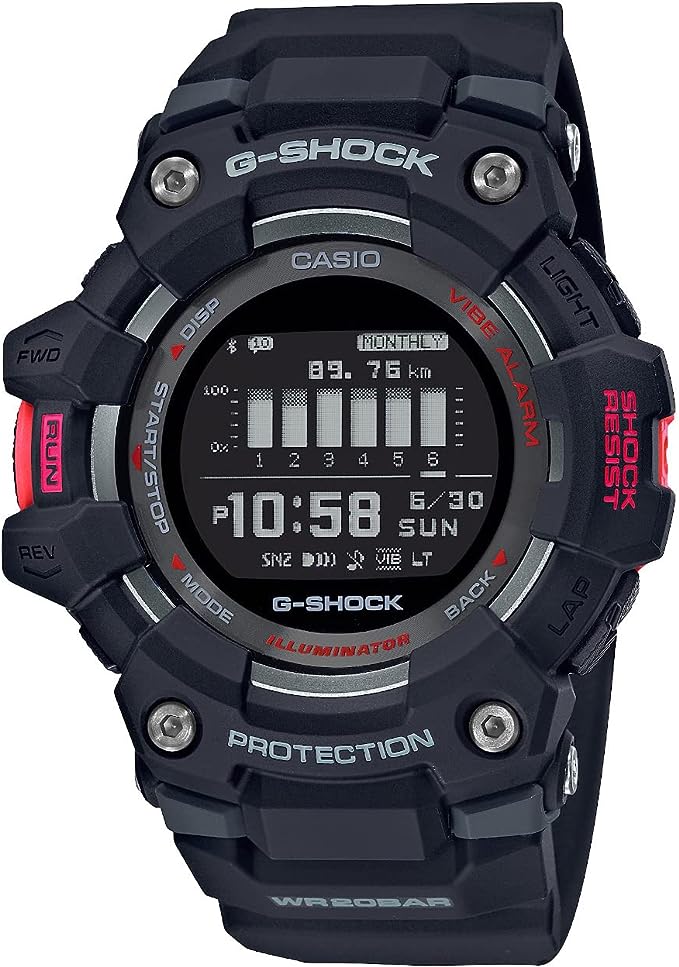 Fitness Tracking Features
One of the standout features of the Casio G-Shock G-Squad GBD-100-1ER is its comprehensive fitness tracking capabilities. Whether you're a seasoned athlete or simply looking to improve your lifestyle, this watch offers a wide range of functions to help you achieve your fitness goals.
Step Count and Distance Tracking
The built-in 3-axis accelerometer accurately tracks your steps throughout the day, providing you with real-time data on your daily activity level. This feature is particularly useful for those aiming to increase their physical activity and maintain an active lifestyle. The watch also calculates the distance covered during your workouts, giving you a clear understanding of your progress over time.
Heart Rate Monitoring
Monitoring your heart rate is a vital aspect of any fitness routine, and the GBD-100-1ER excels in this area. The watch utilizes advanced optical sensors to measure your heart rate directly from your wrist. This eliminates the need for additional chest straps or accessories, providing a hassle-free experience. Furthermore, the watch continuously monitors your heart rate throughout the day, allowing you to identify trends and make necessary adjustments to your workouts.
Training Analysis and Recovery Time Prediction
With the Casio G-Shock G-Squad GBD-100-1ER, you can gain valuable insights into your training sessions. The watch automatically analyzes your workouts, measuring the intensity and duration to help you gauge your performance. It also provides a recovery time prediction feature, which estimates the amount of time needed for your body to recover after each workout. These features enable you to optimize your training routine and prevent overexertion.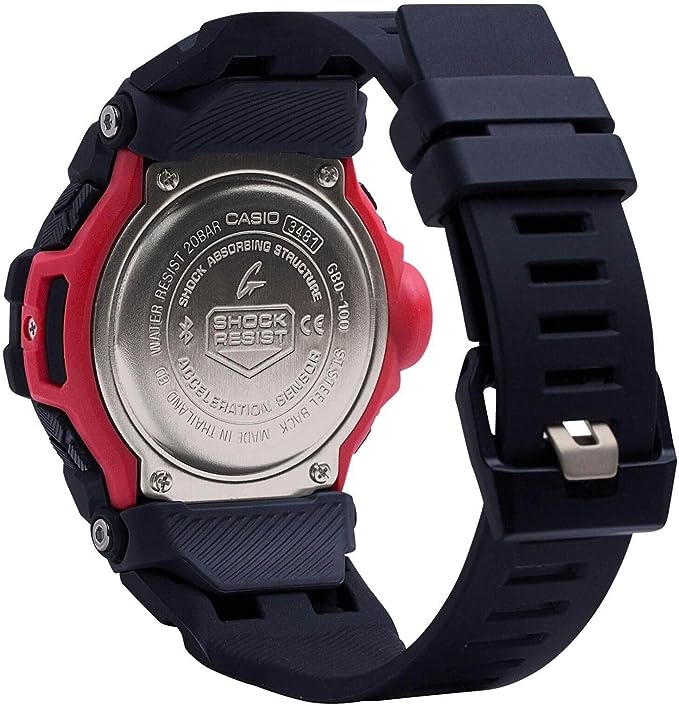 Multi-Sport Functionality
Whether you prefer running, cycling, swimming, or engaging in various other sports, this watch has got you covered. The GBD-100-1ER offers pre-programmed sport profiles that allow you to track your activities accurately. Each profile is tailored to the specific demands of the sport, providing you with precise data such as distance, pace, and calories burned. With this level of customization, you can effectively monitor your progress across different disciplines.
User-Friendly Interface and Controls
Navigating through the various features and menus of the Casio G-Shock G-Squad GBD-100-1ER is a breeze, thanks to its user-friendly interface. The watch employs a combination of buttons and a rotary switch that enables easy access to different functions. The large buttons are responsive and have a satisfying tactile feedback, allowing for effortless operation even during intense workouts or when wearing gloves.
The digital display presents information in a clear and organized manner, ensuring that you can quickly view your desired data without any confusion. The layout of the menus is logical and intuitive, making it easy to access the extensive range of features offered by the watch. Whether you want to check your heart rate, review past workout stats, or set reminders, everything is just a few button presses away## Battery Life and Charging
One of the standout features of the Casio G-Shock G-Squad GBD-100-1ER is its impressive battery life. The watch is powered by a rechargeable lithium-ion battery that can last up to 14 days on a single charge, depending on usage. This extended battery life ensures that you won't have to worry about constantly recharging your watch, allowing you to focus on your fitness goals.
Charging the GBD-100-1ER is simple and convenient. The watch comes with a USB charging cable that can be connected to any standard USB port or adapter. This means you can easily charge it using your laptop, power bank, or wall charger. Additionally, the watch has a quick charging feature that allows you to quickly top up the battery when you're short on time.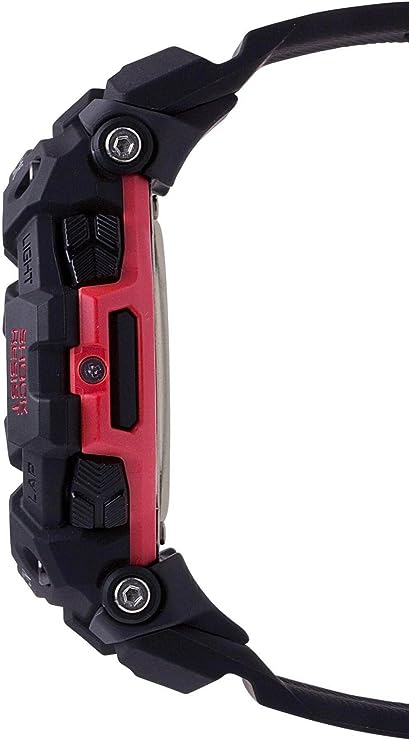 Connectivity and App Integration
The Casio G-Shock G-Squad GBD-100-1ER offers Bluetooth connectivity, which enables seamless integration with your smartphone. By connecting the watch to the dedicated G-Shock Move app, you can unlock a host of additional features and functionalities.
The G-Shock Move app acts as a centralized hub for all your fitness data, allowing you to view detailed summaries of your workouts, track your progress over time, and set personalized goals. You can also receive notifications directly on your watch for incoming calls, messages, and app alerts. This feature is particularly useful when you're unable to access your phone during workouts.
Furthermore, the app provides insights into your sleep patterns, allowing you to monitor the quality and duration of your sleep. This information is invaluable for those looking to improve their overall well-being and optimize recovery.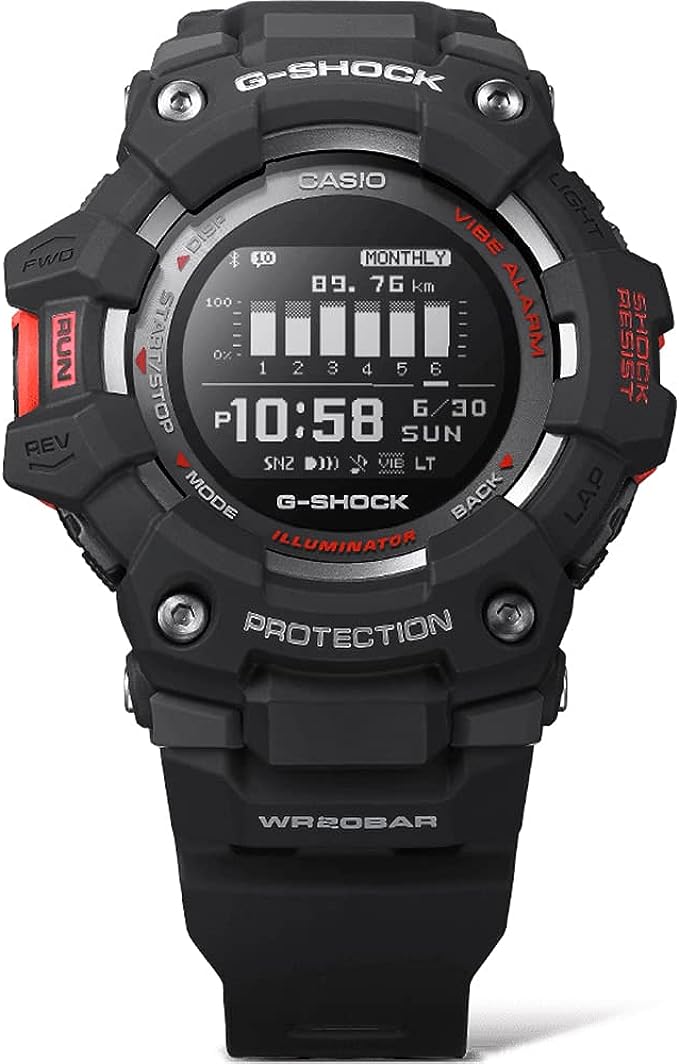 Durability and Toughness
True to its G-Shock lineage, the GBD-100-1ER is built to withstand the toughest of conditions. The watch undergoes rigorous testing to ensure its durability and resistance against impact, vibration, and extreme temperatures. This makes it an ideal companion for outdoor enthusiasts and athletes who require a timepiece that can keep up with their active lifestyle.
The GBD-100-1ER features a mineral glass crystal that protects the watch face from scratches and daily wear. The resin case and strap are highly resistant to cracking and deformation, providing peace of mind even during intense workouts or outdoor adventures. Additionally, the watch is shock-resistant, which means it can withstand accidental drops and knocks without compromising its functionality.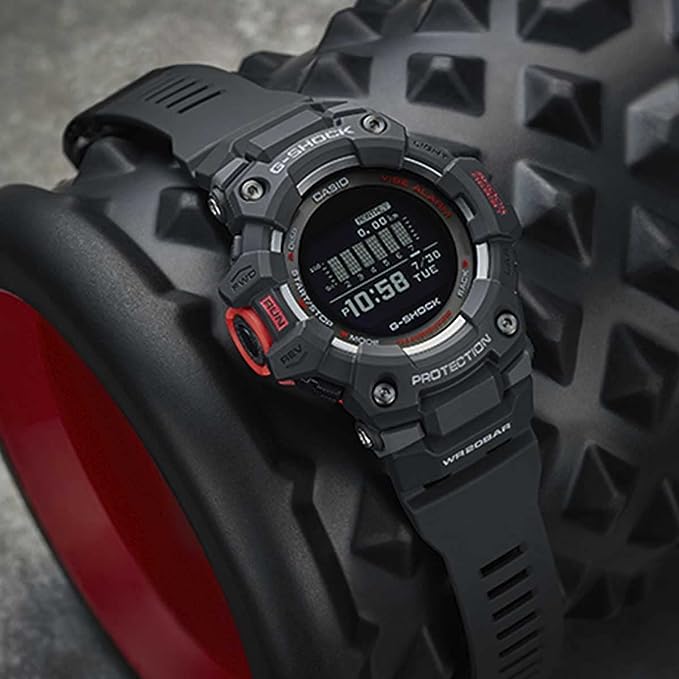 Additional Features
In addition to its fitness tracking capabilities, the Casio G-Shock G-Squad GBD-100-1ER offers a range of useful features that enhance its value as an everyday timepiece. These include:
World Time: The watch displays the time in multiple time zones, making it perfect for frequent travelers.
Stopwatch: The built-in stopwatch allows you to measure elapsed time accurately, making it handy for various activities.
Countdown Timer: Set reminders or time yourself with the countdown timer function.
Alarm: The GBD-100-1ER has multiple alarms that can be set to suit your needs, ensuring you never miss an important event or workout session.
Conclusion
The Casio G-Shock G-Squad GBD-100-1ER stands out as an exceptional fitness watch that combines durability, functionality, and style. Its robust construction, comprehensive fitness tracking features, user-friendly interface, and long battery life make it a reliable companion for individuals pursuing an active lifestyle.
Whether you're a professional athlete, a fitness enthusiast, or simply someone who wants to track their daily activity, the GBD-100-1ER provides the tools you need to monitor and improve your performance. With its ability to withstand the rigors of physical activity and its array of features designed specifically for fitness tracking, this watch is truly the ultimate fitness companion.
Investing in the Casio G-Shock G-Squad GBD-100-1ER means investing in a timepiece that will support you in achieving your fitness goals while withstanding the test of time. It is a watch that offers both style and substance, making it an excellent choice for anyone seeking a reliable and durable fitness watch.