The Casio G-Shock G-Squad GBD-H1000-1JR Men's Wristwatch is a versatile timepiece that combines durability, functionality, and advanced features to meet the demands of outdoor enthusiasts and fitness enthusiasts alike. This wristwatch is part of Casio's renowned G-Shock series, known for its ruggedness and reliability. In this review, we will explore the various aspects of this watch, including its design, features, performance, and value for money.
Design and Build Quality
The GBD-H1000-1JR showcases a distinctive G-Shock design with a robust and sturdy build. Its case is made from high-quality resin, which provides excellent shock resistance, ensuring that the watch can withstand even the most extreme conditions. With dimensions of 63 × 55 × 20.4 mm and weighing approximately 101 grams, the watch feels substantial on the wrist without being overly bulky or uncomfortable.
The large digital display is easy to read, thanks to the use of contrasting colors and bold fonts. The watch features a mineral crystal lens that offers good scratch resistance, although it would have been even better if Casio had opted for a sapphire crystal lens at this price point. Nonetheless, the overall build quality is commendable, and the watch exudes a sense of durability and reliability.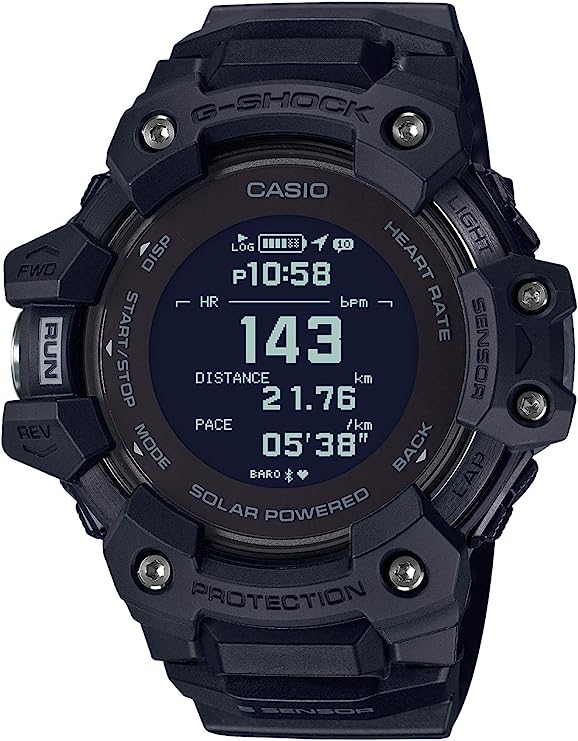 Features and Functionality
One of the standout features of the GBD-H1000-1JR is its extensive range of functions and sensors. It incorporates five essential sensors: an optical heart rate monitor, an altimeter, a barometer, a compass, and a thermometer. These sensors allow users to track various metrics related to their outdoor activities and workouts, making it an ideal companion for hikers, runners, and fitness enthusiasts.
The watch is also equipped with GPS functionality, which enables precise location tracking and route recording. The Bluetooth connectivity allows seamless synchronization with compatible smartphones, providing access to additional features and data analysis through Casio's dedicated mobile app. By connecting the watch to your phone, you can view detailed activity logs, customize settings, and receive notifications on your wrist.
Performance and User Experience
In terms of performance, the GBD-H1000-1JR delivers reliable and accurate results across its range of functions. The heart rate monitor provides real-time heart rate data, allowing users to monitor their exertion levels during workouts. The altimeter accurately measures altitude, while the barometer keeps track of atmospheric pressure. The compass facilitates easy navigation, and the thermometer displays ambient temperature.
The built-in GPS is quick to acquire satellite signals and maintains a strong connection throughout outdoor activities. It accurately tracks routes, distances, and speeds, enabling users to analyze their performance and progress. The watch also features a step counter and a calorie tracker, providing comprehensive fitness tracking capabilities.
Navigating through the watch's menus and functions is relatively intuitive, thanks to the well-designed user interface. The buttons are large and easy to press, ensuring effortless operation even when wearing gloves or in challenging conditions. The backlight illumination enhances visibility in low-light environments, improving readability during nighttime adventures.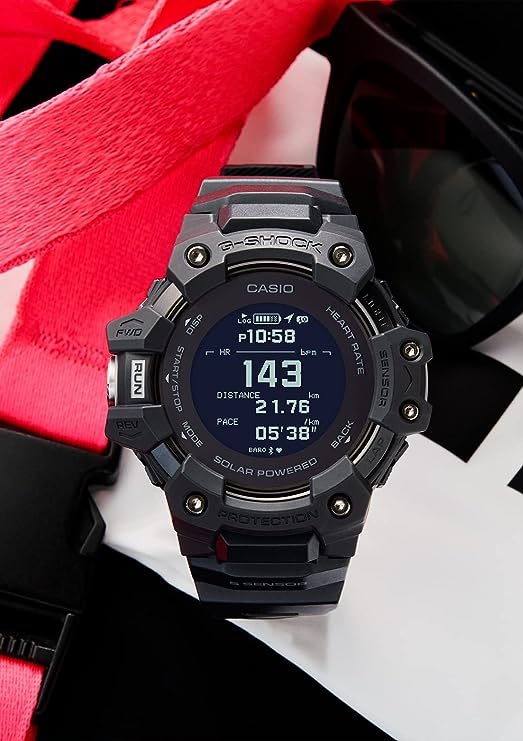 Water Resistance
With a water resistance rating of 200 meters, the GBD-H1000-1JR is suitable for a wide range of aquatic activities, including swimming and snorkeling. Its robust construction ensures that it can withstand prolonged exposure to water without compromising its functionality or durability. However, it is important to note that this watch is not designed for scuba diving or high-pressure water sports.
Battery Life
The GBD-H1000-1JR is powered by a rechargeable lithium-ion battery that offers impressive longevity considering its feature-packed nature. In standard mode, the watch can operate for up to 12 months on a single charge. However, continuous use of GPS reduces the battery life significantly, providing approximately 14 hours of usage. This should be sufficient for most outdoor activities or extended workouts, but frequent GPS usage may require more frequent recharging.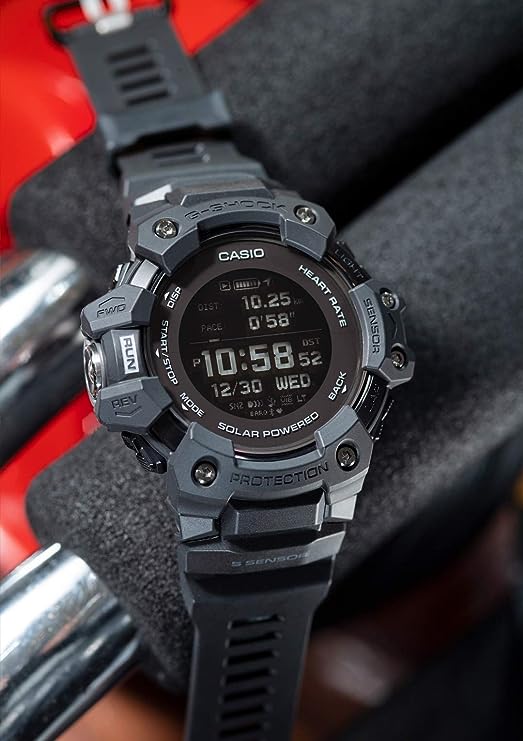 Value for Money
Priced at approximately [usd], the Casio G-Shock G-Squad GBD-H1000-1JR Men's Wristwatch falls into the mid-to-high price range for sports watches. While it may seem expensive compared to conventional digital watches, the robust build quality, extensive features, and advanced sensors make this timepiece an excellent investment for outdoor enthusiasts and fitness enthusiasts.
Casio has established itself as a reputable brand known for producing reliable and durable watches, and the G-Shock series exemplifies their commitment to quality. The GBD-H1000-1JR delivers on its promise of ruggedperformance and advanced functionality, making it worth the investment for those who prioritize durability and accurate tracking capabilities.
The inclusion of GPS technology sets the GBD-H1000-1JR apart from many other sports watches on the market. The ability to track routes, distances, and speeds with precision is a valuable feature for outdoor enthusiasts, runners, and cyclists. The watch's compatibility with the Casio mobile app allows users to delve deeper into their fitness data, providing insights that can help improve performance and set new goals.
Another aspect that adds value to the GBD-H1000-1JR is its shock-resistant construction. Casio's G-Shock series has gained a reputation for being able to withstand harsh conditions, and this model is no exception. Whether you're trekking through rugged terrain or engaging in high-intensity workouts, you can trust this watch to endure the demands of your activities without skipping a beat.
Additionally, the watch's water resistance rating of 200 meters enhances its versatility. You can confidently wear it while swimming, snorkeling, or participating in water sports without worrying about water damage. This feature further solidifies the GBD-H1000-1JR as a reliable companion for outdoor adventures.
One area where the GBD-H1000-1JR could be improved is in its display readability under bright sunlight. While the digital display is generally clear and easy to read, direct sunlight can sometimes cause glare, making it slightly more challenging to view the screen. However, this issue can be mitigated by adjusting the viewing angle or using the backlight function when necessary.
It's also important to note that while the GBD-H1000-1JR excels in its core functionalities, it may not have the extensive smartwatch capabilities that some users might expect. While it can receive notifications from your smartphone, it lacks features like music control or the ability to reply to messages directly from the watch. It's primarily designed as a sports watch with advanced tracking capabilities rather than a full-fledged smartwatch.
In terms of aesthetics, the GBD-H1000-1JR maintains a classic G-Shock design, characterized by its chunky and rugged appearance. While some may prefer a more sleek and minimalist look for everyday wear, this watch is undeniably attractive in its own right, especially for those who value durability and functionality over fashion.
Finally, it's worth mentioning that the GBD-H1000-1JR is a Japan Domestic Market (JDM) model, which means that the included instruction manual might be in Japanese. However, English instruction manuals can often be found online, so it's advisable to check for its availability before making a purchase if you require the English version.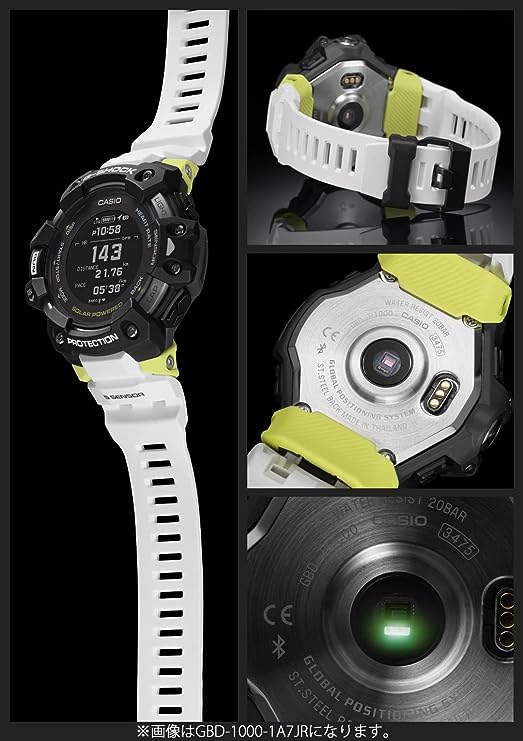 Conclusion
The Casio G-Shock G-Squad GBD-H1000-1JR Men's Wristwatch is a robust timepiece that combines durability, advanced features, and reliable performance. With its shock-resistant construction, extensive sensor suite, GPS functionality, and water resistance up to 200 meters, it caters to the needs of outdoor enthusiasts and fitness enthusiasts alike.
While its price may be higher compared to conventional digital watches, the GBD-H1000-1JR offers excellent value for money considering its build quality, functionality, and brand reputation. Casio has established itself as a leader in producing tough and reliable watches, and the G-Shock series continues to meet and exceed expectations.
If you're seeking a reliable and feature-rich watch that can withstand demanding outdoor activities while providing accurate tracking and monitoring, the Casio G-Shock G-Squad GBD-H1000-1JR Men's Wristwatch is certainly a worthy investment. Its combination of durability, functionality, and style makes it an ideal companion for your active lifestyle.