The Casio GPR-B1000TF-1JR RANGEMAN Anniversary Model is a state-of-the-art timepiece that combines rugged durability with advanced technological features. As part of the popular RANGEMAN series, this watch is designed to meet the needs of outdoor enthusiasts and adventurers. Inspired by the 35th anniversary of the RANGEMAN collection, this limited edition model offers several enhancements and unique design elements.
In this comprehensive review, we will delve into the various aspects of the Casio GPR-B1000TF-1JR RANGEMAN Anniversary Model, including its design, features, performance, and overall value for money. So, let's get started!
Design and Build Quality
The Casio GPR-B1000TF-1JR RANGEMAN Anniversary Model exudes a robust and rugged charm with its sturdy build and distinctive appearance. The case is crafted from titanium and resin, striking a perfect balance between strength and lightweight construction. The use of titanium ensures exceptional durability while keeping the watch comfortable to wear for extended periods.
Measuring 60.3mm x 57.7mm x 20.2mm, this timepiece has a substantial presence on the wrist. However, thanks to the ergonomic design and thoughtful placement of buttons, it remains highly wearable and doesn't feel overly bulky. The large dial provides excellent visibility, even in challenging lighting conditions, making it ideal for outdoor activities.
The RANGEMAN Anniversary Model features a scratch-resistant sapphire crystal, which adds an extra layer of protection to the display. The watch is also water-resistant up to 200 meters, making it suitable for swimming and snorkeling adventures. Overall, the design and build quality of this timepiece are nothing short of exceptional, reflecting Casio's commitment to creating durable and functional watches.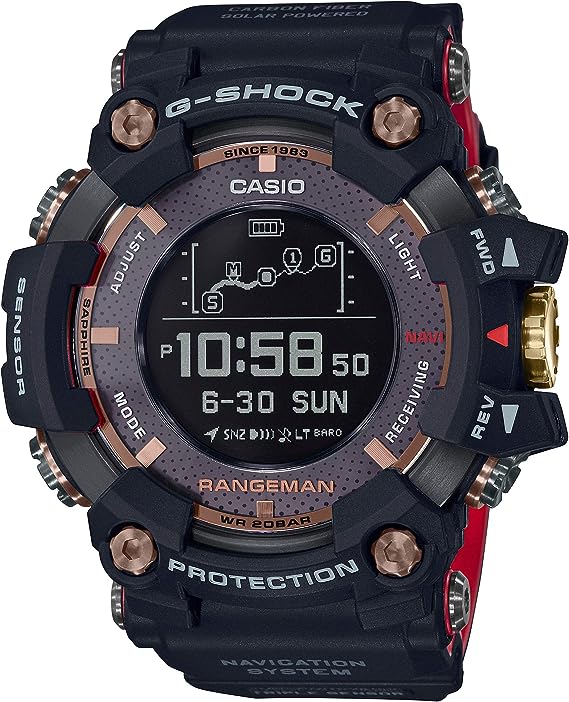 Features and Functionality
The Casio GPR-B1000TF-1JR RANGEMAN Anniversary Model sets itself apart from other watches on the market with its impressive range of features. Let's explore some of the standout functionalities:
GPS Navigation
One of the most notable features of this timepiece is its built-in GPS navigation system. With the ability to connect to GPS satellites, the watch allows users to track their location accurately. This functionality proves invaluable for hikers, mountaineers, and outdoor adventurers who rely on precise positioning information.
The GPS navigation feature enables the watch to display real-time location data, including longitude, latitude, and altitude. Additionally, it provides route tracking, so you can retrace your steps or plan future excursions. The accuracy of the GPS function is commendable, allowing users to navigate confidently in even the most remote locations.
Triple Sensor Technology
Equipped with triple sensor technology, the RANGEMAN Anniversary Model offers a comprehensive set of environmental sensors. These sensors include an altimeter, barometer, and compass, providing crucial information for outdoor enthusiasts.
The altimeter measures altitude, helping users keep track of elevation changes during hikes or climbs. It displays accurate readings and records altitudinal data that can be analyzed later.
The barometer measures atmospheric pressure, enabling users to predict weather changes and make informed decisions about their outdoor activities. The watch displays the pressure trend graph, making it easy to monitor fluctuations over time.
The compass function ensures that users always have a reliable directional reference. Whether you're exploring unfamiliar terrain or need assistance during navigation, the compass feature guides you with precision.
Solar Power
The Casio GPR-B1000TF-1JR RANGEMAN Anniversary Model harnesses the power of the sun through its solar-powered system. The watch features a large solar panel that efficiently converts sunlight into electrical energy, ensuring continuous operation without the need for frequent battery changes.
The solar power system is incredibly efficient, allowing the watch to operate even in low-light conditions. With a full charge, the timepiece can function for several months without exposure to additional light. This feature is particularly advantageous for outdoor enthusiasts who spend extended periods away from conventional charging methods.
Bluetooth Connectivity
To enhance its functionality further, this watch offers Bluetooth connectivity, enabling seamless integration with smartphones. By connecting the watch to your phone via the G-SHOCK Connected app, you gain access to a range of additional features and customization options.
The app allows you to adjust various settings on the watch, such as time zones, alarms, and display layouts. It also provides the ability to track and analyze your activity data, including steps taken, calories burned, and distances covered.
Furthermore, the Bluetooth connectivity enables automatic time synchronization, so you don't have to worry about manually settingthe time on your watch. The watch will automatically update its time based on the information received from your smartphone, ensuring accurate and precise timekeeping.
Toughness and Durability
True to its RANGEMAN lineage, the Casio GPR-B1000TF-1JR Anniversary Model is built to withstand harsh conditions and endure extreme environments. It meets the rigorous standards of the MIL-STD-810G military-grade specifications, making it resistant to shocks, vibrations, and drops.
The timepiece also features a carbon fiber insert band that enhances its durability without compromising on comfort. The carbon fiber material provides excellent tensile strength while remaining lightweight. Additionally, the case is sealed with multiple gaskets to prevent water, dust, and dirt from entering the watch, resulting in a highly reliable and robust timepiece.
Limited Edition Design
As an anniversary model, the GPR-B1000TF-1JR RANGEMAN showcases a unique design that sets it apart from the regular models in the series. The watch features a gold ion-plated bezel, buttons, and screws, adding an elegant touch to its rugged exterior.
The backplate of the watch proudly displays the "35th ANNIVERSARY" logo, commemorating the heritage and success of the RANGEMAN collection. This limited edition timepiece comes with a special packaging that includes a commemorative metal plate and a certificate of authenticity, making it a desirable collector's item for watch enthusiasts.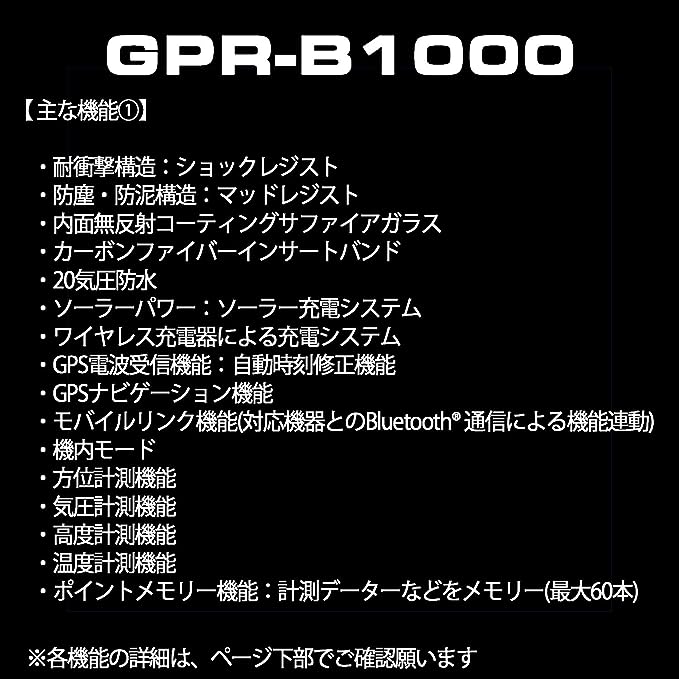 Performance
In terms of performance, the Casio GPR-B1000TF-1JR RANGEMAN Anniversary Model excels in every aspect. The GPS navigation system works flawlessly, providing accurate and reliable location data. Whether you're trekking through dense forests or climbing steep mountains, this watch will keep you on track with confidence.
The triple sensor technology performs admirably, delivering precise altitude, barometric, and compass readings. The altimeter is quick to respond, and the barometer provides accurate weather information. The compass function is highly dependable and ensures you never lose your way.
The solar power system exhibits impressive efficiency, even in low-light conditions. The watch charges quickly when exposed to sunlight, and the built-in power-saving features ensure that the energy is utilized optimally. With its long-lasting battery life, you can rely on the watch for extended periods without worrying about running out of power.
Bluetooth connectivity adds another layer of convenience and functionality to the watch. The seamless integration with the G-SHOCK Connected app allows for easy customization and data tracking. The automatic time synchronization eliminates the hassle of manually updating the time and ensures precise timekeeping wherever you are.
The toughness and durability of the Casio GPR-B1000TF-1JR RANGEMAN Anniversary Model are exceptional. It can withstand rough handling, extreme temperatures, and water submersion up to 200 meters. This level of durability makes it a reliable companion for outdoor activities, ensuring that it will endure the demands of any adventure.
Value for Money
Considering its extensive range of features, superior build quality, and exceptional performance, the Casio GPR-B1000TF-1JR RANGEMAN Anniversary Model offers excellent value for money. While it may come at a higher price point compared to other watches, the investment is justified by the advanced functionalities and durability it provides.
This limited edition model also holds intrinsic value as a collector's item, making it an attractive option for enthusiasts who appreciate the heritage and exclusivity associated with anniversary editions.
Moreover, Casio has established itself as a trusted and reputable brand in the watch industry, known for producing reliable timepieces that stand the test of time. The RANGEMAN series, in particular, has garnered a loyal following due to its ruggedness, versatility, and technological advancements.
Conclusion
The Casio GPR-B1000TF-1JR RANGEMAN Anniversary Model is a remarkable watch that seamlessly blends rugged durability with advanced technological features. Its impressive design, comprehensive functionalities, and outstanding performance make it a top choice for outdoor enthusiasts and adventurers.
With its built-in GPS navigation system, triple sensor technology, solar power system, and Bluetooth connectivity, this timepiece offers everything you need to navigate and explore the great outdoors confidently. The exceptional toughness and durability ensure that it can withstand even the harshest conditions.
While the price may be a consideration for some, the Casio GPR-B1000TF-1JR RANGEMAN Anniversary Model delivers excellent value for money, especially when you consider the advanced features and the limited edition status of this timepiece.
In conclusion, if you are looking for a reliable and feature-packed watch that can accompany you on all your outdoor adventures, the Casio GPR-B1000TF-1JR RANGEMAN Anniversary Model is undoubtedly an excellent choice.