When it comes to durability and functionality, few watch brands can compare to Casio's G-SHOCK series. The Casio G-SHOCK MUDMASTER Watch GWG-1000-1ADR is a prime example of the brand's commitment to creating timepieces that can withstand the toughest conditions. Designed specifically for outdoor enthusiasts and professionals in extreme environments, this watch offers an array of features that make it a reliable companion for any adventure. In this review, we will dive deep into the key attributes of this remarkable watch, exploring its design, performance, and overall value.
Design and Build Quality
Right out of the box, the Casio G-SHOCK MUDMASTER exudes a sense of ruggedness with its bulky yet stylish design. The case is constructed from a combination of stainless steel and resin, providing a sturdy and durable exterior. It has a solid and substantial feel on the wrist, giving you confidence that it can handle whatever you throw at it.
The large, prominent buttons on the side of the case are well-positioned and easy to operate, even when wearing gloves or in challenging conditions. The bezel features a textured finish that adds to the watch's aesthetic appeal and provides extra grip when adjusting settings.
One of the standout features of this watch is its impressive water and mud resistance. With a water resistance rating of up to 200 meters, you can confidently take it swimming, snorkeling, or diving without worrying about damaging the watch. Additionally, the mud-resistant construction ensures that dirt and debris won't interfere with the watch's performance, making it perfect for outdoor activities such as hiking or off-roading.
The strap, made from a combination of resin and urethane, is both comfortable and durable. It securely fastens to the wrist with a stainless steel buckle, ensuring a snug fit during any physical activity. However, some users with larger wrists may find the strap a bit short, so it's worth considering if you fall into this category.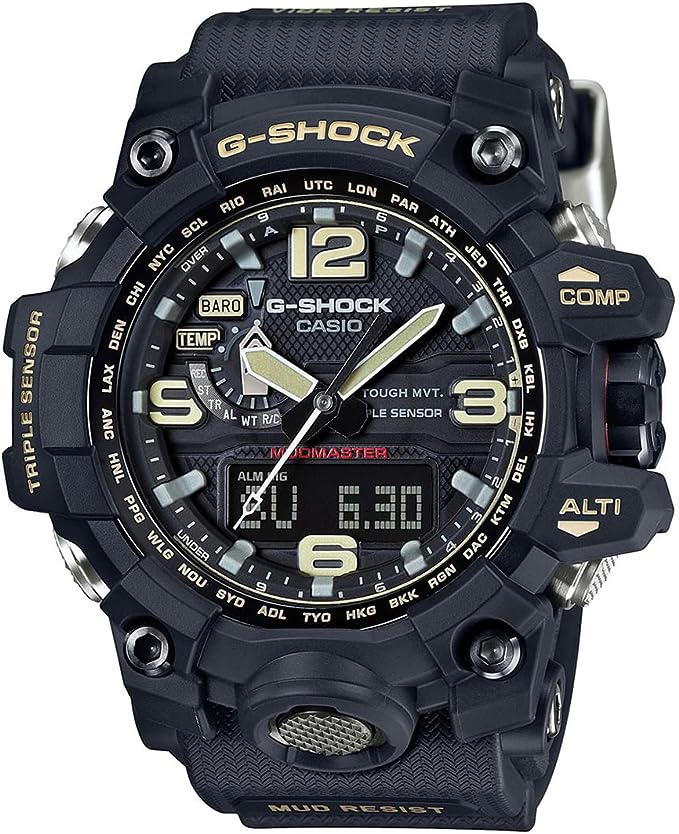 Display and Legibility
The Casio G-SHOCK MUDMASTER features a large and easy-to-read analog-digital display. The analog hands provide a classic touch, while the digital display offers additional functionality and information. The dial is protected by a scratch-resistant mineral crystal, which helps maintain excellent visibility even in harsh conditions.
The watch's display incorporates a backlight that illuminates the entire face, ensuring legibility in low-light situations. The LED light is bright enough to effectively illuminate the display without causing discomfort to the eyes. Whether you're exploring caves or working at night, the visibility of the display remains exceptional.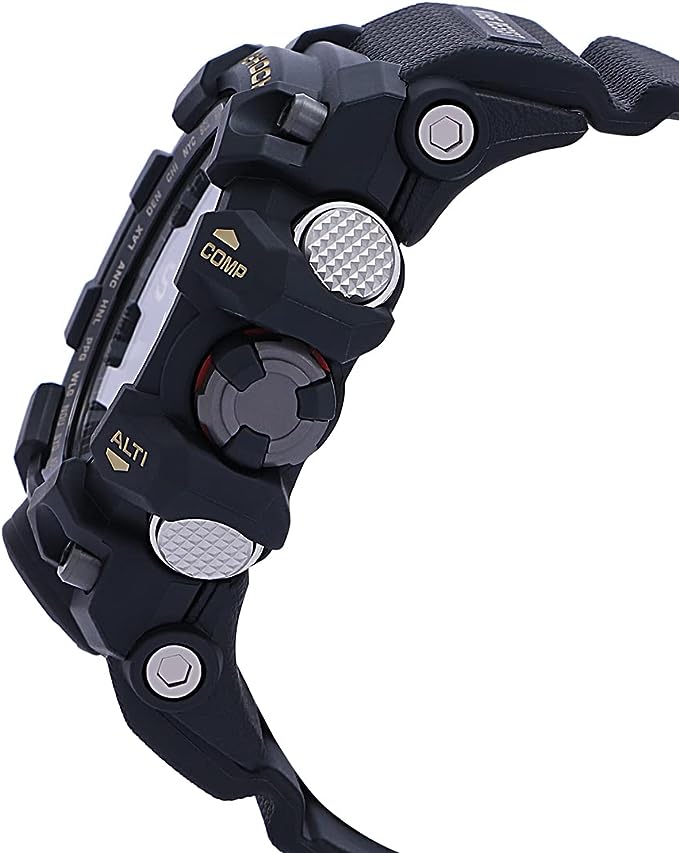 Features and Functionality
The Casio G-SHOCK MUDMASTER packs an impressive range of features that cater to the needs of adventurers and professionals alike. Here are some of its key functionalities:
Triple Sensor Technology
One of the most remarkable features of this timepiece is its Triple Sensor technology, which includes a compass, altimeter/barometer, and thermometer. These sensors enable you to navigate accurately, track altitude changes, and measure temperature, respectively. This makes the watch an indispensable tool for outdoor enthusiasts, mountaineers, and explorers who rely on precise data during their adventures.
Solar Powered
Worrying about battery life is a thing of the past with the Casio G-SHOCK MUDMASTER. The watch harnesses the power of solar energy, featuring a built-in solar panel that charges the battery using natural or artificial light. This ensures that your watch keeps running without the need for frequent battery replacements. Even in low-light conditions, the watch's power-saving features ensure reliable operation.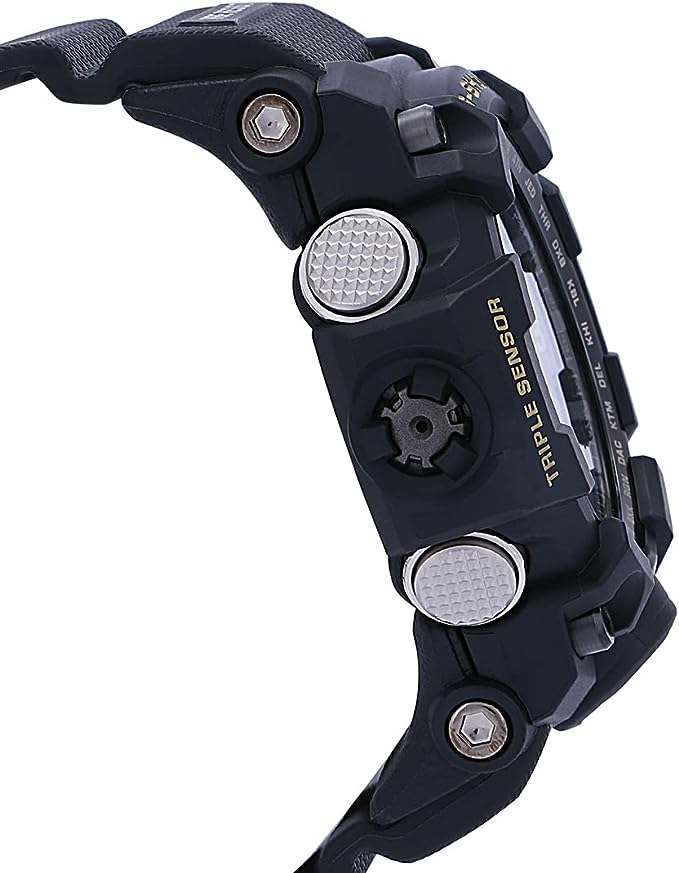 Multi-Band Atomic Timekeeping
The Multi-Band Atomic Timekeeping feature allows the Casio G-SHOCK MUDMASTER to automatically adjust its time and date by receiving signals from atomic clocks around the world. This ensures precise and accurate timekeeping no matter where you are on the globe. Even if you find yourself in a remote area with no signal reception, the watch can still function using its quartz movement.
Tough Solar Power
In addition to being solar-powered, this watch also incorporates Casio's Tough Solar Power technology. The rechargeable battery is highly efficient and can store energy for extended periods. With normal usage, the watch can operate for months without exposure to light. This combination of solar and battery power provides peace of mind, knowing that your watch won't fail you when you need it most.
Shock Resistance
As with all G-SHOCK watches, the Casio G-SHOCK MUDMASTER is shock-resistant and builtto withstand harsh impacts and vibrations. The watch is designed to meet the rigorous standards set by Casio, ensuring that it can handle even the toughest situations. Whether you're engaged in intense physical activities or working in demanding environments, this watch will keep ticking without skipping a beat.
World Time and Alarms
The Casio G-SHOCK MUDMASTER offers world time functionality, allowing you to easily switch between different time zones. This feature is particularly useful for frequent travelers or individuals who work across multiple locations. The watch also includes multiple alarms, making it an excellent choice for those who need reminders throughout the day.
Countdown Timer and Stopwatch
For timing events and activities, the countdown timer and stopwatch functions are indispensable. The Casio G-SHOCK MUDMASTER provides accurate timing capabilities, allowing you to measure elapsed time and set countdowns with ease. Whether you're competing in sports or need to time intervals during your outdoor adventures, these features come in handy.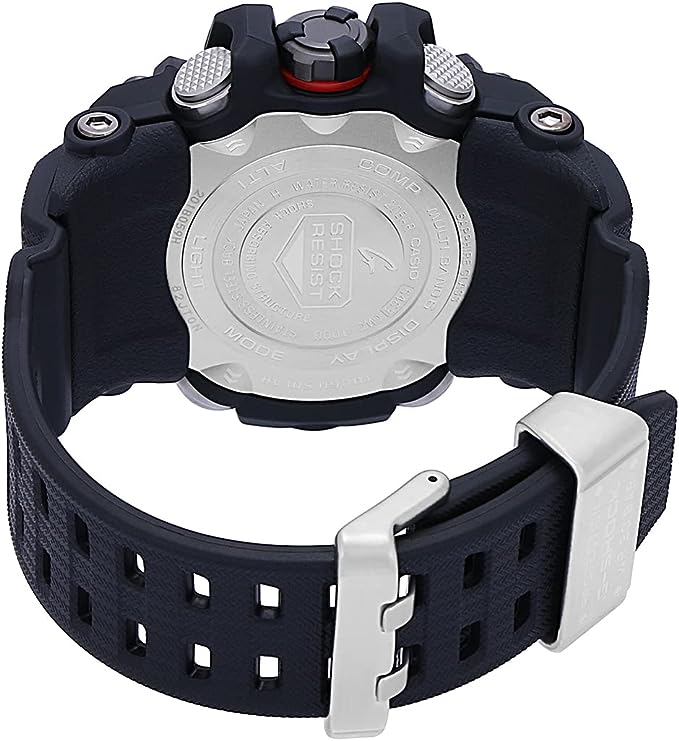 Performance and Durability
The performance and durability of the Casio G-SHOCK MUDMASTER are truly impressive. From its shock resistance to its mud and water resistance, this watch is built to stand up to the harshest conditions. The use of high-quality materials ensures that it can endure rough treatment and extreme environments without compromising its functionality.
The accuracy of the watch's timekeeping is exceptional, thanks to the Multi-Band Atomic Timekeeping feature. The ability to receive signals from atomic clocks worldwide ensures that you always have the correct time, no matter where you are. The Triple Sensor technology adds another layer of functionality, providing precise data for navigation, altitude, and temperature measurements.
The solar-powered system works flawlessly, keeping the watch charged and operational in any lighting condition. The Tough Solar Power technology ensures long-lasting power storage, giving you peace of mind that the watch won't run out of juice when you need it most.
Comfort and Wearability
Despite its robust build, the Casio G-SHOCK MUDMASTER is surprisingly comfortable to wear. The strap, although slightly short for some individuals with larger wrists, offers a secure fit and doesn't cause discomfort during extended periods of use. The weight of the watch is well-distributed, making it feel balanced on the wrist without being overly cumbersome.
The large buttons and easy-to-read display further enhance the overall usability and comfort of the watch. The backlit display ensures legibility in all lighting conditions, while the button layout allows for easy operation, even when wearing gloves or in challenging environments.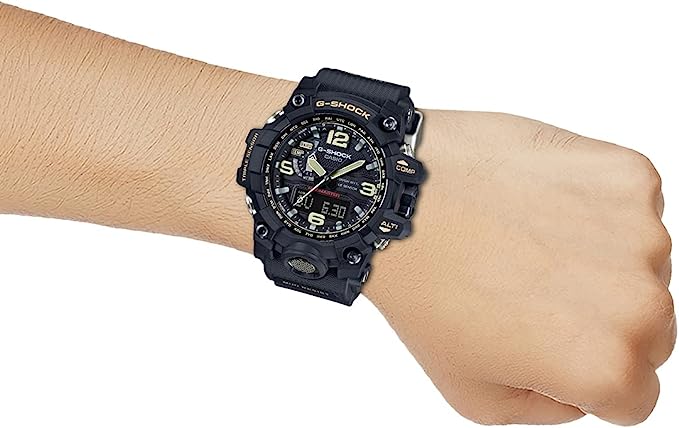 Value for Money
Priced at 590$, the Casio G-SHOCK MUDMASTER Watch GWG-1000-1ADR offers excellent value for money considering its range of features and durability. Casio's reputation for producing high-quality timepieces that can withstand extreme conditions is well-reflected in this model. Its rugged design, extensive functionality, and long-lasting performance make it an ideal choice for adventurers, outdoor enthusiasts, and professionals who require a reliable and durable timepiece.
Conclusion
The Casio G-SHOCK MUDMASTER Watch GWG-1000-1ADR is a testament to Casio's commitment to creating watches that excel in tough conditions. With its rugged design, advanced features, and impeccable durability, it is a timepiece that will accompany you through any adventure, no matter how demanding. The combination of solar power, Triple Sensor technology, and shock resistance places this watch in a league of its own. If you're seeking a reliable and versatile watch that can withstand the elements and deliver exceptional performance, the Casio G-SHOCK MUDMASTER should be at the top of your list.