When it comes to tough and reliable watches, few brands can match the reputation of Casio's G-Shock line. With their rugged construction, innovative features, and stylish designs, G-Shock watches have become a favorite among outdoor enthusiasts, sports enthusiasts, and everyday adventurers. In this review, we will take a closer look at one of the latest additions to the G-Shock family, the Casio G-Shock GA-B2100-1AJF.
Design and Build Quality
The GA-B2100-1AJF features a bold and modern design that embodies the spirit of adventure. Its case is made from high-quality resin, which provides excellent durability and impact resistance. The watch is built to withstand shocks, vibrations, and extreme conditions, making it suitable for outdoor activities such as hiking, camping, and water sports.
The watch face is protected by a scratch-resistant mineral crystal, ensuring that it remains clear and legible even after prolonged use. The large analog-digital display is easy to read, with bold hour markers and hands that offer excellent visibility in both bright sunlight and low-light conditions.
One standout feature of this watch is its carbon core guard structure, which enhances its overall toughness while keeping the weight to a minimum. This makes it comfortable to wear for extended periods without sacrificing durability.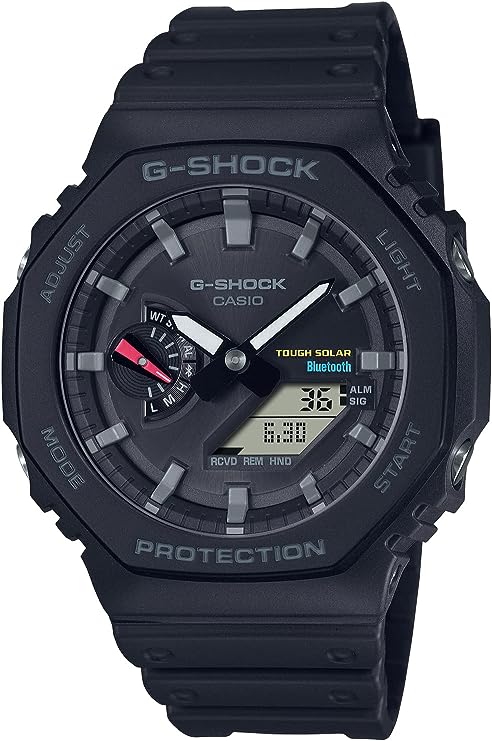 Features and Functionality
The GA-B2100-1AJF is packed with an array of features and functionalities that cater to the needs of adventurers and outdoor enthusiasts. Let's explore some of its key capabilities:
1. Shock Resistance
As with all G-Shock watches, the GA-B2100-1AJF is built to withstand shocks and impacts. It has been tested against the "triple ten" standard – capable of withstanding a 10-meter free fall, 10-bar water resistance (up to 100 meters), and a battery life of approximately 10 years. This robust construction ensures that the watch can handle the toughest conditions you may encounter in your adventures.
2. Water Resistance
The GA-B2100-1AJF is designed to be water-resistant up to 100 meters, making it suitable for swimming, snorkeling, and other water-based activities. Its sealed construction and screw-lock case back provide an excellent level of protection against water ingress, allowing you to explore both above and below the surface without worrying about damaging your timepiece.
3. Solar Power
One of the standout features of this watch is its solar-powered operation. The GA-B2100-1AJF incorporates Casio's innovative Tough Solar technology, which charges the watch using both natural and artificial light sources. This means that you never have to worry about replacing batteries or running out of power at crucial moments. With sufficient exposure to light, the watch can operate continuously without needing a battery change.
4. World Time and Dual Time Display
For those who frequently travel or work across different time zones, the GA-B2100-1AJF offers convenient world time functionality. It allows you to easily switch between different time zones, keeping you on schedule no matter where your adventures take you. Additionally, the watch also features a dual time display, enabling you to keep track of two time zones simultaneously.
5. Stopwatch and Countdown Timer
The built-in stopwatch function of the GA-B2100-1AJF allows you to measure elapsed time with precision. Whether you're timing your runs, workouts, or other activities, the stopwatch provides accurate and reliable results. The countdown timer is another useful feature, allowing you to set a specific time duration and count down until an event or activity starts.
6. Calendar and Alarm Functions
With its calendar function, the GA-B2100-1AJF displays both the day of the week and date, helping you stay organized and on top of your schedule. The watch also includes multiple alarm functions, ensuring that you never miss an important appointment or event.
7. LED Illumination
In low-light conditions or at night, the watch's LED illumination feature comes in handy. A simple press of a button activates the built-in LED light, providing ample visibility to read the time and other information on the display.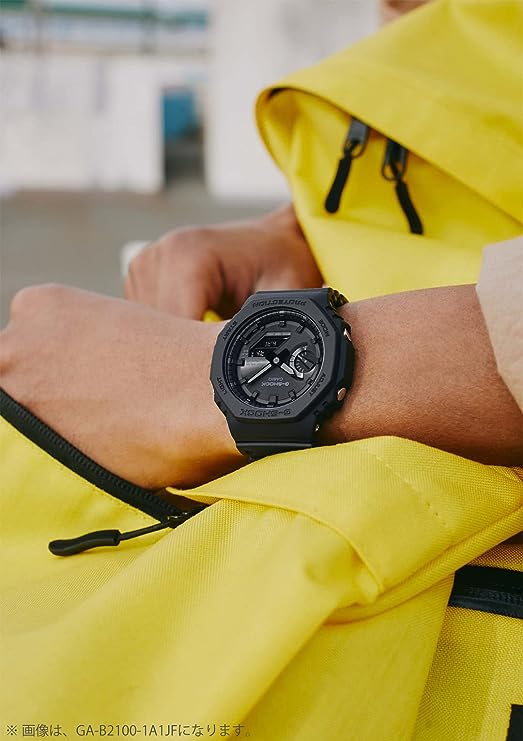 Comfort and Wearability
Despite its ruggedness, the GA-B2100-1AJF doesn't compromise on comfort. The watch features a flexible resin band that conforms to the shape of your wrist, ensuring a secure fit without any discomfort. The band is adjustable, accommodating various wrist sizes, and it fastens securely with a sturdy buckle clasp, minimizing the risk of accidental removal.
The lightweight construction ofthe watch further adds to its comfort, allowing you to wear it for extended periods without feeling weighed down. Whether you're engaging in strenuous activities or simply going about your daily routine, the GA-B2100-1AJF will stay securely on your wrist and provide a comfortable wearing experience.
Style and Versatility
Beyond its rugged functionality, the GA-B2100-1AJF also offers a stylish and versatile design that can complement a wide range of outfits and occasions. The combination of the black resin case and band with contrasting white accents gives the watch a sleek and modern look. It strikes a balance between sportiness and elegance, making it suitable for both outdoor adventures and everyday wear.
The watch's size is also worth noting as it has a medium-sized case, measuring 48.5mm in diameter and 14.3mm in thickness. This makes it a versatile option that can be worn by individuals with different wrist sizes without appearing too bulky or too small.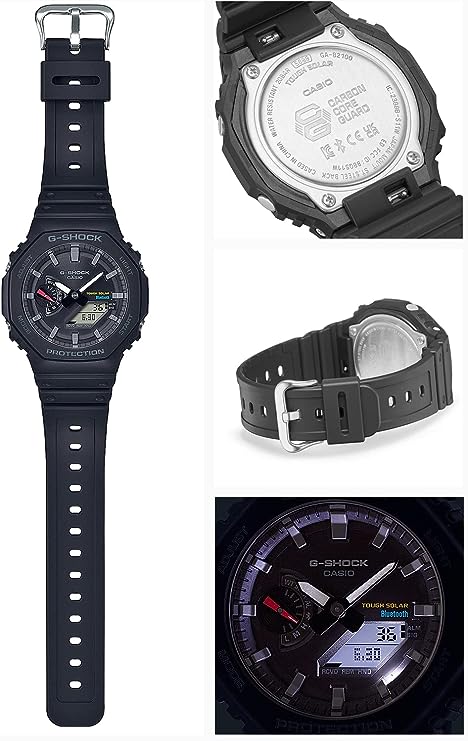 Pros and Cons
To summarize the key strengths and weaknesses of the Casio G-Shock GA-B2100-1AJF:
Pros:
Rugged and durable construction capable of withstanding shocks and impacts.
Water-resistant up to 100 meters for versatile use in water-related activities.
Solar-powered operation eliminates the need for battery replacements.
World time function and dual time display make it convenient for travelers.
Stopwatch and countdown timer provide precise timekeeping for various activities.
Calendar and alarm functions keep you organized and punctual.
LED illumination ensures visibility in low-light conditions.
Comfortable fit and lightweight design allow for extended wear.
Stylish design suitable for both outdoor adventures and everyday wear.
Cons:
Limited color options available.
Lack of advanced smart features found in some other watches.
Conclusion
The Casio G-Shock GA-B2100-1AJF is a remarkable timepiece that lives up to the legendary G-Shock reputation. With its rugged construction, innovative features, and stylish design, it is a reliable companion for modern adventurers, outdoor enthusiasts, and individuals seeking a durable and versatile watch.
The GA-B2100-1AJF's shock resistance, water resistance, and solar-powered operation ensure that it can handle the toughest conditions and keep ticking under any circumstances. Its world time function, stopwatch, countdown timer, and other useful features make it a practical choice for those who lead active lifestyles or travel frequently.
Moreover, the watch's comfortable fit, lightweight design, and stylish aesthetics add to its appeal. Whether you're exploring the great outdoors or heading out for a casual outing, the GA-B2100-1AJF blends seamlessly with your attire, enhancing your overall style.
While the watch may lack some of the advanced smart features found in other models, it more than compensates with its durability, reliability, and long-lasting battery life. If you prioritize functionality, toughness, and style in a timepiece, the Casio G-Shock GA-B2100-1AJF is undoubtedly worth considering.