In today's fast-paced world, a reliable and stylish timepiece is an essential accessory for both men and women. Whether it's for everyday wear or special occasions, a watch not only helps keep track of time but also adds a touch of sophistication to any outfit. Among the many watch brands available on the market, Casio has long been recognized for producing durable and affordable timepieces. One such offering from Casio is the Casio General Watches Standard MTP-1302D-7A2VDF, a classic stainless steel watch with a sleek design. In this review, we will delve into the features, performance, and overall value for money of this timepiece.
Design and Build Quality
The Casio General Watches Standard MTP-1302D-7A2VDF showcases a timeless design that appeals to individuals with a preference for simplicity and elegance. The watch features a round stainless steel case with a diameter of 38mm, making it suitable for both men and women. Its clean white dial is accentuated by silver-tone hour markers and hands, providing excellent legibility even in low-light conditions. The watch also sports a date window at the 3 o'clock position, adding to its functionality.
The build quality of the MTP-1302D-7A2VDF is impressive, considering its affordable price point. The stainless steel case and bracelet offer durability and resistance to daily wear and tear. The bracelet is secured with a fold-over clasp, ensuring a secure and comfortable fit on the wrist. Overall, the watch exudes a sense of robustness while maintaining a slim profile, making it suitable for both formal and casual occasions.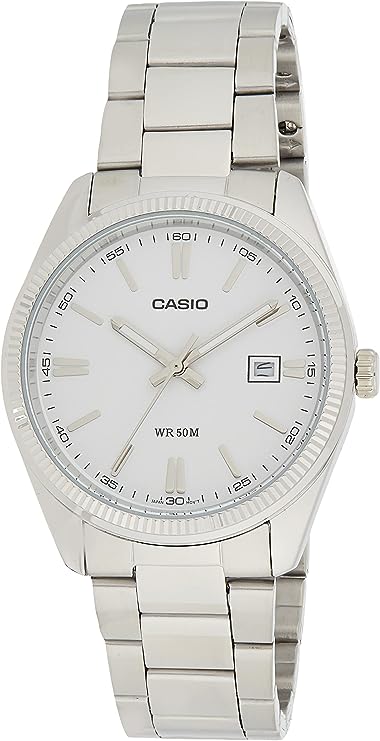 Timekeeping Performance
At its core, the Casio General Watches Standard MTP-1302D-7A2VDF is a reliable timekeeping instrument. The watch operates on a quartz movement, which is known for its accuracy and low maintenance requirements. With quartz movement, the watch only needs occasional battery replacement to keep it running smoothly. This eliminates the need for regular winding or setting of time, making it a hassle-free timepiece for everyday wear.
The watch features luminous hands and hour markers, allowing for easy readability in dark environments. This is especially useful during nighttime activities or when traveling across different time zones. The luminous material used on the watch provides a sufficient glow after being exposed to light, ensuring that the time can be read at a glance without any difficulty.
The MTP-1302D-7A2VDF also offers water resistance up to 50 meters (165 feet). While this may not make it suitable for diving or swimming, it provides adequate protection against splashes and accidental submersion. Users can confidently wear this watch during daily activities without worrying about water damage.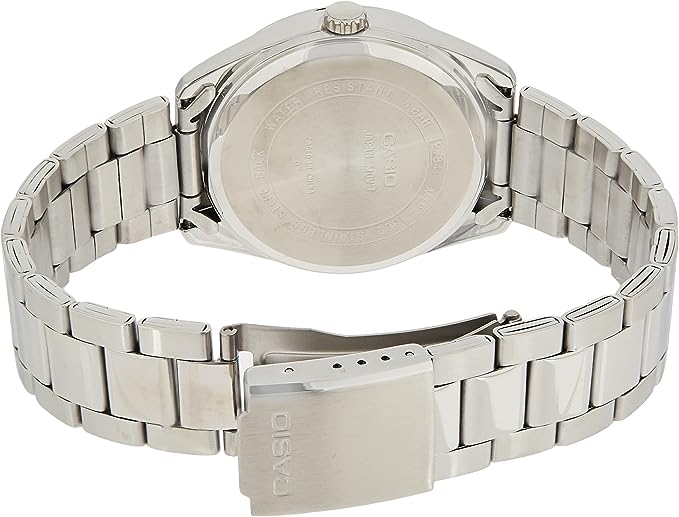 Functionality and Features
Despite its classic design, the Casio General Watches Standard MTP-1302D-7A2VDF offers several useful features that enhance its functionality. One notable feature is the inclusion of a date window, which allows users to quickly reference the current date. This is particularly handy for those who rely on their watch to stay organized and manage their schedules effectively.
The watch also includes a mineral crystal dial window, which provides excellent scratch resistance. It safeguards the dial from minor bumps and scratches that can occur during regular use. Additionally, the stainless steel case offers a level of durability that ensures the watch will withstand the test of time.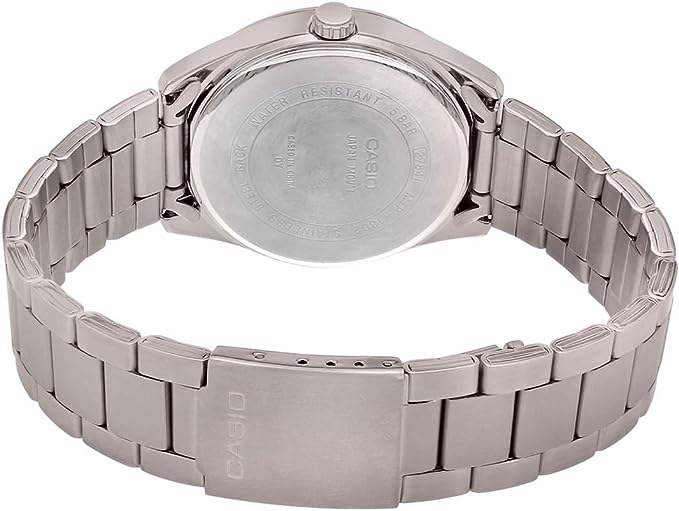 Comfort and Fit
Wearing a watch should be a comfortable experience, especially for individuals who wear their timepiece for extended periods. The Casio General Watches Standard MTP-1302D-7A2VDF excels in this regard, thanks to its well-designed bracelet and clasp system. The stainless steel bracelet is composed of individual links that can be easily adjusted to achieve the perfect fit for any wrist size. The fold-over clasp securely fastens the watch, preventing it from slipping or sliding during daily activities.
Furthermore, the slim profile of the watch adds to its comfort factor. It sits comfortably on the wrist without feeling bulky or obstructive. Whether worn with formal attire or casual clothing, the MTP-1302D-7A2VDF offers a pleasant wearing experience throughout the day.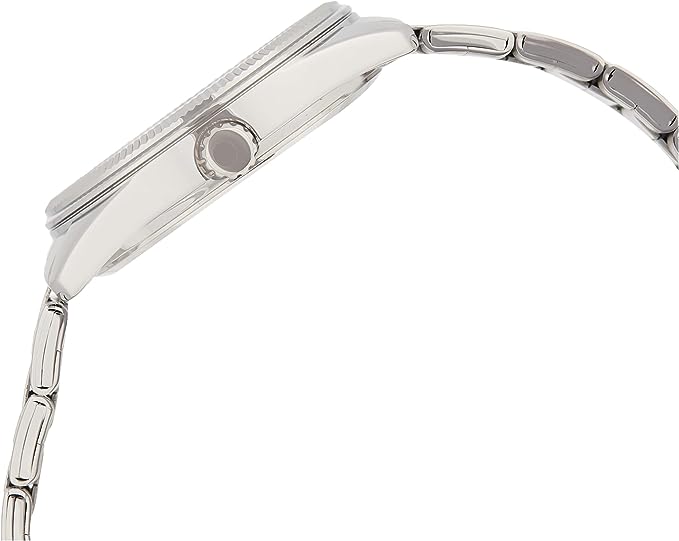 Value for Money
One of the most compelling aspects of the Casio General Watches Standard MTP-1302D-7A2VDF is its outstanding value for money. Priced competitively, this timepiece delivers a combination of reliability, functionality, and durability that surpasses expectations for its price range. Casiohas a reputation for producing high-quality watches at affordable prices, and the MTP-1302D-7A2VDF is no exception.
Compared to other watches in a similar price range, the MTP-1302D-7A2VDF stands out with its timeless design and reliable performance. The stainless steel case and bracelet give it a premium look and feel, while the quartz movement ensures accurate timekeeping. The added features, such as the luminous hands and date window, make it even more practical for everyday use.
What truly sets this watch apart is its durability. Despite its affordable price, Casio has not compromised on the build quality. The stainless steel construction ensures that it can withstand the rigors of daily wear without showing signs of wear and tear easily. The mineral crystal dial window adds an extra layer of protection against scratches, making this watch suitable for those with an active lifestyle.
When considering the value for money, it's important to note that the MTP-1302D-7A2VDF offers a level of reliability and functionality that is usually found in higher-priced timepieces. For individuals who want a stylish and dependable watch without breaking the bank, this Casio model provides an excellent option.
In terms of versatility, the MTP-1302D-7A2VDF excels. Its clean and classic design makes it suitable for various occasions, from formal events to casual outings. Whether paired with a business suit or jeans and a t-shirt, this watch adds a touch of sophistication to any ensemble.
While the MTP-1302D-7A2VDF may not have all the advanced features of luxury watches, it delivers where it matters most: reliability, accuracy, and durability. It fulfills its primary function as a timekeeping device exceptionally well, and the additional features only enhance its practicality.
Furthermore, Casio is known for its excellent customer service and warranty coverage. In the rare event of any issues or defects, Casio provides reliable support to ensure customer satisfaction.
In conclusion, the Casio General Watches Standard MTP-1302D-7A2VDF is a remarkable timepiece that offers exceptional value for money. Its classic design, reliable performance, and durability make it an ideal choice for individuals seeking a stylish yet affordable watch. Whether you're looking for a reliable everyday timepiece or a gift for someone special, this Casio model is definitely worth considering.
Pros:
Timeless design suitable for various occasions
Reliable quartz movement for accurate timekeeping
Luminous hands and hour markers for easy readability in low-light conditions
Water resistance up to 50 meters (165 feet)
Excellent build quality and durable stainless steel construction
Scratch-resistant mineral crystal dial window
Comfortable fit with adjustable bracelet and secure fold-over clasp
Outstanding value for money
Cons:
Limited additional features compared to higher-priced watches
Not suitable for diving or swimming
In summary, the Casio General Watches Standard MTP-1302D-7A2VDF is a reliable and affordable timepiece that delivers on both style and functionality. Its classic design, durable build, and precise timekeeping make it a standout choice in its price range. Whether you're a watch enthusiast or simply in need of a reliable everyday companion, the MTP-1302D-7A2VDF is a worthy investment.