In the realm of wristwatches, Casio has always been a brand associated with innovation and durability. The Casio GMW-B5000 Series G-Shock Wristwatch is a true testament to this reputation. Combining cutting-edge technology, sleek design, and rugged construction, this timepiece offers an exceptional user experience for both casual wearers and watch enthusiasts alike.
Design and Construction
The design of the Casio GMW-B5000 Series G-Shock Wristwatch strikes a perfect balance between modern aesthetics and the iconic G-Shock heritage. Encased in a multi-finished black stainless steel body, this timepiece exudes sophistication and durability. Its square shape pays homage to the original G-Shock design while incorporating contemporary elements.
One notable feature of this watch is the presence of four screws on the case front, reminiscent of the G-Shock's origins. These screws not only add to the overall aesthetics but also enhance the structural integrity of the watch, making it highly resistant to impact and shock.
The sturdy stainless steel band complements the watch's case, providing a secure and comfortable fit on the wrist. The band features a combination of brushed and polished finishes, further enhancing the visual appeal. Additionally, the inclusion of a fold-over clasp ensures that the watch remains securely fastened during any activity.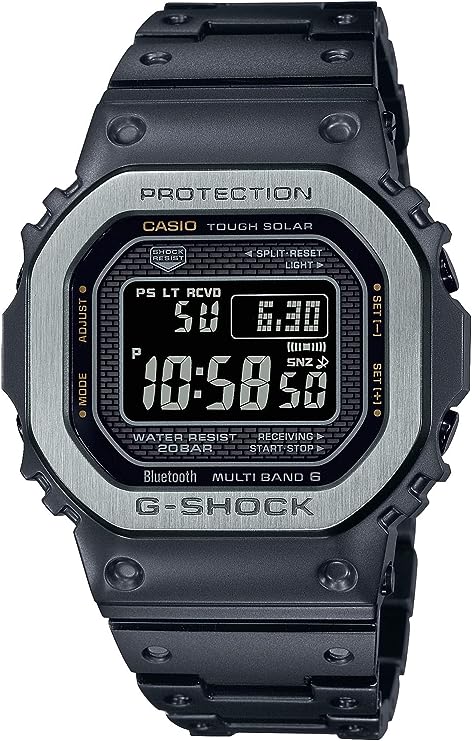 Display and User Interface
The Casio GMW-B5000 Series G-Shock Wristwatch boasts a high-contrast digital display that offers excellent readability in various lighting conditions. The display features a negative LCD screen, which provides a sharp contrast against the black background, ensuring that the information is easily visible.
Navigating through the watch's functions and features is a breeze, thanks to the intuitive user interface. The watch incorporates a combination of buttons and a rotating crown, allowing users to access different modes and adjust settings effortlessly. The crown provides a satisfying tactile feedback, making it easy to operate even while wearing gloves.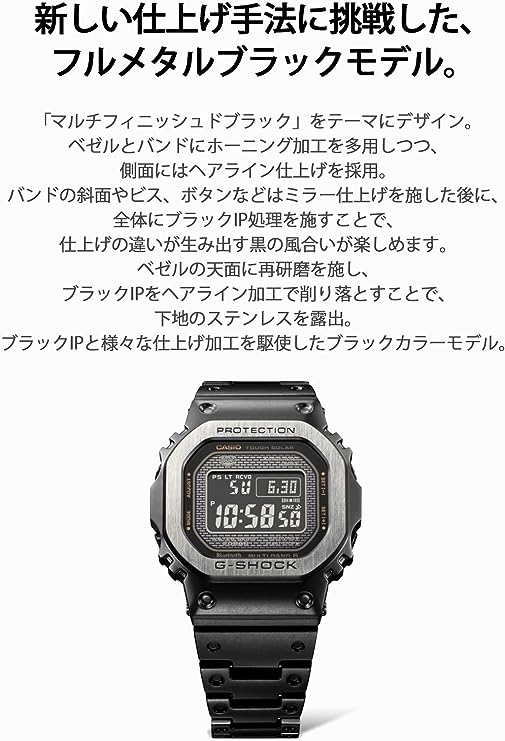 Features and Functionality
Solar Power and Radio Control
One of the standout features of the Casio GMW-B5000 Series G-Shock Wristwatch is its solar-powered mechanism. Equipped with a high-capacity rechargeable battery, this timepiece harnesses the power of sunlight to ensure continuous operation. This eliminates the need for regular battery replacements, reducing environmental waste and saving users both time and money.
Furthermore, the watch offers radio-controlled timekeeping, which automatically adjusts the time based on signals received from atomic clocks around the world. This feature ensures exceptional accuracy and eliminates the hassle of manual time adjustments when traveling across different time zones.
Bluetooth Connectivity
The inclusion of Bluetooth connectivity in the Casio GMW-B5000 Series G-Shock Wristwatch takes its functionality to the next level. By pairing the watch with a smartphone using the dedicated G-Shock Connected app, users can access additional features and customization options. Through the app, you can adjust various settings, receive notifications, and even track your fitness activities.
The seamless integration between the watch and the app allows for effortless synchronization of data, ensuring that you stay connected and informed throughout the day. Whether it's receiving call and message alerts or keeping track of your step count, the Bluetooth connectivity enhances the overall user experience.
Water Resistance and Durability
As expected from a G-Shock timepiece, the Casio GMW-B5000 Series offers exceptional water resistance, perfect for water sports enthusiasts or those who simply prefer not to worry about their watch during daily activities. With a water resistance rating of up to 200 meters, this watch can handle swimming, snorkeling, and even recreational scuba diving.
The watch's durability is further enhanced by its shock-resistant construction, ensuring that it can withstand the rigors of an active lifestyle. Whether you're engaged in sports or working in a physically demanding environment, the Casio GMW-B5000 Series G-Shock Wristwatch will keep ticking without missing a beat.
Additional Features
In addition to its core features, the Casio GMW-B5000 Series G-Shock Wristwatch offers several other functions that enhance its versatility. These include a stopwatch, countdown timer, alarm, world time display, and an automatic calendar. The watch also features an LED backlight for convenient visibility in low-light conditions.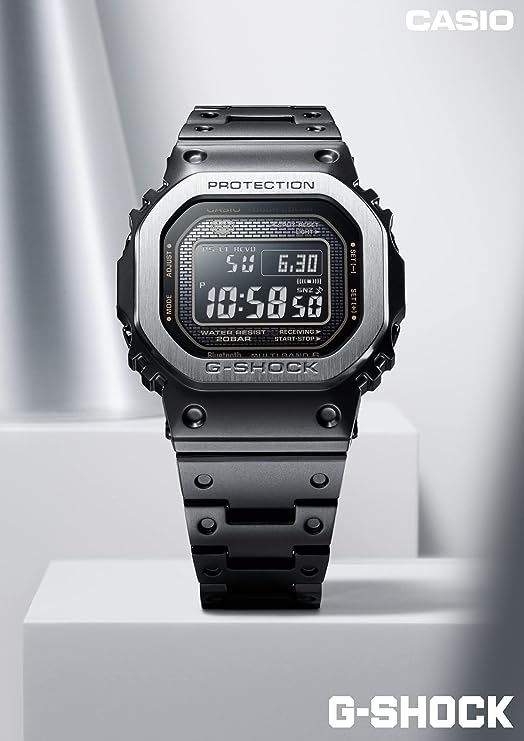 Pros and Cons
Pros:
Sleek and durable design
Solar-powered mechanism eliminates the need for battery replacements
Radio-controlled timekeeping ensures exceptional accuracy
Bluetooth connectivity adds extra functionality
Water-resistant up to 200 meters
Shock-resistant construction for added durability
User-friendly interface with intuitive controls
Cons:
-Cons (continued):
Limited color options available
Higher price point compared to other G-Shock models
Some users may find the square shape uncomfortable on smaller wrists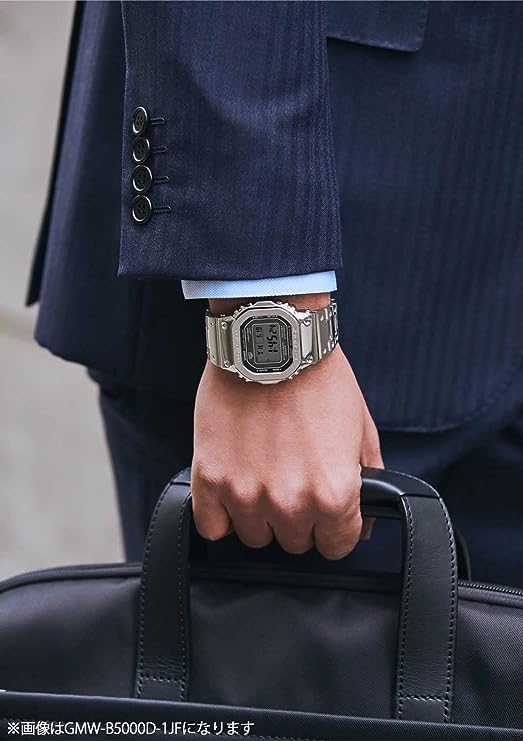 Conclusion
The Casio GMW-B5000 Series G-Shock Wristwatch is a remarkable timepiece that combines style, functionality, and durability. With its sleek design, solar-powered mechanism, radio-controlled timekeeping, and Bluetooth connectivity, this watch offers a plethora of features that cater to the needs of modern watch enthusiasts.
The rugged construction of the watch ensures that it can withstand the harshest conditions, making it an ideal companion for outdoor activities or day-to-day wear. The user-friendly interface and intuitive controls make operating the watch a breeze, allowing users to effortlessly access various functions and settings.
While the limited color options and higher price point may be a drawback for some, the overall value provided by the Casio GMW-B5000 Series G-Shock Wristwatch justifies the investment. Its exceptional water resistance, shock-resistant construction, and long-lasting battery life make it a reliable and durable timepiece suitable for any occasion.
Whether you're a sports enthusiast, a frequent traveler, or simply someone who appreciates the blend of style and functionality, the Casio GMW-B5000 Series G-Shock Wristwatch is a worthy addition to your watch collection. It is a true testament to Casio's commitment to innovation and quality, delivering a timepiece that exceeds expectations.
In conclusion, the Casio GMW-B5000 Series G-Shock Wristwatch is a perfect blend of style and functionality. Its sleek design, robust construction, solar-powered mechanism, and Bluetooth connectivity set it apart from other watches in its category. If you're in search of a reliable, versatile, and stylish timepiece, look no further than the Casio GMW-B5000 Series G-Shock Wristwatch.