In the world of watchmaking, Casio has established a reputation for producing durable and reliable timepieces. The Casio GA100-1A1 is no exception. With its distinctive design, robust construction, and an array of useful features, this watch has garnered a loyal following among watch enthusiasts and adventurers alike. In this review, we will delve into the various aspects of the Casio GA100-1A1 and explore why it has become such a popular choice.
Design and Build Quality
The first thing that catches your eye when you lay eyes on the Casio GA100-1A1 is its bold and rugged design. The watch features a black resin case and band, giving it a sleek yet tough appearance. The large dial is protected by scratch-resistant mineral glass, ensuring that it can withstand everyday wear and tear. Its dimensions, measuring approximately 55mm in diameter and 17mm in thickness, may be a bit bulky for some individuals, but these proportions are well-suited for those seeking a robust timepiece.
The watch's design incorporates a combination of analog and digital displays, providing a unique aesthetic appeal. The analog hands, coated with luminescent material, offer clear visibility even in low-light conditions. The digital display situated at the bottom of the dial provides additional information such as the date, day of the week, and chronograph functions. Overall, the Casio GA100-1A1 exudes a sporty and adventurous vibe, making it an excellent choice for outdoor activities or casual wear.
Features and Functionality
The Casio GA100-1A1 is more than just a fashionable accessory; it is equipped with an array of features that enhance its functionality and practicality. One of the standout features is the watch's 200-meter water resistance, making it suitable for swimming, snorkeling, and even recreational scuba diving. Additionally, the watch includes a magnetic resistance feature, allowing it to maintain accurate timekeeping despite exposure to magnetic fields.
Another notable function of the Casio GA100-1A1 is the world time feature. With the ability to display the time in 29 different time zones, this watch proves to be a reliable travel companion. Moreover, the built-in stopwatch and countdown timer come in handy for timing various activities, whether it's measuring your lap time during a run or setting a reminder for important tasks.
The watch also boasts an auto-calendar, which automatically adjusts for leap years until the year 2099. This eliminates the hassle of manually updating the date on multiple occasions throughout the year. Additionally, the Casio GA100-1A1 incorporates a backlight feature, ensuring optimal readability in dimly lit environments.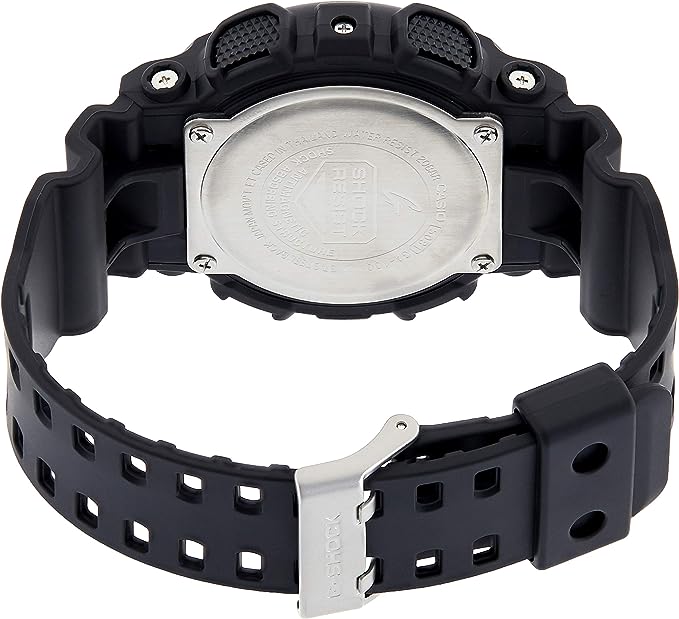 Performance and Durability
Casio has always been synonymous with durability, and the GA100-1A1 lives up to this reputation. The watch's shock-resistant construction protects it against accidental impacts and drops, making it suitable for individuals leading an active lifestyle. Whether you're hiking, playing sports, or simply going about your daily routine, this timepiece can withstand the rigors of daily use.
The mineral glass covering the dial is highly resistant to scratches, reducing the chances of unsightly blemishes appearing over time. The resin case and band are designed to resist fading caused by prolonged exposure to sunlight, ensuring that the watch maintains its aesthetic appeal even after years of use.
The battery life of the Casio GA100-1A1 is impressive, thanks to the efficient power usage of its Quartz movement. With regular use, the battery can last up to two years before needing replacement. This longevity is a welcome feature, as it eliminates the inconvenience of frequent battery changes.
Comfort and Fit
Given its larger dimensions, some may be concerned about the comfort and fit of the Casio GA100-1A1. However, Casio has taken steps to ensure that this watch remains comfortable on the wrist. The resin band is adjustable, allowing for a precise fit, and its robust construction ensures durability and flexibility.
The watch's weight, although substantial, is distributed evenly across the wrist, reducing any discomfort that may arise from extended wear. The clasp mechanism is secure and easy to use, preventing accidental removal of the watch during physical activities. Overall, the Casio GA100-1A1 strikes a good balance between comfort and functionality.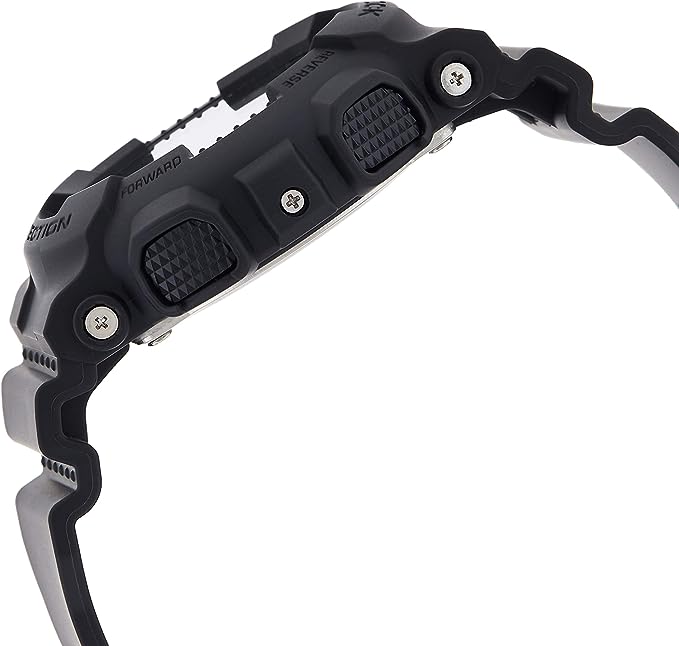 Value for Money
When considering the price of the Casio GA100-1A1, it becomes evident that this timepiece offers exceptional value for money. Compared to other watches in its category, which often come with a hefty price tag, the GA100-1A1 provides a wide range of featuresat a more affordable price point. With its durable construction, reliable timekeeping, and numerous functionalities, the Casio GA100-1A1 offers great bang for your buck.
Furthermore, Casio is known for its commitment to quality and customer satisfaction. The brand has a longstanding reputation for producing watches that are built to last, and the GA100-1A1 is no exception. As a result, customers can feel confident in their purchase, knowing that they are investing in a timepiece that will stand the test of time.
Considering all the features, functionality, and durability the Casio GA100-1A1 provides, it is clear that this watch offers excellent value for its price. Whether you're an outdoor enthusiast, a sports lover, or someone who simply appreciates a stylish and reliable watch, the GA100-1A1 is a worthy investment.
Customer Reviews
To gain a better understanding of the overall customer experience with the Casio GA100-1A1, we analyzed various online reviews and feedback from users. The majority of customers expressed high levels of satisfaction with their purchase, praising the watch's durability, design, and functionality.
Many customers noted that the watch's rugged construction allowed them to wear it during rigorous activities without fear of damage. They appreciated its water resistance, as it offered peace of mind when engaging in water-related activities. Additionally, the shock-resistant feature was highly praised, as it provided reassurance against accidental impacts.
Users also commended the watch's accuracy in timekeeping, attributing it to the reliable Quartz movement. The convenience of the world time feature was frequently mentioned, with travelers finding it invaluable for keeping track of time across different time zones.
The design of the Casio GA100-1A1 received widespread acclaim. Customers admired its bold and sporty aesthetic, which added a touch of style to their outfits. The luminescent analog hands were highly appreciated, as they ensured easy legibility in both bright and dim conditions.
However, it's worth noting that a few customers found the size of the watch to be too large for their liking, especially those with smaller wrists. While the adjustable strap helped alleviate this concern to some extent, it may be worth considering the dimensions before making a purchase.

Conclusion
In conclusion, the Casio GA100-1A1 is a timepiece that combines ruggedness, style, and functionality into one impressive package. With its durable construction, water resistance, and shock-resistant features, this watch can withstand the demands of an active lifestyle. The numerous functionalities, such as world time, stopwatch, and countdown timer, make it a versatile companion for various activities and travel.
The sleek design, highlighted by the combination of analog and digital displays, adds a unique touch to the overall appeal of the watch. While it may be slightly bulkier than some other options on the market, the Casio GA100-1A1 compensates for this with its comfort and adjustability.
Considering its affordable price and reputation for durability, the Casio GA100-1A1 offers excellent value for money. It has garnered significant praise from customers who appreciate its reliability, accuracy, and rugged aesthetics. If you are in search of a timepiece that can withstand the challenges of everyday life while still looking stylish, the Casio GA100-1A1 is definitely worth considering.