The Casio G-Shock Quartz Resin and Stainless Steel Watch is a timepiece that combines durability, functionality, and style. Designed with the active individual in mind, this watch is built to withstand the rigors of everyday use while providing accurate timekeeping. The G-Shock series from Casio has been renowned for its toughness, and this particular model lives up to that reputation.
Design and Build Quality
One of the standout features of the Casio G-Shock Quartz Resin and Stainless Steel Watch is its rugged and robust design. The case is made from a combination of resin and stainless steel, which provides excellent protection against impacts and shocks. The watch face is surrounded by a thick bezel that acts as a buffer, further safeguarding the timepiece from accidental knocks.
The strap of the G-Shock watch is made from durable resin, ensuring longevity and comfort even during intense activities. It has a secure buckle clasp that keeps the watch firmly in place on the wrist, reducing the risk of it slipping off. The strap is also adjustable, allowing users to find the perfect fit for their wrists.
The overall build quality of the watch is exceptional. Casio has paid great attention to detail, ensuring that every component is well-crafted and securely assembled. From the buttons to the screws, everything feels solid and reliable. This watch is designed to be used in demanding environments without compromising its performance.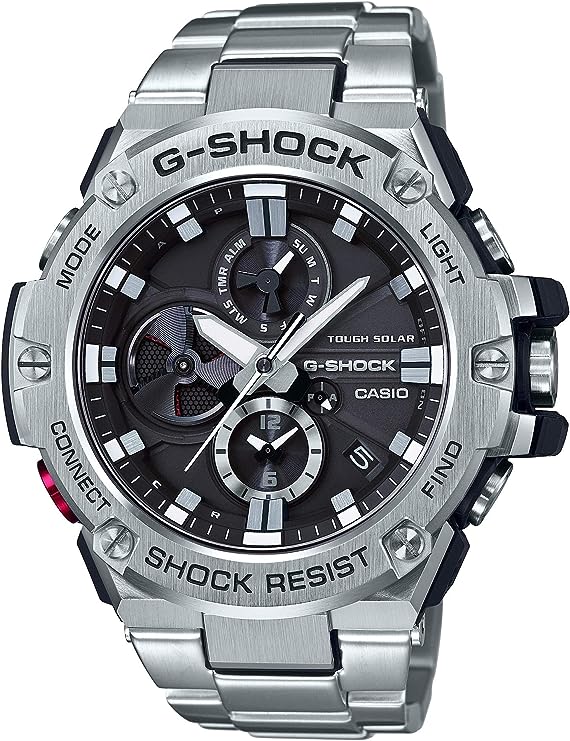 Features and Functionality
The Casio G-Shock Quartz Resin and Stainless Steel Watch boast an array of impressive features that make it a versatile timepiece. Here are some notable functions:
1. Shock Resistance
As part of the G-Shock series, this watch is specifically engineered to be shock-resistant. It can withstand high impacts and vibrations without affecting its performance or accuracy. This feature is particularly beneficial for individuals engaged in sports activities or those working in physically demanding professions.
2. Water Resistance
The watch offers a water resistance rating of 200 meters, making it suitable for snorkeling, swimming, and other water-related activities. Its robust construction and sealed design protect the internal components from water damage. However, it is important to note that while the watch is water-resistant, it is not designed for scuba diving.
3. Stopwatch and Countdown Timer
The Casio G-Shock Quartz Resin and Stainless Steel Watch include a built-in stopwatch and countdown timer. These features are incredibly useful for athletes, fitness enthusiasts, and anyone who needs precise timing. The stopwatch function allows you to measure elapsed time with accuracy, while the countdown timer helps in managing time-based activities.
4. World Time
Another practical feature of this watch is its world time functionality. It allows you to easily switch between different time zones, making it ideal for frequent travelers or individuals working across multiple locations. With the ability to store multiple time zones, you can conveniently keep track of the time around the world without hassle.
5. Auto-Calendar
The auto-calendar feature ensures that you always have the correct date. The watch automatically adjusts for leap years, providing accurate date information up to the year 2099. This eliminates the need for manual date adjustments, saving time and ensuring accuracy.
6. LED Backlight
In low-light conditions or at night, the built-in LED backlight illuminates the watch face, making it easy to read the time. The backlight is bright and evenly distributed, ensuring visibility even in complete darkness. This feature adds convenience and enhances the overall user experience.
7. Battery Life
The Casio G-Shock Quartz Resin and Stainless Steel Watch is powered by a long-lasting battery. With regular use, the battery can last up to two years before needing replacement. This is a significant advantage as it eliminates the need for frequent battery changes, providing hassle-free timekeeping.

Comfort and Wearability
Despite its rugged design, the Casio G-Shock Quartz Resin and Stainless Steel Watch offers excellent comfort and wearability. The resin strap is soft yet sturdy, minimizing any discomfort during extended periods of wear. The watch sits comfortably on the wrist and does not feel bulky or heavy.
The adjustable strap ensures that the watch can accommodate various wrist sizes, making it suitable for both men and women. Additionally, the secure buckle clasp keeps the watch securely in place, even during rigorous activities. The well-designed strap and ergonomic case allow for free movement without any hindrance.
Style and Versatility
While functionality and durability are paramount in a sports watch, the Casio G-Shock Quartz Resin and Stainless Steel Watch also excels in terms of style and versatility. The sleek black and silver color schemeof this watch gives it a modern and sophisticated look that can easily complement both casual and formal attire. Whether you're heading to the gym or attending a business meeting, this watch will undoubtedly add a touch of elegance to your overall look.
The design of the watch also lends itself well to various activities and environments. Its rugged exterior, combined with its water resistance, makes it suitable for outdoor adventures such as hiking, camping, and even extreme sports. However, it is equally at home in an office setting or during social events, thanks to its sleek and timeless design.
The versatility of the Casio G-Shock Quartz Resin and Stainless Steel Watch extends beyond its aesthetics. With its array of useful features like the stopwatch, countdown timer, and world time functionality, this watch is practical for individuals engaged in a wide range of activities. Whether you're a professional athlete, a frequent traveler, or someone who simply values precise timekeeping, this watch has you covered.
Accuracy and Reliability
Casio is known for producing watches that offer exceptional accuracy and reliability, and the G-Shock series is no exception. The quartz movement ensures precise timekeeping, allowing you to rely on this watch for accurate readings. Additionally, the watch's shock-resistant construction guarantees that it will continue to function flawlessly even in demanding situations.
The build quality of the Casio G-Shock Quartz Resin and Stainless Steel Watch further enhances its reliability. The robust materials used in its construction, along with the attention to detail in assembling each component, instill confidence in its durability. You can trust this watch to withstand the test of time and perform consistently day after day.
User Experience and Feedback
Customers who have purchased the Casio G-Shock Quartz Resin and Stainless Steel Watch have generally expressed high satisfaction with its performance and features. Many users appreciate the watch's durability and how well it holds up under various conditions. It has been reported to withstand accidental drops and impacts without any noticeable damage.
The watch's shock resistance, water resistance, and long battery life have also been praised by users. They find these features particularly useful for outdoor activities and everyday use. The ability to easily switch between time zones and the accuracy of the stopwatch and countdown timer have also received positive feedback from those who rely on these functions regularly.
Users have also commended the comfortable fit of the watch and how it seamlessly integrates into their daily routines. The adjustable strap ensures that it fits snugly on different wrist sizes, while the lightweight design makes it easy to forget you're even wearing it.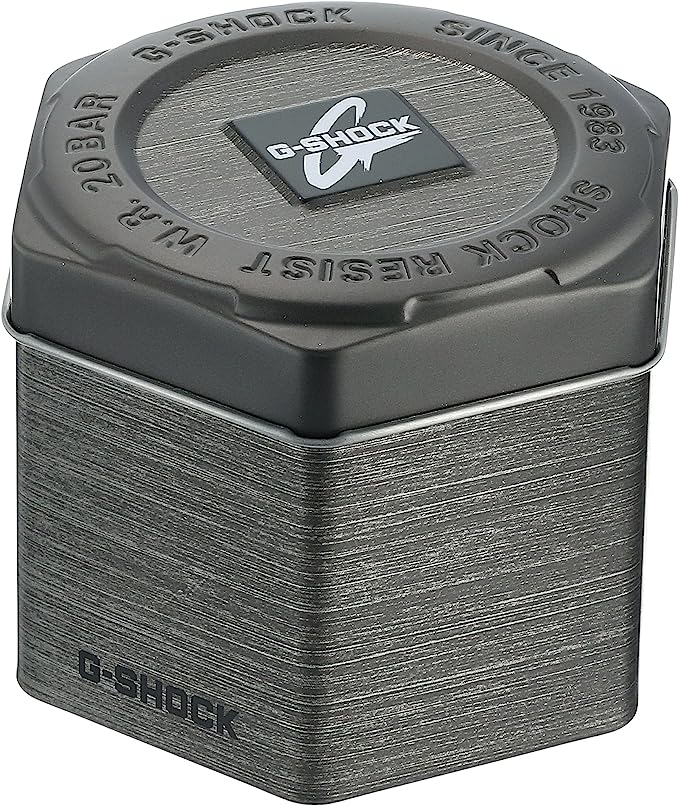 Conclusion
In conclusion, the Casio G-Shock Quartz Resin and Stainless Steel Watch is a standout timepiece that combines durability, functionality, and style. Its rugged design and excellent build quality make it ideal for individuals with active lifestyles or those working in demanding environments. With features like shock resistance, water resistance, and a long-lasting battery, this watch can handle anything you throw at it.
Beyond its durability, this watch offers a range of practical features such as world time, a stopwatch, and a countdown timer. These functions cater to athletes, travelers, and anyone who values precise timekeeping. The watch's accuracy and reliability further contribute to its appeal, ensuring that you can depend on it day in and day out.
Moreover, the Casio G-Shock Quartz Resin and Stainless Steel Watch doesn't compromise on comfort or style. Its ergonomic design and adjustable strap ensure a comfortable fit, while its sleek black and silver color scheme adds a touch of elegance to any outfit.
Overall, the Casio G-Shock Quartz Resin and Stainless Steel Watch is a remarkable timepiece that lives up to its reputation as a tough and reliable watch. Whether you're an adventurer, a sports enthusiast, or someone who simply appreciates high-quality craftsmanship, this watch is a worthy investment.