In the world of wristwatches, Casio has always been a reliable brand known for its quality and durability. The Casio MDV106B-2AV Men's Analog Watch is no exception. With its sleek design, rugged construction, and affordable price point, this timepiece has gained popularity among watch enthusiasts and everyday users alike.
In this comprehensive review, we will delve into the features, performance, and overall value of the Casio MDV106B-2AV Men's Analog Watch. Whether you're an avid diver, outdoor enthusiast, or simply in need of a reliable everyday watch, this timepiece might just be what you're looking for.
Design and Build Quality
The Casio MDV106B-2AV features a classic analog display with bold hour markers and hands, providing a clear and easy-to-read interface. The watch face is protected by a scratch-resistant mineral crystal, ensuring long-lasting visibility and protection against accidental bumps and scratches.
One of the standout design elements of this watch is its stainless steel case and matching bracelet. The case measures 44mm in diameter, striking a balance between being noticeable on the wrist without feeling overly large or cumbersome. The solid construction and water resistance of up to 200 meters (660 feet) make it suitable for various water activities such as swimming and snorkeling.
The blue bezel adds a pop of color to the overall aesthetic of the watch, complementing the silver-tone case and bracelet beautifully. The unidirectional rotating bezel is not only visually appealing but also functional, allowing for easy tracking of elapsed time while diving or timing other activities.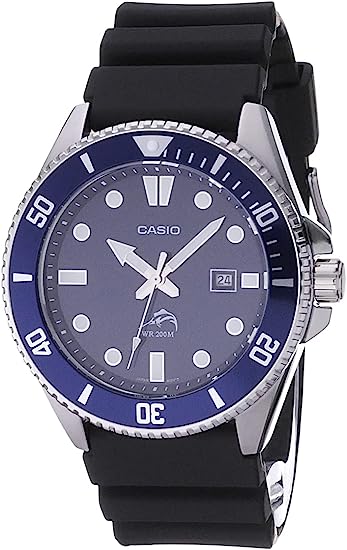 Movement and Accuracy
At the heart of the Casio MDV106B-2AV is a reliable quartz movement, known for its accuracy and low maintenance requirements. The watch operates on a battery-powered mechanism, eliminating the need for frequent winding or adjustment.
Casio is renowned for its precision timekeeping, and the MDV106B-2AV lives up to the brand's reputation. The watch maintains accurate timekeeping within a few seconds per month, ensuring that you're always punctual for your daily activities or important appointments.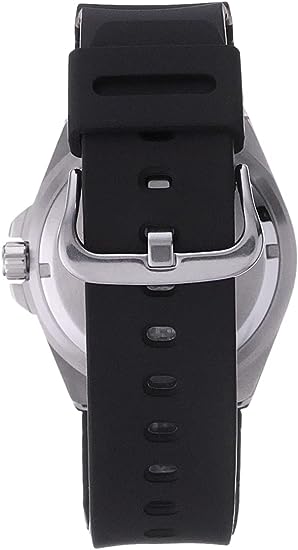 Functionality and Features
While the Casio MDV106B-2AV Men's Analog Watch may appear simple at first glance, it boasts several useful features that enhance its overall functionality. Some of these notable features include:
1. Date Display
The watch includes a date display positioned at the 3 o'clock position, providing a convenient way to keep track of the current date without the need for additional devices.
2. Luminous Hands and Hour Markers
In low-light conditions or complete darkness, the luminous hands and hour markers come to life, making it easy to read the time at any hour of the day or night. This feature is particularly useful for individuals who frequently find themselves in dimly lit environments or who engage in nighttime activities.
3. Screw-Down Crown
The screw-down crown ensures water resistance and protects the internal components from moisture and dust. It adds an extra layer of durability to the watch, making it suitable for activities where water exposure is expected.
4. Durable Resin Strap
The Casio MDV106B-2AV comes with a durable resin strap that offers both comfort and flexibility. The strap is adjustable to fit a range of wrist sizes, ensuring a secure and comfortable fit throughout the day.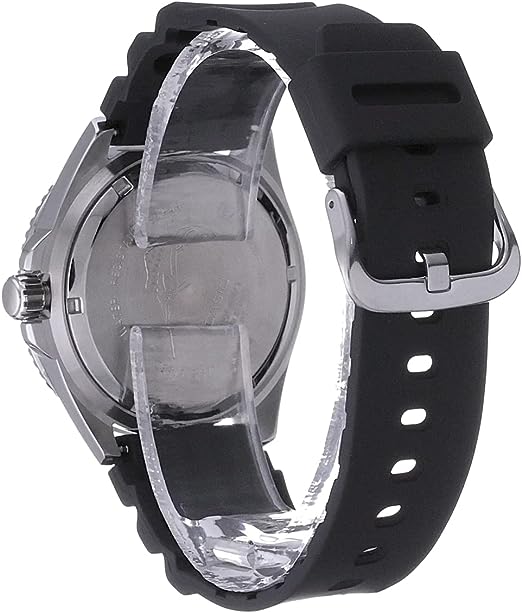 Performance and Durability
One of the standout qualities of the Casio MDV106B-2AV Men's Analog Watch is its exceptional performance and durability. As a dive watch, it is designed to withstand the rigors of underwater activities, making it an ideal companion for divers and water sports enthusiasts.
The watch's 200-meter water resistance ensures that it can handle recreational diving and other water-based activities with ease. The screw-down crown and robust construction keep water out and protect the internal components from any potential damage.
Furthermore, the scratch-resistant mineral crystal adds to the overall durability of the watch, maintaining its pristine appearance even after prolonged use. Whether you're exploring the depths of the ocean or going about your daily routine, the Casio MDV106B-2AV is built to endure.
Value for Money
One of the most appealing aspects of the Casio MDV106B-2AV Men's Analog Watch is its excellent value for money. With a relatively affordable price compared to other watches in its class, it offers an impressive range of features and reliability that are hard to beat.
Casio has a long-standing reputation for producing timepieces that offer great value, and the MDV106B-2AV is no exception. Despite its affordable price point, the watch incorporates high-quality materials, precise timekeeping, and a durable construction that rivals more expensive options on the market.
When comparing the Casio MDV106B-2AV to other dive watches in a similar price range, it stands out for its reliability and functionality. While some may argue that it lacks certain advanced features found in higher-end models, it compensates with its robustness and accuracy, which are essential qualities for a dependable everyday watch.
Another aspect that adds to the value of this timepiece is its versatility. The classic design and neutral color scheme make it suitable for various occasions and outfits. Whether you're wearing it with casual attire or dressing up for a formal event, the Casio MDV106B-2AV effortlessly complements any style.
Furthermore, the durability and longevity of this watch ensure that it will be a long-lasting investment. The stainless steel case and bracelet resist daily wear and tear, maintaining their appearance even after extended periods of use. Additionally, Casio's reputation for producing reliable watches means that you can trust the MDV106B-2AV to accompany you on your adventures for years to come.

User Feedback and Reviews
To gain further insights into the Casio MDV106B-2AV Men's Analog Watch, let's take a look at what users have to say about their experience with this timepiece. Online reviews from trusted sources and customer feedback on platforms like Amazon provide valuable information regarding its performance, comfort, and overall satisfaction.
Many users praise the Casio MDV106B-2AV for its outstanding durability and water resistance. Divers and water sports enthusiasts appreciate its ability to withstand the demands of recreational diving and swimming. The unidirectional rotating bezel is also highly regarded for its smooth operation and accurate tracking of elapsed time.
The luminous hands and hour markers receive positive feedback for their effectiveness in low-light conditions. Users find the glow to be bright and long-lasting, ensuring easy readability even in the darkest environments. The date display is also considered a convenient addition, eliminating the need for a separate calendar or digital device.
Comfort is another aspect that users appreciate about the MDV106B-2AV. The adjustable resin strap provides a secure fit and remains comfortable throughout extended periods of wear. The watch's lightweight design further contributes to its overall comfort, making it suitable for daily use without causing any discomfort or irritation.
In terms of timekeeping accuracy, users report satisfaction with the Casio MDV106B-2AV. Its quartz movement keeps precise time, allowing users to rely on it for punctuality in their daily activities. Some users even compare its accuracy to more expensive watches, highlighting the excellent value that this timepiece offers.
Overall, the user feedback for the Casio MDV106B-2AV Men's Analog Watch is overwhelmingly positive. From its durability and water resistance to its comfort and reliability, it has garnered a loyal following of satisfied customers who appreciate its performance and affordability.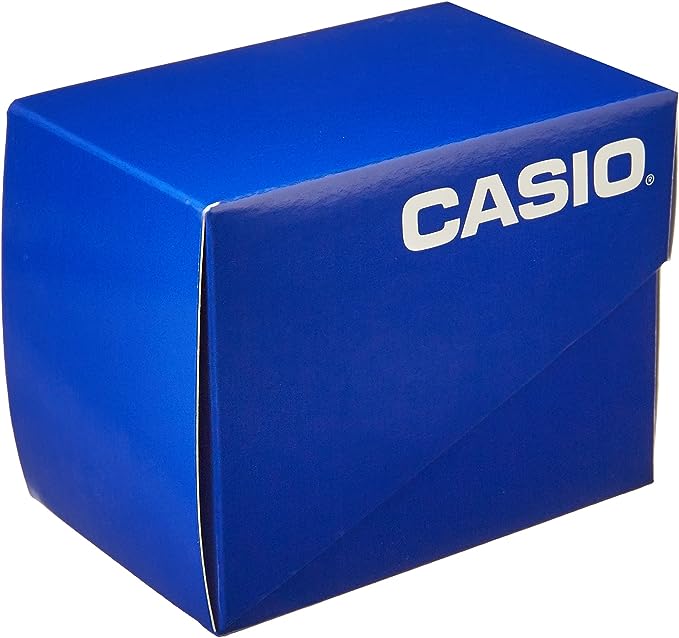 Conclusion
The Casio MDV106B-2AV Men's Analog Watch is a standout timepiece that combines style, durability, and functionality. Whether you're an avid diver, outdoor enthusiast, or simply seeking a reliable everyday watch, this model delivers impressive performance at an affordable price point.
With its classic design, stainless steel construction, and water resistance of up to 200 meters, the MDV106B-2AV is a versatile watch that can accompany you on various adventures. Its luminous hands, unidirectional rotating bezel, and accurate quartz movement ensure ease of use and precise timekeeping in any environment.
Furthermore, the Casio MDV106B-2AV offers exceptional value for money. It provides features and reliability comparable to more expensive dive watches, making it an attractive option for those seeking a dependable timepiece without breaking the bank. Casio's reputation for producing high-quality watches further solidifies the trust and confidence users have in this model.
If you're in search of a reliable, durable, and stylish analog watch that won't disappoint, the Casio MDV106B-2AV Men's Analog Watch is certainly worth considering. Its combination of functionality, affordability, and timeless design make it an excellent choice for anyone in need of a versatile and long-lasting wristwatch.