In the world of watches, one brand has consistently stood out for its reliability and innovation: Casio. With a long history of producing high-quality timepieces, Casio has become synonymous with durability, precision, and functionality. Their latest offering, the Casio PRW-6900YL-5 Tough Solar Watch, is another testament to the brand's commitment to excellence. In this review, we will delve into the features, design, and performance of this impressive timepiece to help you decide if it's the right fit for your wrist.
Design and Build Quality
The Casio PRW-6900YL-5 Tough Solar Watch boasts a rugged and sporty design that is perfect for outdoor enthusiasts and adventure seekers. The watch features a durable resin case and band, designed to withstand the rigors of active lifestyles. The bold yellow color scheme adds a touch of vibrancy and makes the watch easily visible in any setting.
With its large and easy-to-read digital display, this watch provides excellent visibility, even in low-light conditions. The inclusion of an LED backlight further enhances legibility, ensuring that you can check the time at a glance, day or night.
One standout feature of the PRW-6900YL-5 is its water resistance. With a rating of 200 meters, this watch is suitable for swimming, snorkeling, and even some recreational diving. Whether you're exploring the depths of the ocean or simply enjoying a refreshing swim, you can trust this watch to keep ticking.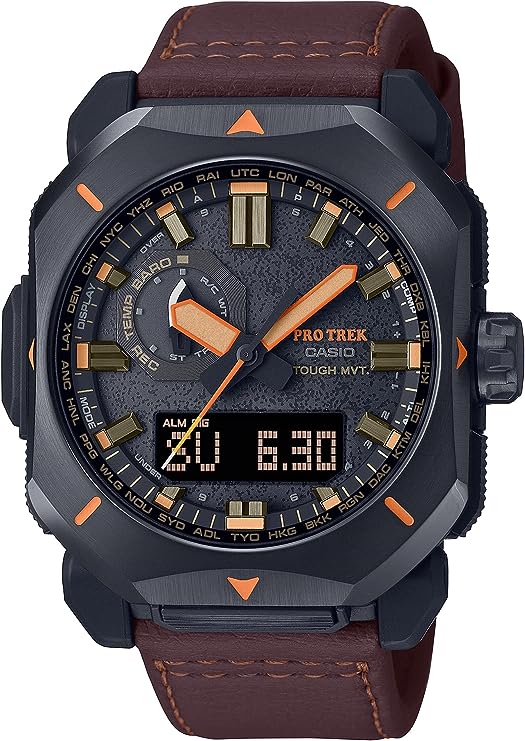 Features and Functionality
Tough Solar Technology
One of the most impressive features of the Casio PRW-6900YL-5 is its ability to harness the power of the sun. The watch is equipped with Casio's Tough Solar technology, which allows it to convert both natural and artificial light into energy. This means that you never have to worry about replacing the battery or running out of power. The watch can operate for extended periods without exposure to light, thanks to its power-saving function.
Multi-Band Atomic Timekeeping
Another noteworthy feature of this timepiece is its Multi-Band Atomic Timekeeping. By receiving radio signals from various atomic clocks around the world, the watch automatically adjusts its time and date settings. This ensures that you're always on time, no matter where you are. The accuracy provided by this feature is unparalleled and sets the PRW-6900YL-5 apart from many other watches on the market.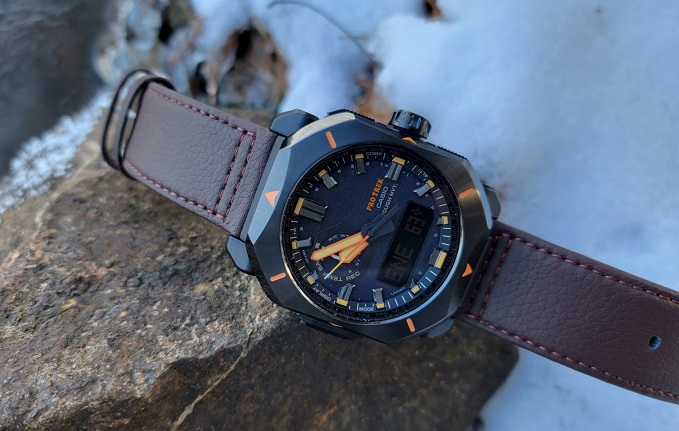 Triple Sensor Technology
The Casio PRW-6900YL-5 incorporates Triple Sensor technology, making it an excellent companion for outdoor activities. The three sensors include a compass, altimeter/barometer, and thermometer, all of which provide valuable information for your adventures. Whether you're hiking in the mountains or exploring new territories, these sensors will assist you in navigating and monitoring the conditions around you.
The compass provides accurate directional readings, helping you find your way even in unfamiliar terrain. The altimeter/barometer measures altitude and atmospheric pressure, enabling you to track changes in weather patterns and predict approaching storms. The thermometer allows you to keep tabs on the temperature, ensuring that you're prepared for any climate.
World Time and Alarm Functions
As a frequent traveler, having access to multiple time zones can be immensely useful. The PRW-6900YL-5 offers world time functionality, allowing you to effortlessly switch between different time zones with ease. Additionally, the watch provides a variety of alarms, including daily alarms, hourly time signals, and a snooze function. These features are indispensable for busy individuals who need reminders throughout the day.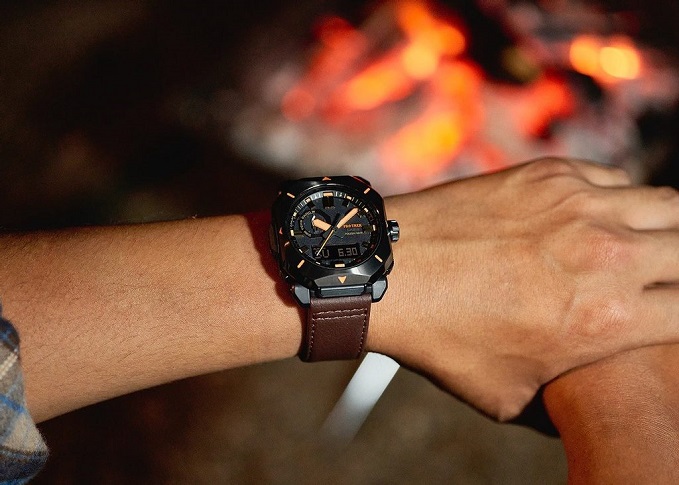 Stopwatch and Countdown Timer
Whether you're an athlete or simply someone who enjoys tracking their performance, the stopwatch and countdown timer functions on this watch will come in handy. The stopwatch measures elapsed time, split time, and 1st and 2nd place times with a maximum measurement of 24 hours. The countdown timer can be set for up to 24 hours, helping you stay on track during workouts or other time-sensitive activities.
Performance
The Casio PRW-6900YL-5 delivers exceptional performance across all its functions. The Tough Solar technology ensures that the watch remains powered even in low-light conditions, and the Multi-Band Atomic Timekeeping guarantees precise and accurate timekeeping. The Triple Sensor technology performs remarkably well in providing vital outdoor information, making it an excellent tool for adventurers.
The watch's buttons have a satisfying tactile feel, allowing for easy operation and navigation through its various functions. The digital display is crisp and clear, with excellent contrast, ensuring legibility in all lighting conditions. The LED backlight further enhances visibility in darker environments.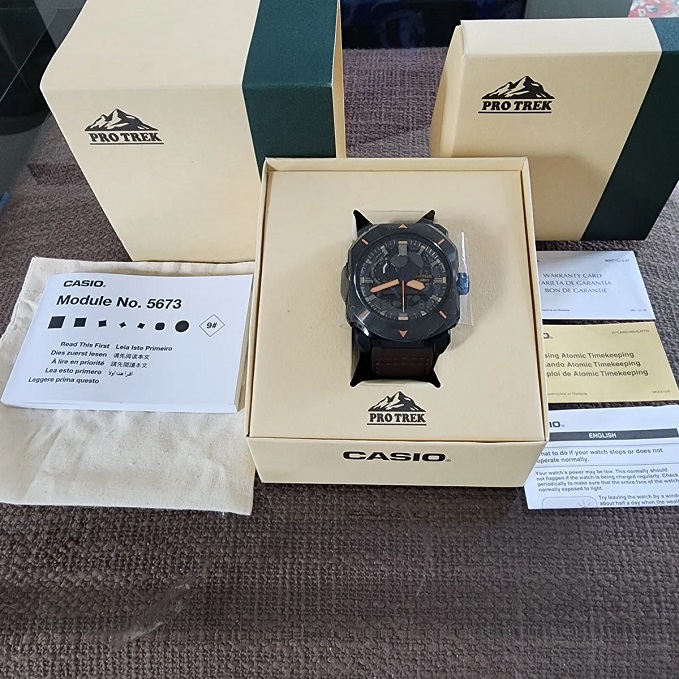 Conclusion
In conclusion, the Casio PRW-6900YL-5 Tough Solar Watch is a remarkable timepiece that combines style, functionality, and durability. Its rugged design and water resistance make it an ideal choice for outdoor activities, while its advanced features cater to the needs of adventurers and travelers.
The Tough Solar technology ensures that you never have to worry about changing batteries, as the watch harnesses the power of light to keep it running. The Multi-Band Atomic Timekeeping feature guarantees precise timekeeping no matter where you are in the world. The Triple Sensor technology provides essential information such as direction, altitude, atmospheric pressure, and temperature, making it a valuable companion for outdoor enthusiasts.
The watch's performance is exceptional, with easy operation and clear visibility even in low-light conditions. Whether you're diving, hiking, or simply going about your daily activities, the PRW-6900YL-5 delivers accurate timekeeping and reliable performance.
However, there are a few considerations to keep in mind. The size and weight of the watch may not be suitable for those with smaller wrists or those who prefer a more lightweight timepiece. Additionally, some users may find the abundance of features overwhelming or unnecessary for their needs.
With a price point that reflects its quality and functionality, the Casio PRW-6900YL-5 Tough Solar Watch offers excellent value for money. It is a durable and reliable timepiece that can withstand the demands of an active lifestyle.
If you're in the market for a sporty and feature-packed watch that doesn't compromise on style or performance, the Casio PRW-6900YL-5 Tough Solar Watch is definitely worth considering. Its robust build, advanced features, and reliable performance make it a standout choice among outdoor watches.