The Citizen BN0165-55L PROMASTER Marine Eco-Drive Men's Watch is a sophisticated timepiece that combines advanced technology with elegant design. This watch, part of Citizen's renowned PROMASTER collection, offers exceptional features and durability for an active lifestyle. With its Eco-Drive technology, durable construction, and impressive water resistance, this watch proves to be a reliable companion in any situation.
Design and Build Quality
The first thing that catches the eye when looking at the Citizen BN0165-55L is its sleek and sporty design. The stainless steel case and bracelet give it a polished and sophisticated appearance suitable for both casual and formal occasions. The blue dial with luminous hands and hour markers adds a touch of vibrancy and enhances readability, especially in low-light conditions.
The build quality of this watch is outstanding. Made with durable materials, including scratch-resistant mineral crystal, the BN0165-55L ensures longevity and resilience against wear and tear. Additionally, the watch features a unidirectional rotating bezel, which not only adds to its aesthetic appeal but also serves as a functional tool for divers.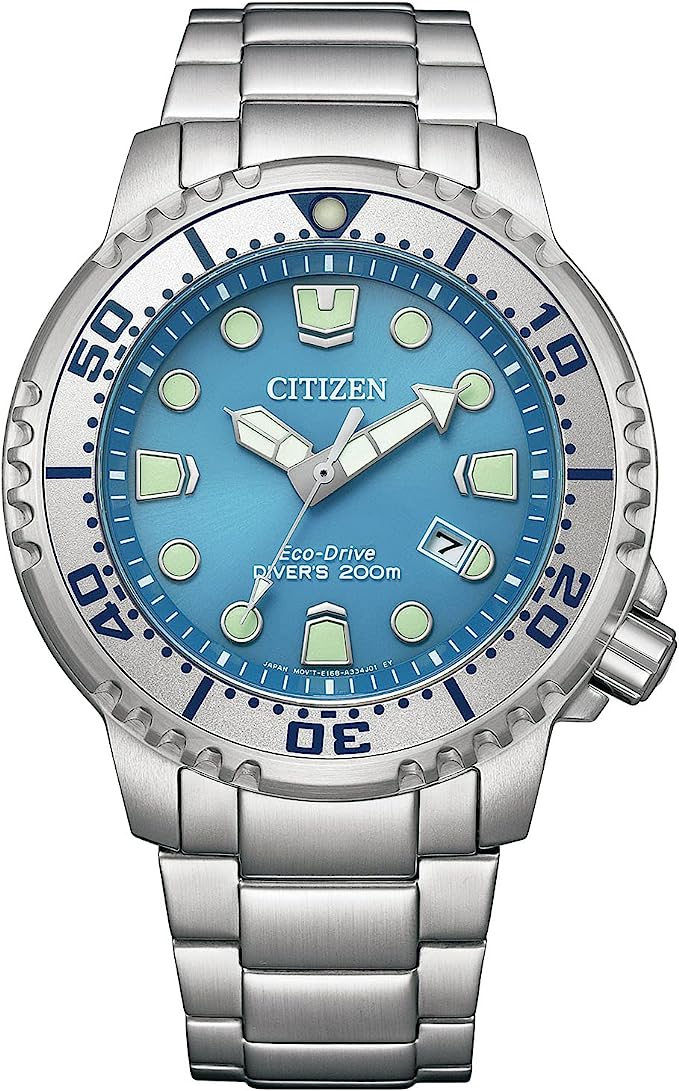 Eco-Drive Technology
One of the standout features of the Citizen BN0165-55L is its Eco-Drive technology. Powered by light, this watch does not require battery replacements, making it incredibly convenient and environmentally friendly. The solar panel located beneath the dial converts both natural and artificial light into energy, ensuring consistent and reliable functionality.
The Eco-Drive technology also includes a power reserve function, allowing the watch to continue operating even in complete darkness for up to 6 months. This feature is particularly useful for those who rotate between multiple watches or have limited access to light sources.
Functionality and Features
The Citizen BN0165-55L PROMASTER Marine watch offers a range of practical features suited for everyday use and various outdoor activities. Its water resistance of up to 200 meters (660 feet) makes it suitable for recreational scuba diving, swimming, snorkeling, and other water sports. The screw-down crown provides an extra layer of protection against water infiltration, ensuring the watch remains reliable even in extreme conditions.
In terms of timekeeping functionality, the BN0165-55L showcases a precise and accurate Japanese quartz movement. The watch displays the time, date, and day of the week on the dial, keeping you well-informed at all times. The luminous hands and hour markers allow for easy visibility in low-light environments, further enhancing its practicality.
Furthermore, the unidirectional rotating bezel serves as a vital tool for divers, enabling them to measure elapsed time accurately and track their dive durations. The bezel operates smoothly and provides a satisfying click, ensuring ease of use and precision.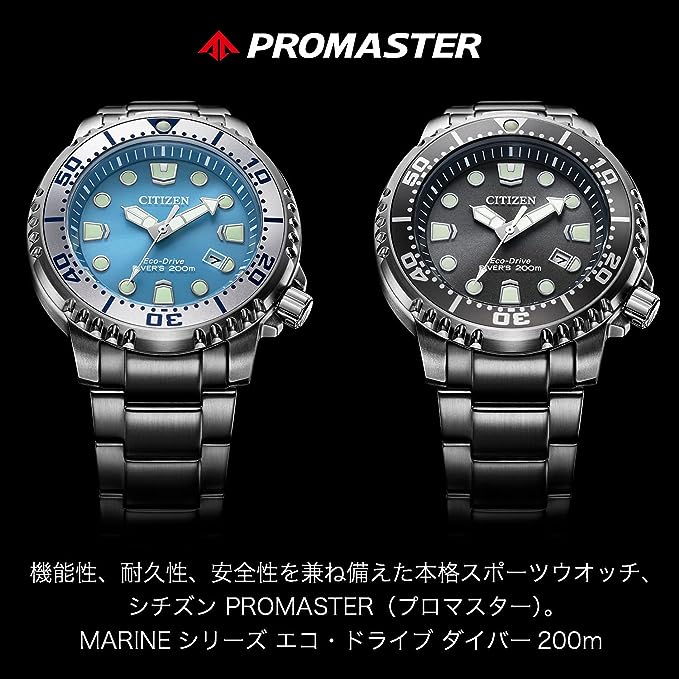 Comfort and Fit
A watch's comfort and fit are crucial factors to consider, especially for those who wear it for extended periods. The Citizen BN0165-55L excels in this department, providing a comfortable wearing experience. The stainless steel bracelet with a fold-over clasp ensures a secure and customizable fit, allowing users to adjust the size according to their wrist circumference. The weight of the watch is well-balanced, neither too heavy nor too light, making it suitable for all-day wear without causing discomfort.
Pros
Sleek and sporty design suitable for various occasions
Eco-Drive technology eliminates the need for battery replacements
Durable construction with scratch-resistant mineral crystal
Water resistant up to 200 meters (660 feet)
Precise Japanese quartz movement
Luminous hands and hour markers for enhanced visibility
Unidirectional rotating bezel for diving functionality
Comfortable fit with adjustable stainless steel bracelet
Cons
The blue dial may not appeal to everyone's taste
Lack of additional complications, such as a chronograph or alarm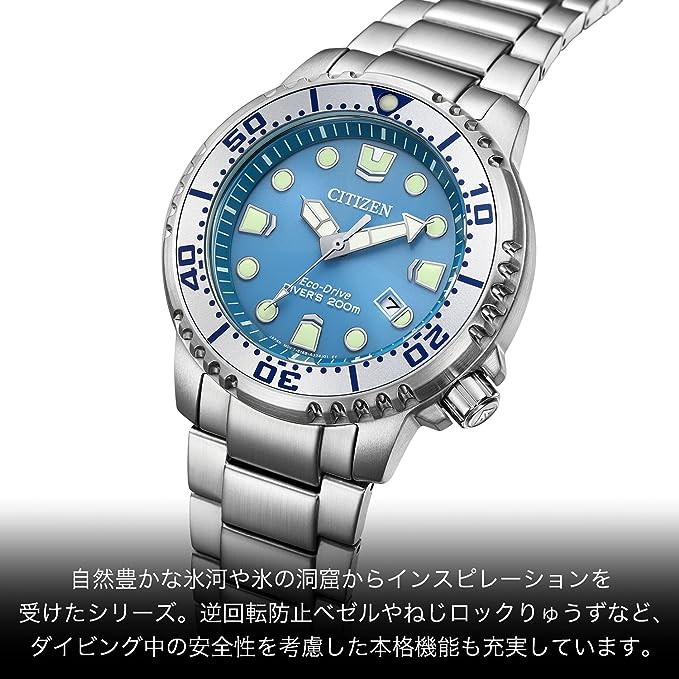 Conclusion
The Citizen BN0165-55L PROMASTER Marine Eco-Drive Men's Watch is an impressive timepiece that combines style, functionality, and durability. Its sleek design, powered by Citizen's renowned Eco-Drive technology, ensures reliable performance without the need for battery replacements. With its water resistance, precise timekeeping, and versatile features, this watch proves to be a valuable accessory for both casual wear and outdoor adventures.
Whether you are a diver, sports enthusiast, or someone who appreciates fine craftsmanship, the BN0165-55L delivers on every front. Its solid build quality and attention to detail result in a timepiece that can withstand the rigors of an active lifestyle while still exuding elegance and sophistication.
In conclusion, the Citizen BN0165-55L PROMASTER Marine Eco-Drive Men's Watch offers exceptional value for its price. While it may not have additional complications like a chronograph or alarm, it excels in its core functionality as a reliable timekeeper and diving companion.
The watch's Eco-Drive technology sets it apart from traditional battery-powered watches. By harnessing the power of light, it ensures that the watch never runs out of energy, providing uninterrupted performance. This not only saves users the hassle of frequent battery replacements but also contributes to a more sustainable approach to timekeeping.
The durability of the BN0165-55L is another noteworthy aspect. The stainless steel case and bracelet not only add to its aesthetic appeal but also enhance its resistance to everyday wear and tear. The scratch-resistant mineral crystal protects the dial from scratches and impacts, ensuring clarity and readability even after prolonged use.