In today's fast-paced world, a smartwatch has become an essential accessory for tech-savvy individuals who value both style and functionality. The Citizen Smartwatch offers a compelling combination of elegant design, advanced features, and seamless connectivity. This review aims to provide an in-depth analysis of the Citizen Smartwatch, exploring its key features, user experience, design, performance, and overall value for money.
Key Features
The Citizen Smartwatch boasts an impressive array of features that cater to the needs and preferences of modern consumers. Let's take a closer look at some of its standout functionalities:
Continuous Heart Rate Monitoring
One of the most valuable features of the Citizen Smartwatch is its continuous heart rate monitoring capability. With advanced sensors built into the watch, it accurately tracks your heart rate throughout the day, allowing you to monitor your fitness levels and make informed decisions about your health. Whether you're engaging in a rigorous workout or simply going about your daily routine, this feature ensures you stay on top of your cardiovascular health.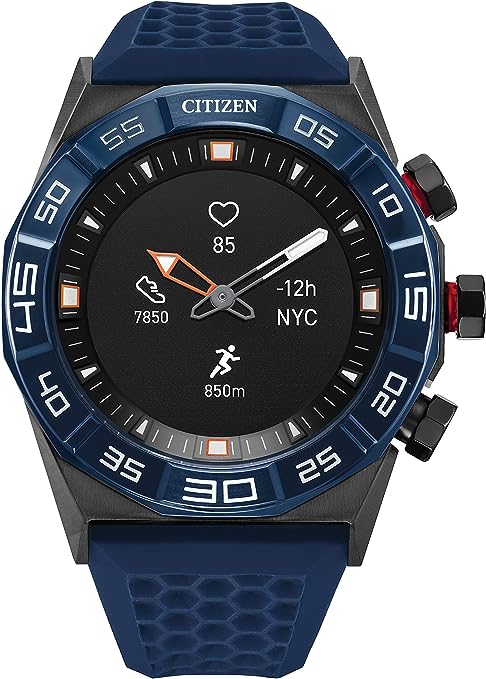 Notifications at a Glance
Stay connected without constantly reaching for your smartphone with the Citizen Smartwatch's notification feature. When paired with your mobile device, you can conveniently receive notifications for calls, messages, emails, and social media updates directly on your wrist. The watch's vibrant OLED display ensures that these alerts are easily visible, making it effortless to stay up-to-date without interrupting your flow.
GPS Tracking and Navigation
For outdoor enthusiasts or those who enjoy exploring new places, the Citizen Smartwatch offers built-in GPS tracking and navigation. This feature enables accurate distance tracking, route planning, and real-time location updates, all without the need for a smartphone connection. Whether you're running, cycling, or hiking, you can confidently navigate and explore with the Citizen Smartwatch as your reliable guide.
Water Resistance
With its impressive water resistance rating of up to 50 meters, the Citizen Smartwatch is suitable for various water-based activities. Whether you're swimming, snorkeling, or simply caught in the rain, this watch provides peace of mind, assuring you that it can handle water exposure without compromising performance. Swim tracking features further enhance the experience for fitness enthusiasts who want to monitor their workouts in the pool.
Long-lasting Battery Life
The Citizen Smartwatch excels in terms of battery life, offering extended usage on a single charge. With moderate usage, the watch can last up to seven days, eliminating the need for frequent charging. This is especially convenient for individuals constantly on the go, reducing the hassle of carrying charging cables or searching for power outlets while traveling. The efficient power management of the Citizen Smartwatch ensures that it remains functional throughout your busy schedule.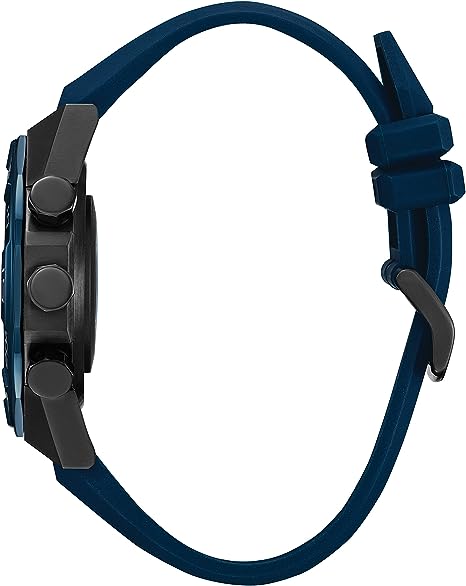 Design and Comfort
The design of the Citizen Smartwatch strikes a perfect balance between elegance and functionality. The watch features a sleek stainless steel case with a polished finish, exuding sophistication and class. The round dial adds a touch of traditional watch aesthetics, making it suitable for both formal and casual occasions. The OLED display offers vibrant colors and sharp contrast, providing excellent visibility even in bright sunlight.
The watch band, made from premium quality silicone, ensures a comfortable fit on the wrist. The adjustable strap allows for easy customization, accommodating different wrist sizes and preferences. Whether you have an active lifestyle or prefer a more formal look, the Citizen Smartwatch offers versatility, ensuring it complements your personal style effortlessly.
User Experience
Setting up the Citizen Smartwatch is a straightforward process that can be completed within minutes. The watch is compatible with both iOS and Android devices, allowing for seamless integration with your smartphone. Simply download the Citizen app from the respective app store, follow the on-screen instructions, and pair the watch via Bluetooth to unleash its full potential.
The user interface of the Citizen app is intuitive and user-friendly, providing easy access to various settings and customization options. From selecting watch faces to configuring notifications and fitness goals, everything can be conveniently managed through the app. The app also provides comprehensive activity tracking and health data analysis, allowing you to monitor your progress and make informed decisions about your well-being.
Navigating through the watch's features is a breeze, thanks to its responsive touch screen. The OLED display offers excellent visibility, ensuring that information is easily readable, regardless of the lighting conditions. The watch's interface is thoughtfully designed, enabling swift access to different functionalities and minimizing the need for excessive scrolling or tapping.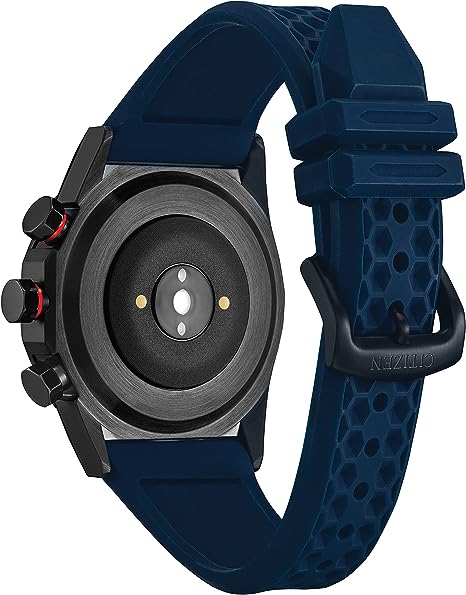 Performance and Connectivity
The performance of the Citizen Smartwatch is commendable, offering a smooth and lag-free user experience. Powered by a highperformance processor and ample RAM, the watch seamlessly handles multiple tasks and apps without any noticeable slowdowns. Whether you're tracking your fitness activities, receiving notifications, or navigating through menus, the Citizen Smartwatch delivers a responsive and fluid performance that enhances your overall user experience.
Connectivity options are abundant with the Citizen Smartwatch. It features Bluetooth connectivity, allowing for easy pairing with your smartphone or other Bluetooth-enabled devices. The watch also supports Wi-Fi connectivity, enabling quick and convenient access to online services and updates. The combination of Bluetooth and Wi-Fi connectivity ensures that you stay connected and up-to-date, whether you're nearby your phone or within a Wi-Fi network range.
The watch's GPS functionality performs admirably, providing accurate positioning and navigation data. Whether you're using it for fitness tracking, outdoor adventures, or simply finding your way in unfamiliar places, the GPS feature proves to be reliable and precise. It quickly locks onto satellites and maintains a stable connection, ensuring that you can trust the watch's location information at all times.
Fitness and Health Tracking
The Citizen Smartwatch excels as a fitness companion, offering a comprehensive set of tracking features to help you achieve your health and wellness goals. With its built-in heart rate monitor, step counter, and calorie tracker, the watch provides valuable insights into your daily activity levels. You can easily monitor your progress, set targets, and make adjustments to your fitness routine accordingly.
Additionally, the watch offers a variety of preloaded workout modes, including running, cycling, swimming, and more. These modes provide detailed metrics specific to each activity, such as distance covered, speed, average pace, and stroke count for swimming. This level of granularity allows you to track your workouts effectively and make informed decisions about your training regimen.
The sleep tracking feature of the Citizen Smartwatch analyzes your sleep patterns, providing valuable information about your sleep quality and duration. By understanding your sleep habits, you can identify areas for improvement and take steps to optimize your sleep hygiene, leading to better overall well-being.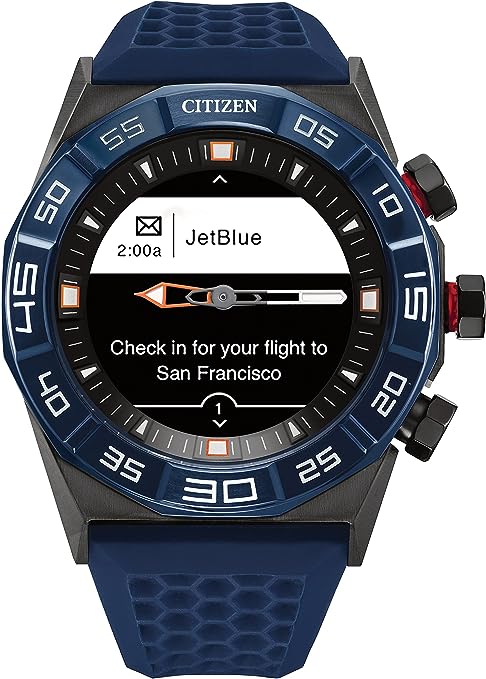 App Ecosystem and Customization
The Citizen Smartwatch is supported by a robust app ecosystem that enhances its functionality and customization options. The Citizen app, available for both iOS and Android devices, serves as the central hub for managing the watch's features and settings. It provides a seamless and intuitive interface, allowing you to personalize your watch faces, select from various widgets, and configure notifications to suit your preferences.
The app also offers access to additional features and services, such as weather forecasts, calendar integration, and music control. These integrations further elevate the smartwatch experience, enabling you to stay informed, organized, and entertained without having to reach for your phone.
Customization options are plentiful with the Citizen Smartwatch. From choosing different watch faces to adjusting widget layouts and colors, you can tailor the look and feel of the watch to match your style and personality. The ability to personalize the watch extends to the watch band as well, with interchangeable straps available in various materials and colors. This level of customization allows you to make the Citizen Smartwatch truly your own.
Value for Money
Considering its extensive features, premium design, and solid performance, the Citizen Smartwatch offers excellent value for money. Priced competitively compared to other smartwatches in its class, it delivers a compelling combination of style, functionality, and usability.
The build quality and attention to detail exhibited in the Citizen Smartwatch justify its price point. The stainless steel case and high-quality materials used in construction ensure durability and longevity, making it a worthwhile investment that will stand the test of time.
Moreover, the Citizen Smartwatch's long-lasting battery life eliminates the need for frequent charging, saving you both time and hassle. Its water resistance rating adds an extra layer of convenience and peace of mind, allowing you to confidently wear the watch in various environments and activities.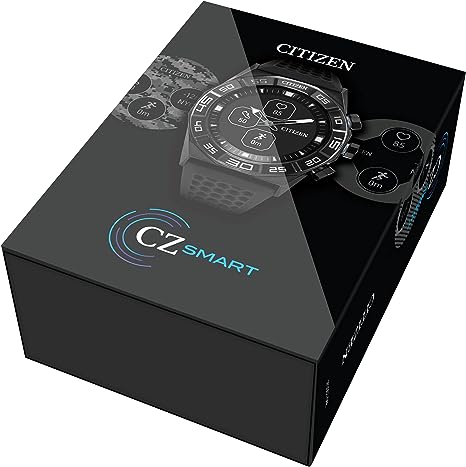 Conclusion
In conclusion, the Citizen Smartwatch proves to be a remarkable timepiece that seamlessly merges style and functionality. With its elegant design, advanced features, and user-friendly interface, it caters to the needs of discerning consumers seeking a versatile and reliable smartwatch.
The continuous heart rate monitoring, notifications at a glance, GPS tracking, water resistance, and long-lasting battery life make the Citizen Smartwatch an ideal companion for fitness enthusiasts, outdoor adventurers, and individuals who value staying connected on the go.
With its solid performance, extensive app ecosystem, and customization options, the Citizen Smartwatch offers excellent value for money. Whether you're looking for a stylish accessory or a powerful tool to enhance your productivity and well-being, the Citizen Smartwatch is certainly worth considering.