When it comes to watches, Citizen is a brand that needs no introduction. Known for their exceptional craftsmanship and innovative technology, Citizen has been producing high-quality timepieces for decades. One such watch is the Citizen Eco-Drive Men's Dive Watch, which combines style, functionality, and eco-friendly features. In this article, we will delve into the details of this remarkable watch and explore why it deserves a place on your wrist.
Design and Build Quality
The Citizen Eco-Drive Men's Dive Watch features a sleek and sophisticated design that exudes elegance. The round stainless steel case measures 42mm in diameter, making it suitable for most wrist sizes. The black dial with luminous hands and markers provides excellent legibility, even in low-light conditions. The unidirectional bezel adds a sporty touch to the overall aesthetics of the watch.
One notable feature of this timepiece is its robust build quality. Crafted from stainless steel, the watch offers durability and longevity. Additionally, it boasts a water resistance of up to 200 meters (660 feet), making it suitable for recreational diving and other water activities. The scratch-resistant mineral crystal further enhances the durability of the watch, ensuring that it can withstand daily wear and tear.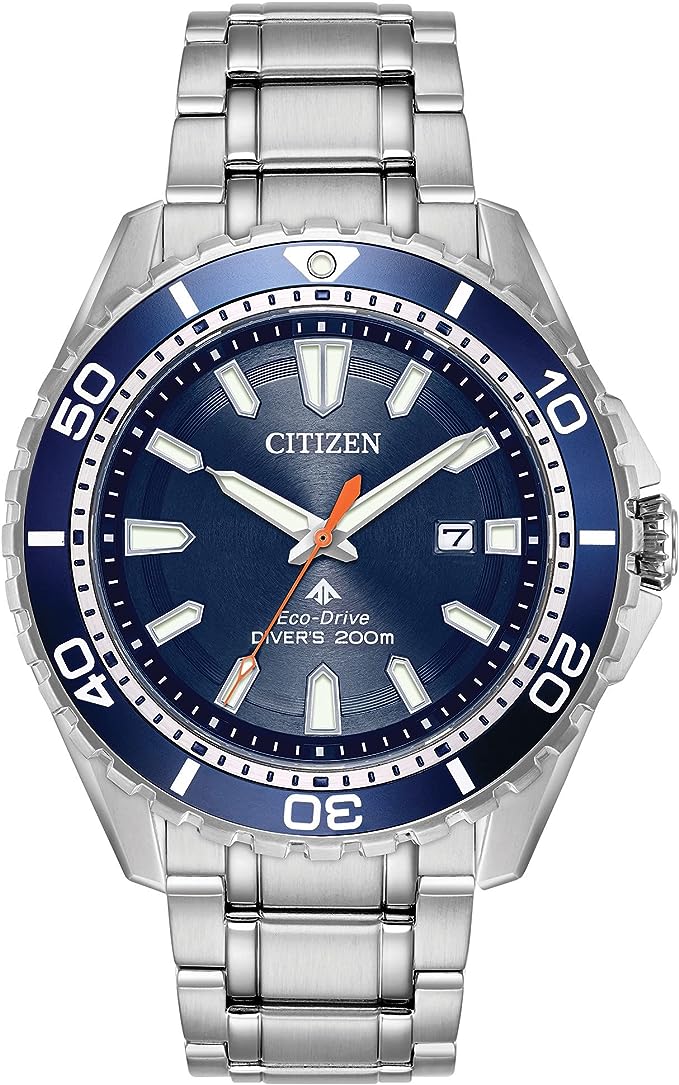 Eco-Drive Technology
The standout feature of the Citizen Eco-Drive Men's Dive Watch is its revolutionary Eco-Drive technology. Powered by light, the watch harnesses both natural and artificial light sources to generate energy. This means that you never have to worry about replacing batteries or winding the watch manually. The Eco-Drive technology ensures that the watch stays powered at all times, provided it receives sufficient exposure to light.
Not only does the Eco-Drive technology offer convenience, but it also promotes sustainability. By eliminating the need for disposable batteries, Citizen contributes to reducing electronic waste and minimizing environmental impact. This eco-friendly approach is a testament to Citizen's commitment to creating products that are not only functional but also socially responsible.
Timekeeping and Functionality
As expected from a brand like Citizen, the Eco-Drive Men's Dive Watch delivers precise timekeeping. Equipped with a Japanese quartz movement, the watch offers accurate and reliable timekeeping. The luminous hands and markers make it easy to read the time, even in dimly lit environments.
In addition to its timekeeping capabilities, this watch offers several useful features. The date function conveniently displays the current date at the 3 o'clock position. The unidirectional bezel allows divers to track elapsed time effortlessly. Furthermore, the screw-down crown ensures water resistance and prevents any accidental adjustments to the time or date settings.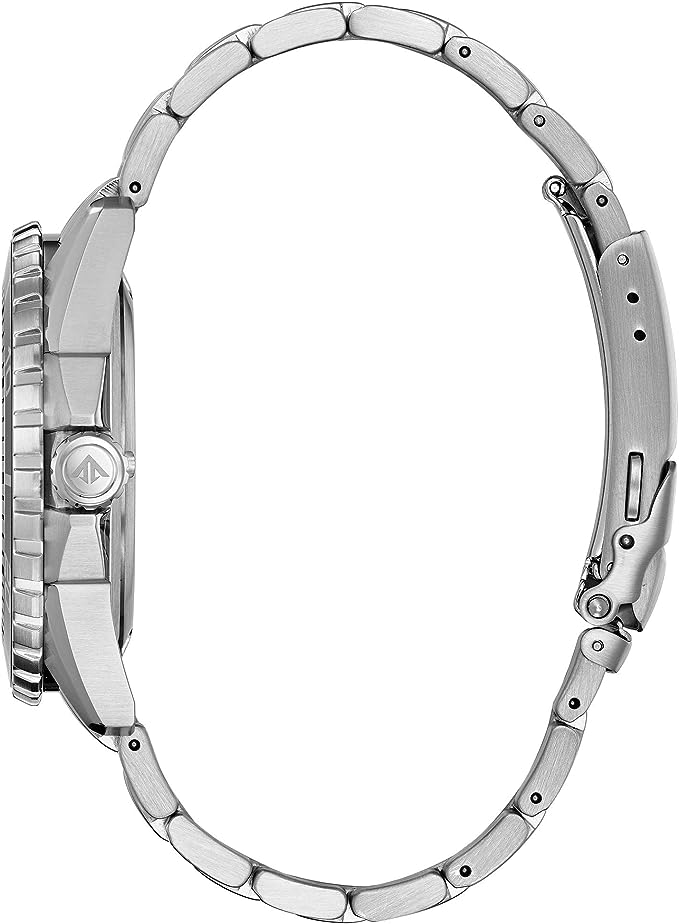 Comfort and Wearability
The Citizen Eco-Drive Men's Dive Watch is designed with comfort in mind. The stainless steel bracelet provides a secure fit and can be easily adjusted to suit your wrist size. The fold-over clasp with a safety release ensures that the watch stays securely on your wrist, even during vigorous activities. The 42mm case diameter strikes the perfect balance between being noticeable on the wrist without feeling too bulky or heavy.
The watch is also relatively lightweight for a dive watch, which adds to its overall wearability. Whether you're wearing it for a casual day out or diving adventures, the watch feels comfortable and doesn't restrict movement. The ergonomically designed case and bracelet make it an excellent choice for everyday wear.
Customer Reviews
To get a comprehensive understanding of the Citizen Eco-Drive Men's Dive Watch, I looked at customer reviews on various online platforms. The overwhelming majority of customers expressed their satisfaction with the watch, praising its design, functionality, and reliability. Many users specifically mentioned the Eco-Drive technology as a standout feature, highlighting the convenience and peace of mind it offers.
One customer mentioned that they have been wearing the watch daily for several years without any issues, which speaks volumes about its durability. Another customer praised the accuracy of the timekeeping, stating that it hasn't lost or gained a single second since they started wearing it.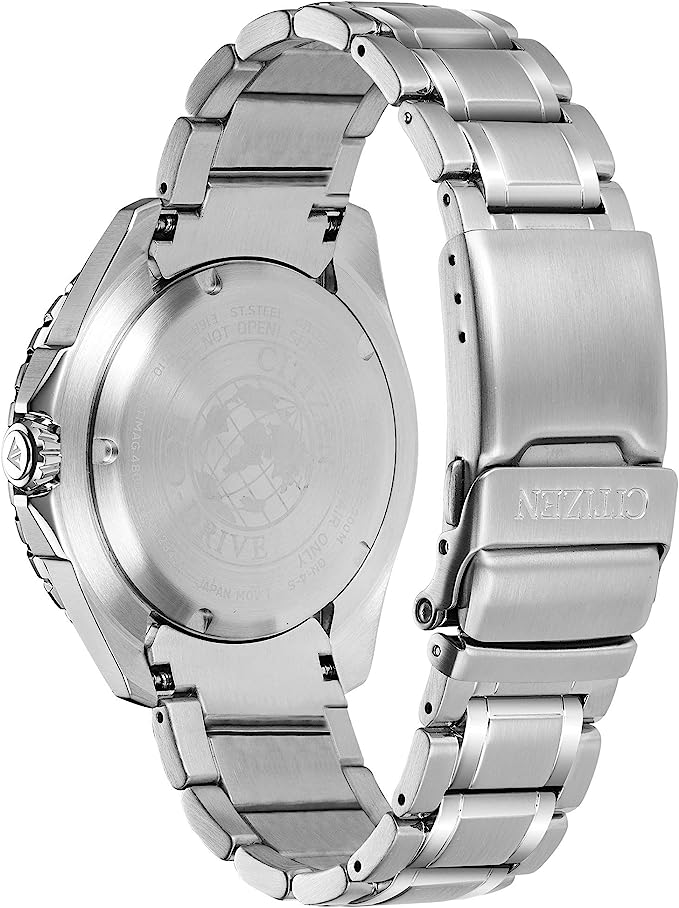 Conclusion
In conclusion, the Citizen Eco-Drive Men's Dive Watch is an exceptional timepiece that combines style, functionality, and environmental consciousness. With its sleek design, robust build quality, and eco-friendly features, this watch is a testament to Citizen's commitment to excellence. Whether you're a diving enthusiast or simply looking for a reliable everyday watch, the Citizen Eco-Drive Men's Dive Watch is an excellent choice that won't disappoint.
With its precise timekeeping, water resistance, and comfortable wearability, this watch ticks all the boxes for a high-quality timepiece. The added bonus of the Eco-Drive technology sets it apart from other watches in its class, making it a sustainable option for environmentallyconscious consumers. The positive customer reviews further validate the reliability and performance of this watch.
Considering its price point, the Citizen Eco-Drive Men's Dive Watch offers excellent value for money. Comparable watches with similar features often come with a higher price tag, making this timepiece an affordable option without compromising on quality or functionality. Whether you're purchasing it as a gift or for yourself, you can be confident that you're investing in a timepiece that will last for years to come.
One aspect that some customers may find lacking is the lack of additional complications or advanced features. While this watch focuses on providing accurate timekeeping and essential functionalities, it does not include features such as a chronograph, multiple time zones, or a moon phase indicator. However, for those seeking a reliable and stylish watch without the need for complex complications, the Citizen Eco-Drive Men's Dive Watch fits the bill perfectly.
In terms of aesthetics, the watch's design strikes a balance between sporty and elegant. It can seamlessly transition from casual settings to formal occasions, making it a versatile accessory for any wardrobe. The black dial with luminous hands and markers adds a touch of sophistication, while the stainless steel case and bracelet provide a sturdy and classic look. The unidirectional bezel adds a sporty flair to the overall design, making it an attractive choice for individuals with diverse style preferences.
It's worth noting that some customers have mentioned concerns about the size of the watch. While the 42mm case diameter is suitable for most wrist sizes, individuals with smaller wrists might find it slightly oversized. However, this is subjective, and personal preferences regarding watch size can vary widely. It's recommended to try on the watch before purchasing or consider alternatives with a smaller case size if wrist comfort is a priority.
In terms of maintenance, the Citizen Eco-Drive Men's Dive Watch requires minimal effort. As long as it receives regular exposure to light, the watch will continue to function flawlessly without the need for battery replacements. The stainless steel case and bracelet can be easily cleaned with a soft cloth, ensuring that the watch maintains its shine and pristine condition.
Overall, the Citizen Eco-Drive Men's Dive Watch is a standout timepiece that offers a perfect blend of style and functionality. With its durable build quality, accurate timekeeping, and eco-friendly features, it surpasses expectations in every aspect. Whether you're an avid diver or simply appreciate a reliable and stylish accessory, this watch is a worthy investment that will elevate your everyday attire.
To sum up, if you're in the market for a versatile, reliable, and eco-friendly watch, look no further than the Citizen Eco-Drive Men's Dive Watch. Its combination of sleek design, robust construction, precise timekeeping, and innovative Eco-Drive technology make it a remarkable timepiece that stands out from the competition. Add this exceptional watch to your collection and enjoy the perfect balance between style and functionality.