When it comes to wristwatches, Citizen is a brand that needs no introduction. Known for its exceptional craftsmanship, innovative technology, and timeless designs, Citizen has been a favorite among watch enthusiasts for decades. The Citizen BI5012-53E Quartz Men's Watch is no exception – it combines elegance, durability, and functionality in one stunning timepiece.
Design and Aesthetics
The first thing that catches your eye when you see the Citizen BI5012-53E is its sleek and sophisticated design. The watch features a round black dial with contrasting silver-tone hands and hour markers, giving it a striking look. The stainless steel case and bracelet further enhance its overall appeal, making it suitable for both formal and casual occasions.
One of the standout features of this watch is its minimalistic approach. The absence of unnecessary clutter on the dial adds to its elegant appearance. The date window located at the 3 o'clock position provides useful functionality without compromising the simplicity of the design. Overall, the Citizen BI5012-53E is a watch that exudes class and refinement.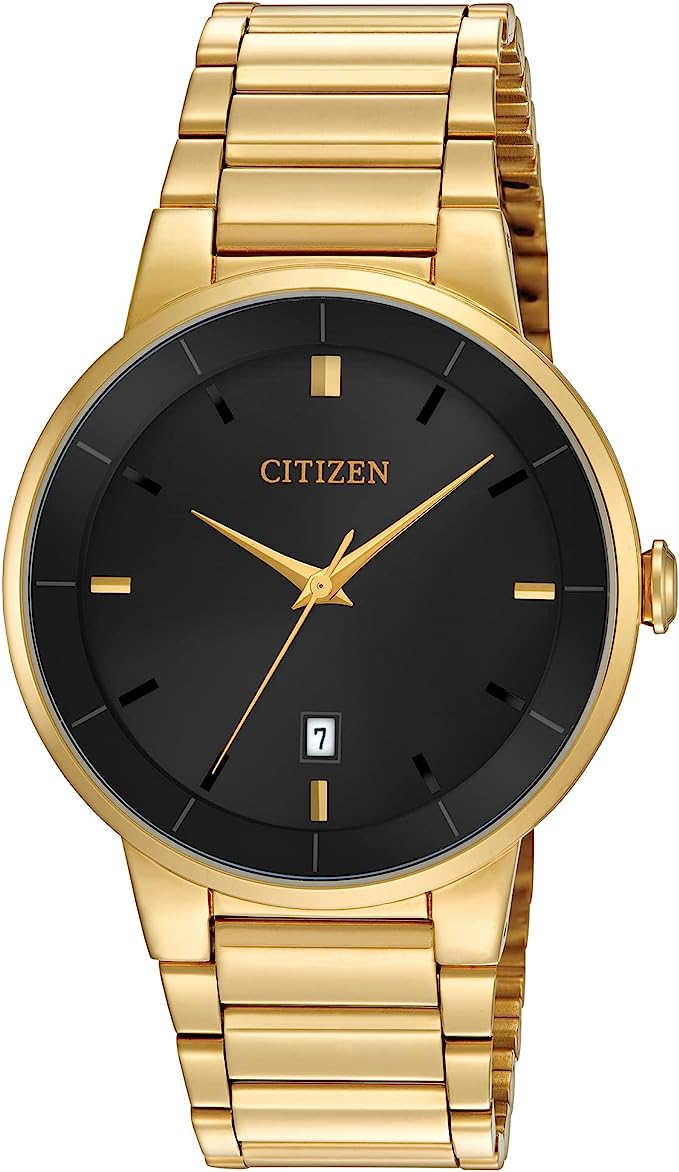 Build Quality and Durability
Citizen is renowned for its commitment to quality, and the BI5012-53E exemplifies this. The stainless steel construction ensures robustness and longevity. The materials used are of high quality, which is evident in the weight and feel of the watch on the wrist. The bracelet is comfortable to wear and doesn't pull hair or cause any discomfort during extended use.
The watch is also water-resistant up to 100 meters (330 feet), making it suitable for everyday wear and light water activities. However, it's important to note that the watch is not designed for diving or snorkeling.
Precision Timekeeping
As expected from a Citizen timepiece, the BI5012-53E is powered by high-precision quartz movement. This ensures accurate timekeeping and eliminates the need for frequent adjustments. The watch also features an analog display with luminous hands and markers, allowing for easy readability in low-light conditions.
The quartz movement in this watch makes it highly reliable and convenient, as it requires minimal maintenance compared to mechanical watches. It also includes a battery life indicator, so you'll never be caught off guard with a dead battery.

Functionality and Features
In addition to its timeless design and precise timekeeping, the Citizen BI5012-53E offers several useful features. The date function, as mentioned earlier, provides a quick reference point on the dial. The watch also includes a 24-hour subdial, which is a great addition for those who prefer military time or need to track multiple time zones.
Another notable feature of this watch is its scratch-resistant mineral crystal. The crystal effectively protects the dial from scratches and minor impacts, ensuring that your watch maintains its pristine appearance for years to come. Additionally, the deployment clasp on the bracelet ensures a secure and comfortable fit.

Overall Impressions
Having had the opportunity to wear and test the Citizen BI5012-53E Quartz Men's Watch, I can confidently say that it lives up to the brand's reputation for excellence. From its elegant design to its durable construction and precision timekeeping, this watch is a true gem.
What sets this watch apart is its versatility. Whether you're attending a formal event or going about your daily routine, the Citizen BI5012-53E will complement your style effortlessly. Its understated yet sophisticated look makes it suitable for any occasion.
Not only does this watch provide exceptional style and functionality, but it also offers excellent value for money. Considering the brand's reputation and the high-quality materials used, the price of the Citizen BI5012-53E is more than reasonable.
If you're in the market for a reliable and stylish timepiece that will stand the test of time, the Citizen BI5012-53E Quartz Men's Watch is an excellent choice. With its timeless design, durability, and precision, it's a watch that you'll be proud to wear for years to come.