When it comes to watches, Citizen has always been a name associated with quality and reliability. The brand has consistently delivered timepieces that are not only stylish but also built to last. The Citizen Men's Quartz Stainless Steel Casual Watch is no exception. With its sleek design, precise quartz movement, and durable construction, this watch is truly a standout in its class.
Design and Appearance
The first thing that caught my attention when I laid eyes on this watch was its sophisticated and elegant design. The clean lines and minimalist dial give it a timeless appeal that can complement any outfit or occasion. The round stainless steel case adds a touch of luxury, while the black dial provides a tasteful contrast against the silver-tone markers and hands.
One feature that sets this watch apart from others in its price range is the inclusion of a day-date display. Located at the 3 o'clock position, the window displays both the day and date, allowing for quick and convenient reference. Additionally, the mineral crystal window provides excellent scratch resistance, ensuring that the watch maintains its pristine appearance even after years of wear.
The stainless steel bracelet is comfortable to wear and securely fastens with a fold-over clasp. It offers a good balance between sturdiness and flexibility, making it suitable for daily wear. The overall weight of the watch is just right – neither too heavy nor too light, resulting in a comfortable fit on the wrist.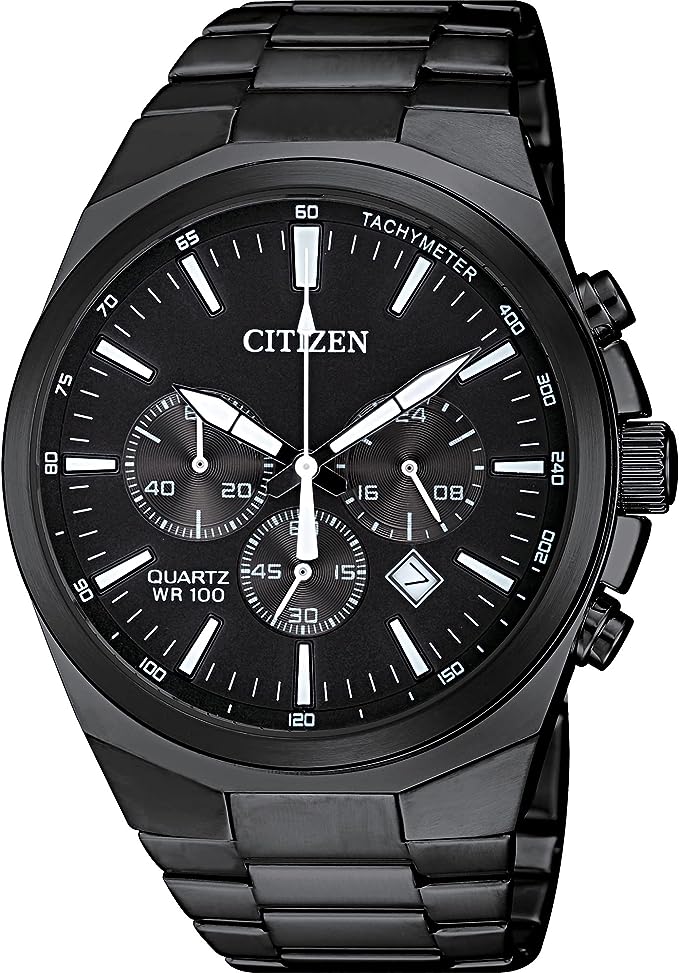 Movement and Accuracy
Equipped with a reliable quartz movement, this watch keeps remarkably accurate time. Quartz movements are known for their precision and low maintenance, and this watch lives up to those expectations. The battery-powered movement ensures that you won't have to worry about winding or manual adjustments. Simply set the time and date, and you're good to go.
The watch also features luminous hands and markers, allowing for easy readability in low-light conditions. This is a particularly handy feature for those who find themselves in dimly lit environments frequently.
Durability and Water Resistance
Citizen emphasizes durability in their timepieces, and this watch is no exception. The stainless steel case and bracelet are built to withstand daily wear and tear, ensuring that the watch remains pristine for years to come. The materials used are of high quality, offering resistance against scratches and minor impacts.
With a water resistance rating of up to 100 meters (330 feet), this watch is suitable for swimming, snorkeling, and even recreational diving. However, it is important to note that it is not designed for professional diving or prolonged exposure to water. It's always wise to follow the manufacturer's guidelines to ensure the longevity and performance of your watch.

User Experience and Comfort
In terms of user experience, the Citizen Men's Quartz Stainless Steel Casual Watch delivers on all fronts. The crown is easy to operate, allowing for smooth time and date adjustments. The day-date function is straightforward and adds convenience to daily life. The watch face is well-lit and legible, making it effortless to read the time, even at a quick glance.
The overall wearing experience is comfortable and hassle-free. The bracelet fits securely on the wrist without feeling too tight or loose. The fold-over clasp ensures that the watch stays in place throughout the day, providing peace of mind during various activities. Whether you're typing away at a desk or engaging in outdoor adventures, this watch adapts seamlessly to your lifestyle.
Value for Money
Priced competitively, the Citizen Men's Quartz Stainless Steel Casual Watch offers excellent value for money. With its high-quality craftsmanship, reliable movement, and enduring design, it is a timepiece that will stand the test of time. The brand's reputation for reliability and durability further adds to its value, making it a wise investment for any watch enthusiast.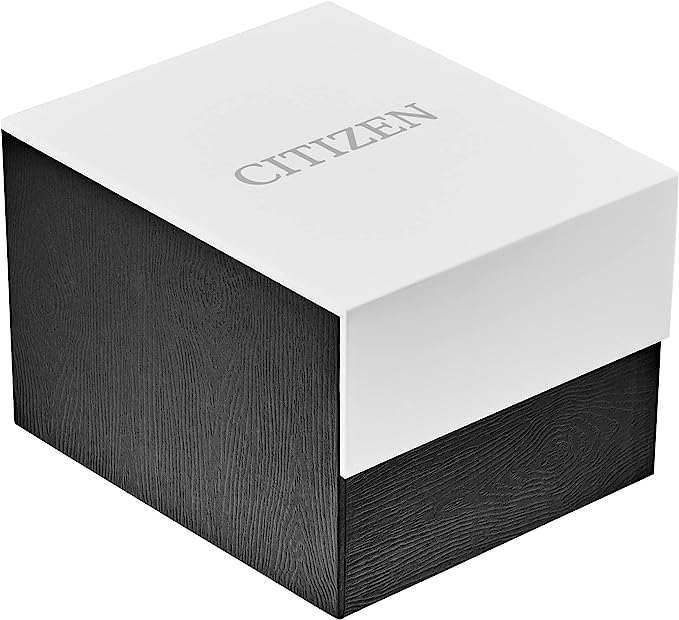 Conclusion
In conclusion, the Citizen Men's Quartz Stainless Steel Casual Watch is a remarkable timepiece that combines style, precision, and durability into one package. With its elegant design, accurate quartz movement, and robust construction, it is an excellent choice for those in search of a reliable everyday watch. Whether you're dressing up for a formal event or going about your daily routine, this watch effortlessly elevates your wrist game. For its price point, it offers exceptional quality and value, making it a standout among its competitors.