The Citizen Men's Eco-Drive Sport Luxury World Chronograph Atomic Time Keeping Watch is a stunning timepiece that combines bold design with advanced technology. With its sleek stainless steel construction, blue polyurethane strap, and blue dial, this watch exudes a sense of sporty luxury that is sure to turn heads. But it's not just the aesthetics that make this watch stand out – it also boasts impressive features such as atomic timekeeping, chronograph functionality, and water resistance up to 200 meters. In this review, we will delve into the details of this remarkable timepiece and explore why it's worth considering for any watch enthusiast.
Design and Construction
The first thing that catches your eye when you see the Citizen AT8020-03L is its striking combination of colors. The blue dial stands out against the silver-tone stainless steel case, creating a visually appealing contrast. The blue polyurethane strap adds a sporty touch while ensuring comfort during extended wear. Overall, the watch has a robust yet refined look that makes it suitable for both casual and formal occasions.
The build quality of this timepiece is exceptional. The stainless steel case feels sturdy and durable, providing an added layer of protection for the internal components. The anti-reflective sapphire crystal on the dial not only enhances visibility but also safeguards against scratches and everyday wear. With a water resistance rating of 200 meters, this watch is suitable for swimming, snorkeling, and other water-based activities. It's important to note that while the watch is water-resistant, it should not be used for diving or prolonged exposure to high-pressure water.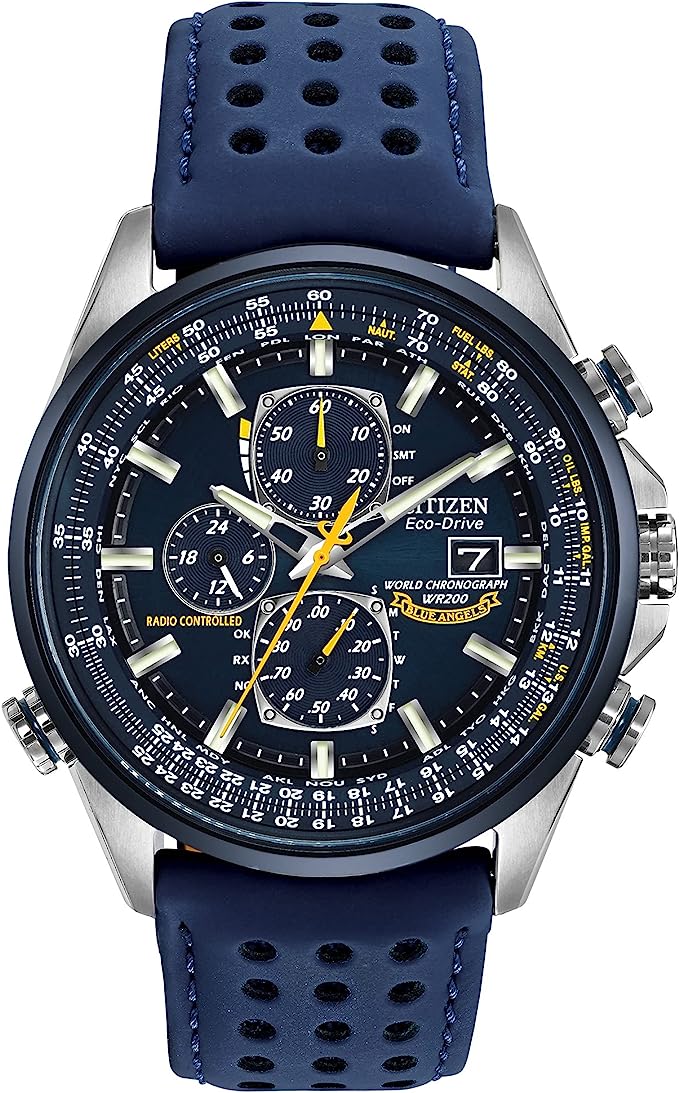 Technology and Features
One of the standout features of the Citizen AT8020-03L is its atomic timekeeping capability. This means that the watch synchronizes with an atomic clock, ensuring accurate timekeeping within a margin of error of just one second in 100,000 years. This level of precision is truly remarkable and sets this watch apart from others in its price range.
The chronograph functionality is another noteworthy feature. The 1/20-second chronograph measures up to 60 minutes, allowing you to time events with precision. Whether you're timing your morning run or tracking your workout at the gym, this feature comes in handy and adds versatility to the watch.
The perpetual calendar feature eliminates the need for manual date adjustments, taking into account variations in the number of days in each month and leap years. This ensures that the watch always displays the correct date without requiring constant adjustments from the wearer. Additionally, the 12/24-hour time format allows for easy switching between standard and military time, catering to individual preferences.
The power reserve indicator is a practical feature that lets you know the remaining power available in the watch's Eco-Drive movement. This is particularly useful if you rotate between multiple watches or have periods where you don't wear the watch for extended periods. The Eco-Drive technology harnesses light energy, both natural and artificial, to power the watch, eliminating the need for battery changes and reducing environmental impact.
Comfort and Wearability
Despite its robust construction, the Citizen AT8020-03L is surprisingly comfortable to wear. The blue polyurethane strap is soft and flexible, conforming well to the wrist. It doesn't cause any discomfort or irritation, even during prolonged use. The buckle closure ensures a secure fit and can be easily adjusted to fit various wrist sizes.
The watch itself has a substantial feel on the wrist without being overly heavy. It strikes a good balance between heft and comfort, making it suitable for everyday wear. The 43mm case diameter is neither too large nor too small, offering a versatile size that should appeal to a wide range of wrist sizes.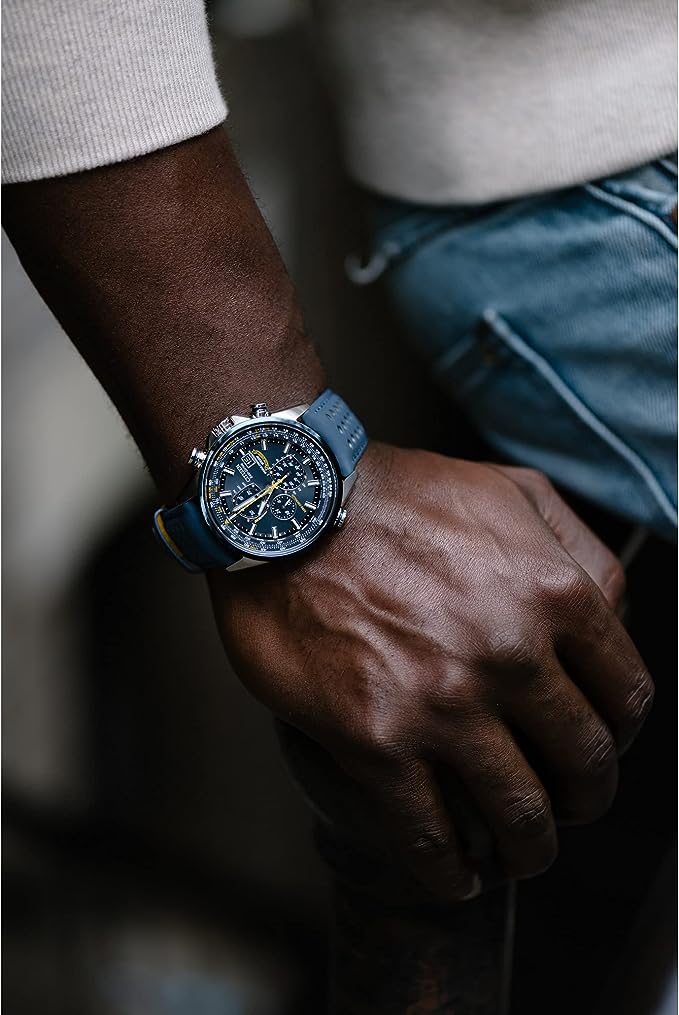 Durability and Warranty
Citizen is known for producing high-quality timepieces, and the AT8020-03L is no exception. The stainless steel construction of the watch lends it durability, allowing it to withstand daily wear and tear. The sapphire crystal on the dial adds an extra layer of protection against scratches and impacts, ensuring that the watch maintains its pristine appearance over time.
To further instill confidence in the product, Citizen offers a 5-year limited warranty with this watch. This warranty covers any manufacturing defects or malfunctions during the specified period, providing peace of mind to the buyer. It's worth noting that the warranty is subject to certain terms and conditions, so it's advisable to read through the warranty information provided by Citizen.
Price and Value
The Citizen Men's Eco-Drive Sport Luxury World Chronograph Atomic Time Keeping Watch is priced competitively considering its features andquality. While it may be on the higher end of the price spectrum for some, the value it offers is well worth the investment.
When you consider the advanced technology incorporated into this watch, such as atomic timekeeping and Eco-Drive movement, along with its durable construction and attractive design, it becomes clear that the price is justified. This watch offers a level of accuracy and convenience that is hard to find in other timepieces in this price range.
Moreover, the versatility of this watch makes it suitable for various occasions and outfits. Whether you're dressing up for a formal event or going for a casual day out, the Citizen AT8020-03L effortlessly complements your style. The combination of the blue dial, stainless steel case, and polyurethane strap creates an eye-catching aesthetic that is both sporty and elegant.
Considering the long-lasting durability, impressive features, and timeless design of the Citizen Men's Eco-Drive Sport Luxury World Chronograph Atomic Time Keeping Watch, it represents excellent value for money.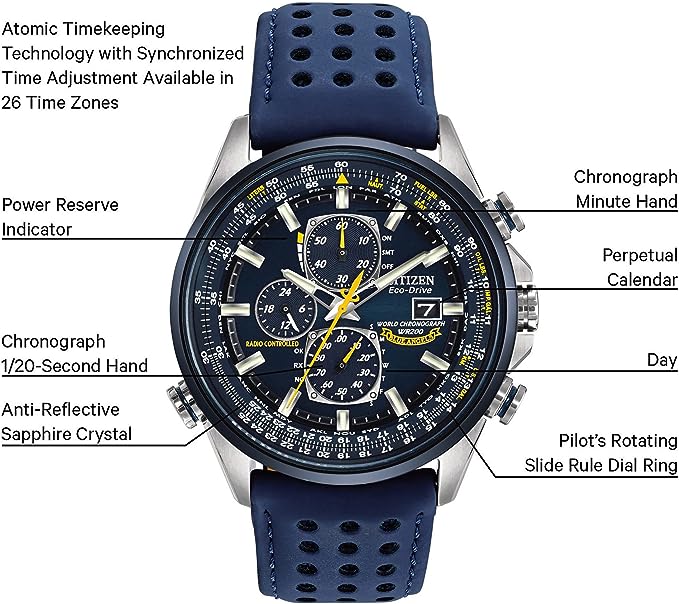 Customer Feedback
Customer reviews play a crucial role in determining the satisfaction and reliability of a product. The Citizen AT8020-03L has garnered positive feedback from users across multiple platforms. Many customers praise its accuracy, stylish appearance, and ease of use. The atomic timekeeping feature, in particular, receives high acclaim for its ability to provide precise timekeeping without the need for constant adjustments.
Some users appreciate the versatility of this watch, mentioning that it seamlessly transitions from professional settings to outdoor activities. The inclusion of chronograph functionality and the perpetual calendar adds practicality and functionality, making it a well-rounded timepiece.
The comfort of wearing the watch has also been highlighted by many users. The soft polyurethane strap and the well-designed buckle closure ensure a secure and comfortable fit on the wrist, even during extended periods of wear. Users with larger wrists have also reported that the watch fits comfortably and doesn't feel overly tight or restrictive.
There have been a few isolated reports of minor issues such as difficulty in setting the date and time. However, these issues are easily resolved by referring to the troubleshooting video provided by Citizen or contacting their customer support team.
Overall, the overwhelmingly positive feedback from customers further reinforces the reliability and satisfaction associated with the Citizen Men's Eco-Drive Sport Luxury World Chronograph Atomic Time Keeping Watch.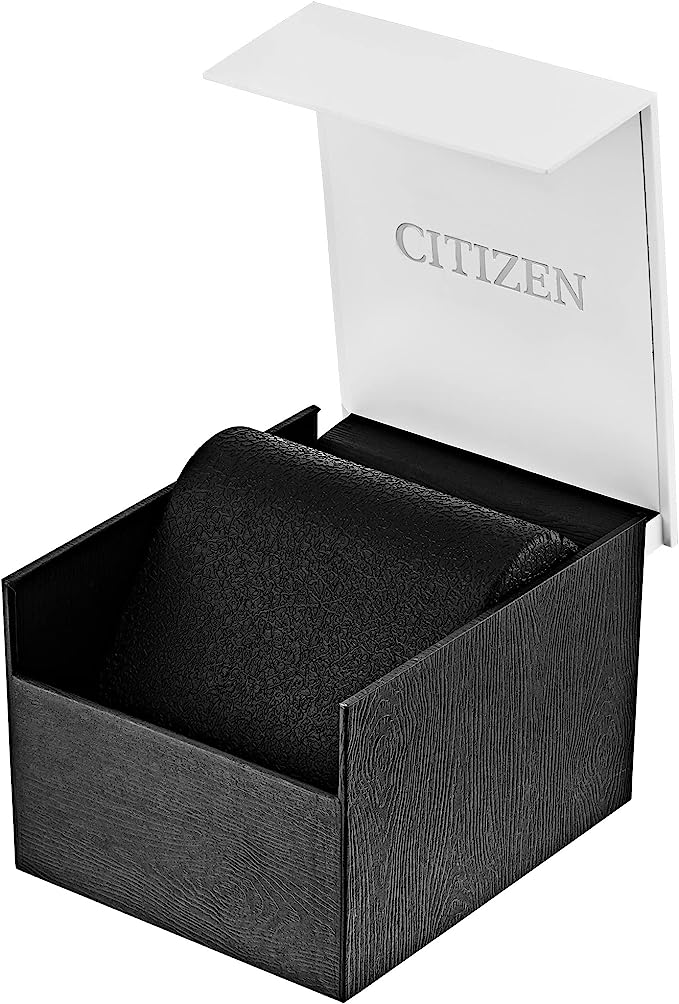 Conclusion
The Citizen Men's Eco-Drive Sport Luxury World Chronograph Atomic Time Keeping Watch is an exceptional timepiece that combines style, advanced technology, and durability. With its bold design, superior accuracy through atomic timekeeping, and practical features such as chronograph functionality and a perpetual calendar, this watch offers an outstanding value for money.
The build quality and attention to detail are evident in every aspect of this watch, from its stainless steel case to the anti-reflective sapphire crystal and comfortable polyurethane strap. The water resistance rating of 200 meters adds versatility, allowing you to wear the watch confidently during various activities.
Citizen's commitment to sustainability is showcased through the Eco-Drive movement, which harnesses light energy to power the watch and eliminate the need for battery changes. This not only reduces environmental impact but also ensures convenience and reliability for the wearer.
Considering the positive customer feedback and the brand's reputation for producing high-quality watches, the Citizen AT8020-03L is a recommended choice for anyone in search of a stylish, accurate, and durable timepiece.
In conclusion, the Citizen Men's Eco-Drive Sport Luxury World Chronograph Atomic Time Keeping Watch is a standout product that exceeds expectations in terms of design, technology, durability, and value for money. It's a timepiece that combines functionality with style, making it a worthy investment for any watch enthusiast.