When it comes to choosing a watch, there are several factors that one must consider. Style, functionality, and quality are just a few of the aspects that make a timepiece worth investing in. The Citizen Eco-Drive Men's Brown Leather Watch, model AW1361-10H, encompasses all these elements and more. This watch effortlessly combines classic design with modern technology to create a timepiece that is both elegant and reliable. In this article, we will delve into the various features and characteristics of this remarkable watch, highlighting why it has become a popular choice among men who value both style and practicality.
Aesthetics
The first thing that catches your eye when you see the Citizen Eco-Drive Men's Brown Leather Watch is its timeless aesthetic appeal. The combination of a stainless steel case, a rich brown leather strap, and a contrasting cream-colored dial creates an air of sophistication and refinement. The overall design exudes a sense of understated elegance, making it suitable for both formal occasions and everyday wear.
The dial features slender silver-tone hour markers and hands, which perfectly complement the overall color scheme. Additionally, the Arabic numerals at 12 and 6 o'clock add a touch of retro charm. The simplicity of the design makes the watch easy to read at a glance, allowing for quick timekeeping without any unnecessary distractions.
The round case measures 45 millimeters in diameter, making it a substantial yet comfortable size for most wrists. The stainless steel construction ensures durability and provides a polished look that will withstand the test of time. Overall, the aesthetics of the Citizen Eco-Drive Men's Brown Leather Watch strike the perfect balance between classic and contemporary, making it a versatile accessory for any occasion.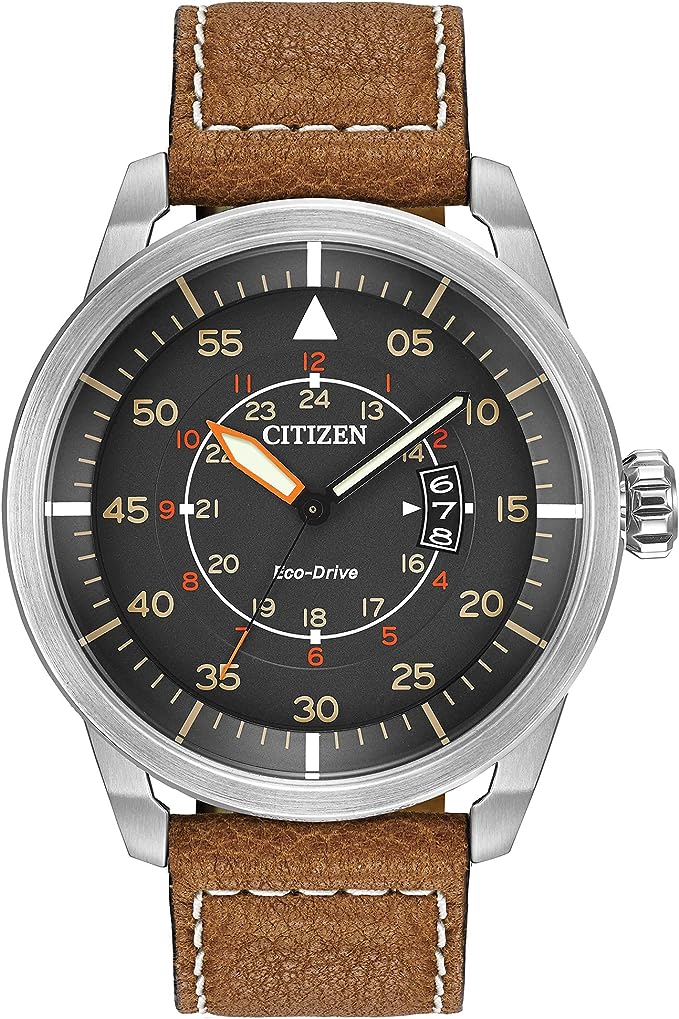 Functionality
While style is undoubtedly important, a watch must also be functional to serve its purpose effectively. The Citizen Eco-Drive Men's Brown Leather Watch excels in this aspect with its impressive array of features.
Eco-Drive Technology
One of the standout features of this timepiece is its Eco-Drive technology. This innovative system harnesses the power of light to charge the watch's battery, eliminating the need for regular battery replacements. The solar cells, which are discreetly integrated into the dial, absorb both natural and artificial light, converting it into energy that powers the watch. This eco-friendly feature not only saves you the hassle of changing batteries but also reduces environmental waste.
Thanks to the Eco-Drive technology, the Citizen Men's Brown Leather Watch has a power reserve of up to six months when fully charged. This means that even if you store the watch in complete darkness for an extended period, it will continue to keep accurate time once exposed to light again. This convenience is especially beneficial for those who rotate their watches or own multiple timepieces.
Chronograph Function
In addition to its solar-powered functionality, the Citizen Eco-Drive Men's Brown Leather Watch also includes a chronograph function. The three sub-dials located on the main dial allow for accurate measurement of elapsed time. The 1/5th-second, 60-minute, and 24-hour sub-dials enable precise timing for various activities, such as sports events or daily tasks that require timekeeping. The well-designed layout of these sub-dials adds depth and dimension to the watch face, enhancing its overall visual appeal.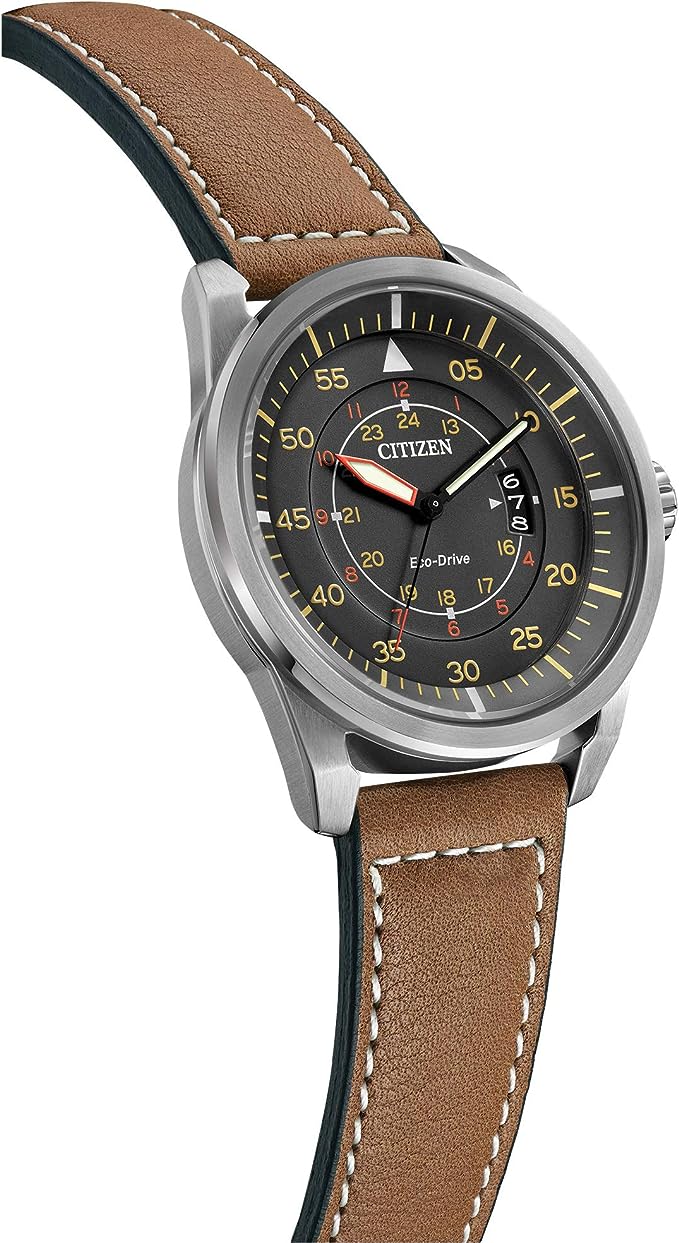 Water Resistance
Worrying about water damage is a thing of the past with the Citizen Eco-Drive Men's Brown Leather Watch. With a water resistance rating of up to 100 meters (330 feet), this timepiece can withstand everyday water activities such as swimming, showering, or handwashing. However, it is important to note that the watch should not be used for diving or snorkeling, as these activities exceed the recommended water resistance level.
Reliable Movement
The heart of any watch lies in its movement, and the Citizen Eco-Drive Men's Brown Leather Watch utilizes a precise and reliable Japanese quartz movement. This ensures accurate timekeeping and guarantees that you will never miss an important appointment or be late for a meeting. The smooth sweeping motion of the second hand further enhances the overall quality and precision of the watch.
Comfort and Durability
While aesthetics and functionality are essential, a watch must also be comfortable to wear throughout the day. The Citizen Eco-Drive Men's Brown Leather Watch excels in this aspect, thanks to its well-crafted design and high-quality materials.
The genuine leather strap not only adds a touch of sophistication but also provides a comfortable fit on the wrist. The strap features white contrast stitching, which complements the cream-colored dial and adds visual interest to the overall design. Additionally, the buckle closure ensures a securefit, allowing you to wear the watch with confidence, knowing it won't slip off your wrist easily.
The quality of the materials used in the construction of this timepiece is evident in its durability. The stainless steel case offers resistance against scratches and everyday wear, maintaining its polished appearance even after prolonged use. The mineral crystal covering the dial provides an added layer of protection against accidental bumps and scratches, ensuring the longevity of the watch.
Furthermore, the Citizen Eco-Drive Men's Brown Leather Watch comes with a solid construction that gives it a reassuring weight without being overly heavy. This balanced weight distribution contributes to the overall comfort of wearing the watch, making it suitable for extended periods without causing any discomfort or fatigue.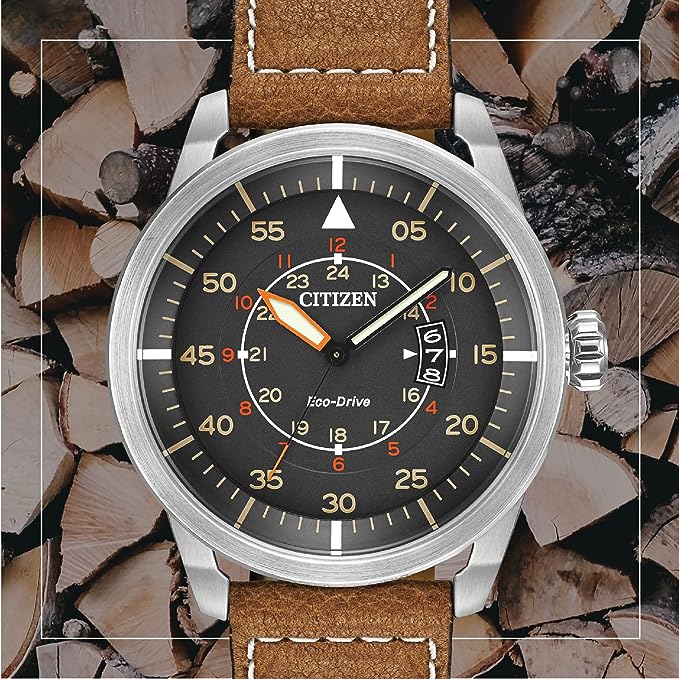 User-Friendly Features
Citizen has designed this watch with user-friendly features that enhance its overall functionality and convenience.
Luminous Hands and Markers
In low-light conditions, such as during the night or in dimly lit environments, the luminous hands and markers on the dial come to life. These luminescent accents allow for easy timekeeping even when visibility is limited, ensuring that you can read the time at a glance without straining your eyes.
Date Display
Located at the 3 o'clock position, the date window provides a practical feature that eliminates the need for a separate calendar or checking your phone for the date. The white background of the date display contrasts against the cream-colored dial, making it legible and easy to read.
Easy Time Setting and Adjustment
Setting and adjusting the time on the Citizen Eco-Drive Men's Brown Leather Watch is a simple process. The crown, located on the side of the watch case, allows for smooth and precise time adjustments. The sturdy construction of the crown ensures long-term durability, preventing any accidental changes to the time or date settings.
Versatile Style
The Citizen Eco-Drive Men's Brown Leather Watch effortlessly transitions from formal to casual occasions, thanks to its versatile style. Whether you're wearing a suit for a business meeting or dressing down in jeans and a t-shirt, this watch adds a touch of sophistication and elevates your overall look. The classic design is timeless, ensuring that the watch remains stylish for years to come.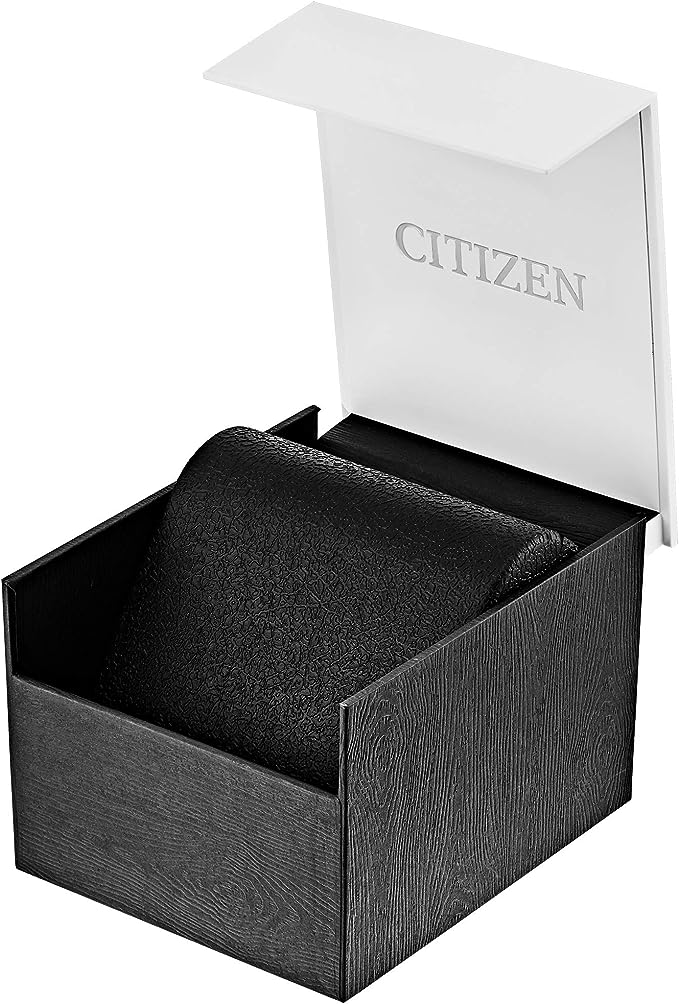 Customer Feedback
To get a comprehensive understanding of the Citizen Eco-Drive Men's Brown Leather Watch, it is essential to consider the experiences and opinions of those who have purchased and worn the timepiece.
The watch has received overwhelmingly positive feedback from customers, with many praising its elegant design, reliable functionality, and comfortable fit. Users have expressed satisfaction with the quality of the materials used, highlighting the durability of the stainless steel case and the softness of the leather strap. The Eco-Drive technology is frequently highlighted as a standout feature, with customers appreciating the convenience of not having to replace batteries.
Many customers also appreciate the versatility of the watch, noting that it can seamlessly transition from day to night, and from formal to casual settings. The timeless aesthetic appeals to a wide range of individuals, making it a popular choice among men of different age groups and style preferences.
Some customers have mentioned that the size of the watch may be larger than expected, particularly for those with smaller wrists. However, this seems to be a subjective preference rather than a flaw in the design or functionality of the watch.
Overall, the feedback from customers confirms that the Citizen Eco-Drive Men's Brown Leather Watch delivers on its promises of style, functionality, and durability.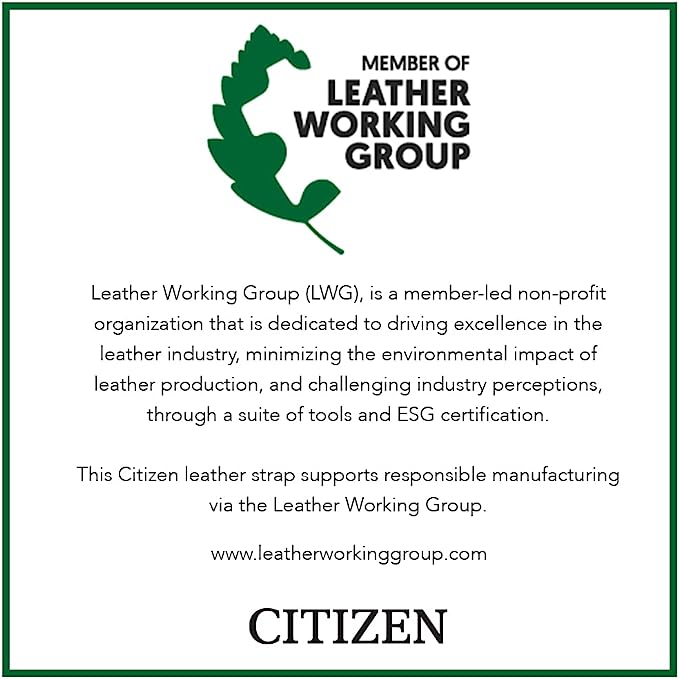 Conclusion
The Citizen Eco-Drive Men's Brown Leather Watch, model AW1361-10H, is a remarkable timepiece that effortlessly combines elegance, functionality, and reliability. Its classic design, featuring a stainless steel case, a brown leather strap, and a cream-colored dial, exudes sophistication and complements any outfit or occasion. With its Eco-Drive technology, chronograph function, water resistance, and reliable movement, this watch offers practical features that make it suitable for everyday wear.
The comfort and durability of the watch make it a reliable companion for those who value both style and functionality. The user-friendly features, such as luminous hands and markers, date display, and easy time setting, further enhance its overall appeal. Customer feedback confirms the positive experiences with this timepiece, cementing its reputation as a high-quality and sought-after watch.
If you're in search of a timepiece that combines elegance, versatility, and practicality, the Citizen Eco-Drive Men's Brown Leather Watch is a worthy investment. Its timeless design and superior craftsmanship ensure that it will be a treasured accessory for years to come.