The Citizen Men's Promaster Air Eco-Drive Pilot Chronograph Watch is a stunning timepiece that combines style, functionality, and durability. Designed with the needs of professional pilots in mind, this watch offers a range of features to enhance its performance. From atomic timekeeping technology to a power reserve indicator, this watch caters to the demands of aviation enthusiasts and individuals looking for a reliable and accurate timekeeping companion. In this review, we will delve into the various aspects of this watch, including its design, features, performance, and value for money.
Design and Build Quality
The Promaster Air Eco-Drive Pilot Chronograph Watch boasts a sleek and modern design that exudes a sense of sophistication. Its silver-tone stainless steel case and bracelet give it a refined and luxurious appearance, making it suitable for both formal and casual occasions. The 42mm case diameter strikes a perfect balance between being visually striking and comfortable on the wrist.
One standout feature of this watch is the sapphire crystal display, which not only adds to its overall elegance but also provides excellent scratch resistance. This ensures that the watch retains its pristine appearance even after regular use. Additionally, the luminous hands and markers offer enhanced visibility in low-light conditions, making it easy to read the time at any time of day.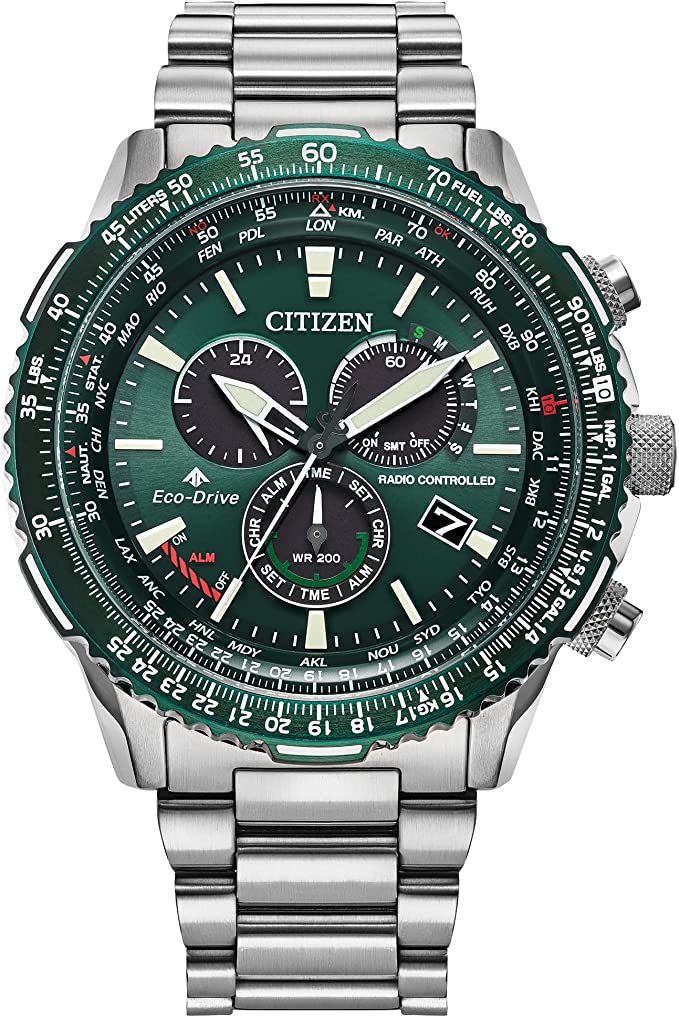 Features and Functionality
The Promaster Air Eco-Drive Pilot Chronograph Watch is packed with an impressive array of features that make it a versatile timekeeping companion. One of its key highlights is the atomic timekeeping technology, which ensures unparalleled accuracy by synchronizing the watch with atomic clocks in various time zones. This feature guarantees that you will always have the correct time, no matter where you are in the world.
In addition to atomic timekeeping, this watch also includes a 1-second chronograph that can measure up to 60 minutes. This function is especially useful for pilots or individuals who need to accurately measure elapsed time during various activities. The watch also features a perpetual calendar, eliminating the need for manual date adjustments as it automatically adjusts for leap years.
Another notable aspect of this watch is its power reserve indicator, which displays the remaining power level of the Eco-Drive technology. Citizen's Eco-Drive technology harnesses the power of light, whether natural or artificial, to keep the watch running continuously without the need for battery replacements. This ensures that the watch remains powered even during extended periods of non-use.
Performance and Durability
Citizen has long been known for its commitment to producing high-quality timepieces, and the Promaster Air Eco-Drive Pilot Chronograph Watch is no exception. With its robust construction and water resistance of up to 200 meters, this watch is built to withstand the rigors of professional use and outdoor adventures. Whether you're diving, swimming, or simply caught in the rain, you can trust that this watch will remain reliable and unaffected by water damage.
The durability of the sapphire crystal display further enhances the longevity of this watch. Sapphire crystal is one of the hardest materials used in watchmaking, offering exceptional scratch resistance and protection against accidental impacts. This means that you can wear this watch with confidence, knowing that it can handle daily wear and tear without compromising its appearance or functionality.
Value for Money
With its impressive features, durable construction, and sleek design, the Citizen Men's Promaster Air Eco-Drive Pilot Chronograph Watch offers excellent value for money. While the price may be higher compared to some other watches in its category, the combination of atomic timekeeping, chronograph functionality, and superior build quality justifies the investment.
Furthermore, Citizen stands behind the quality of this watch by offering a 5-year limited warranty. This assurance gives customers peace of mind knowing that their investment is protected against any manufacturing defects or faults.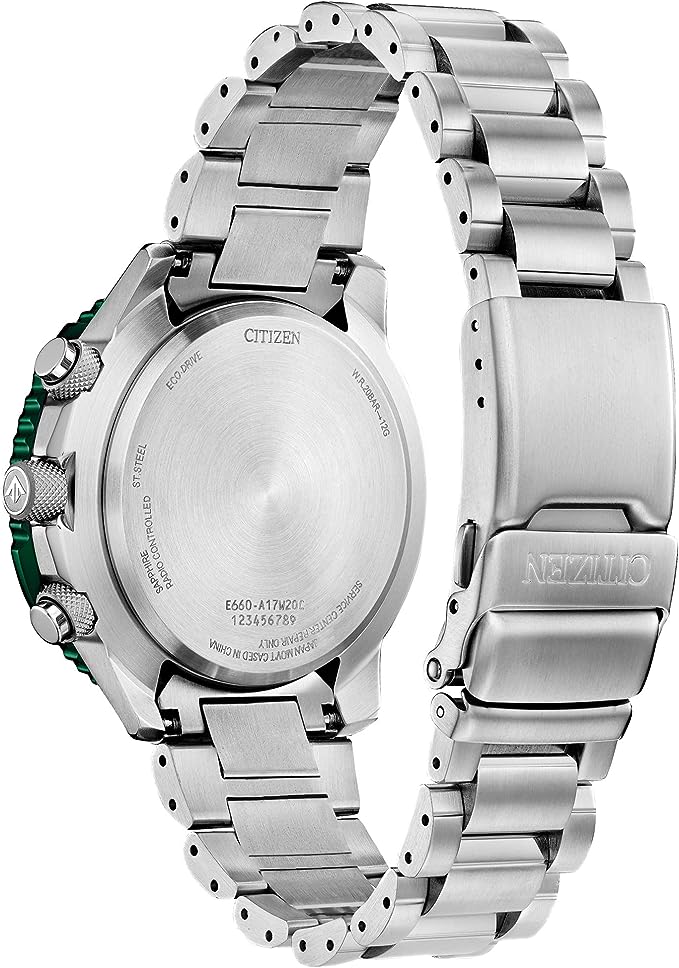 Conclusion
In conclusion, the Citizen Men's Promaster Air Eco-Drive Pilot Chronograph Watch is a remarkable timepiece that delivers both style and substance. Its sleek design, packed with features like atomic timekeeping, chronograph functionality, and power reserve indicator, make it a valuable companion for pilots, outdoor enthusiasts, and anyone who appreciates precision and reliability in a watch.
The durability of the watch, highlighted by its scratch-resistant sapphire crystal display and water resistance up to 200 meters, ensures that it can withstand the demands of professional use and adventurous activities. Furthermore, the added convenience of the Eco-Drive technology eliminates the hassle of regular battery replacements.
Overall, if you are looking for a versatile, accurate, and durable watch that combines functionality with elegance, the Citizen Men's Promaster Air Eco-Drive Pilot Chronograph Watch is undoubtedly worth considering.