In the realm of timepieces, Citizen has carved a niche for itself with innovative designs, exceptional craftsmanship, and reliable performance. The Citizen Quartz Stainless Steel and Leather Casual Watch is no exception to this legacy. Blending timeless elegance with modern functionality, this watch caters to the needs of contemporary individuals who value both style and practicality. In this review, we will delve into the various aspects of the Citizen Quartz watch, discussing its design, features, performance, and overall value for money.
Design and Aesthetics
The Citizen Quartz watch boasts a refined and sophisticated design that effortlessly complements any attire or occasion. Its case is crafted from durable stainless steel that exudes a sleek and polished appearance. The round shape of the case adds a classic touch, while the 42mm diameter strikes a perfect balance between subtlety and presence on the wrist. The combination of brushed and polished finishes further enhances the visual appeal of the watch.
One notable feature of this timepiece is its attractive blue dial. The radiant hue creates a captivating contrast against the silver-tone hour markers and hands, making it easy to read the time at a glance. The dial also includes a date window positioned at the 3 o'clock mark, providing a convenient reminder of the current day. Overall, the dial design is clean and minimalist, ensuring a timeless look that transcends passing trends.
Complementing the stainless steel case is a genuine leather strap, which adds a touch of luxury and comfort. The black leather strap not only enhances the aesthetics of the watch but also ensures a comfortable fit during prolonged wear. Additionally, the strap is easily adjustable to accommodate different wrist sizes, thanks to the traditional buckle clasp.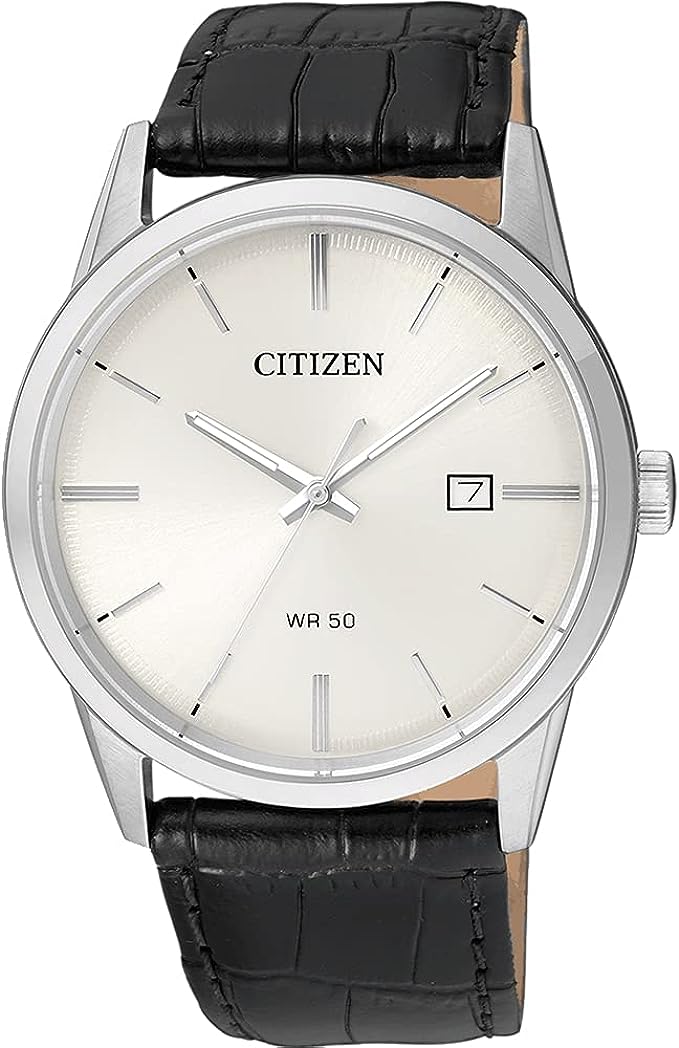 Features and Functionality
While the Citizen Quartz watch emphasizes elegance and style, it doesn't compromise on functionality and practicality. The timepiece is powered by Citizen's precise Quartz movement, which ensures accurate timekeeping with minimal deviation. Quartz movement is known for its reliability and low maintenance requirements, making it an ideal choice for everyday wear.
The watch features luminous hands and hour markers, allowing for easy readability even in dimly lit environments. This feature proves to be particularly useful during evening events or when checking the time in low-light conditions. Furthermore, the inclusion of a magnified date window enhances the overall convenience of this timepiece.
One notable aspect of the Citizen Quartz watch is its water resistance capability. With a water resistance rating of 50 meters (165 feet), the watch can withstand minor splashes, rain, and accidental submersion in water. While not suitable for swimming or diving, this level of water resistance ensures peace of mind for daily activities and occasional exposure to moisture.
Performance and Durability
Citizen is renowned for its commitment to delivering timepieces that not only look great but also perform exceptionally well. The Quartz movement within the Citizen Quartz watch ensures accurate timekeeping, with minimal deviation over extended periods. This eliminates the need for frequent adjustments, allowing users to rely on the watch's precision.
The stainless steel case of the watch provides excellent durability, protecting the internal components from external impacts and wear. The mineral crystal covering the dial is scratch-resistant, further enhancing the longevity of this timepiece. However, it is important to note that the mineral crystal may not be as resistant to scratches as sapphire crystal, which is commonly found in higher-end luxury watches.
The genuine leather strap not only adds to the overall aesthetics but also offers lasting durability when properly cared for. Regular conditioning and cleaning will help maintain the leather's quality and ensure its longevity. It is worth noting that leather straps may show signs of wear over time, but this can add character and a sense of personalization to the watch.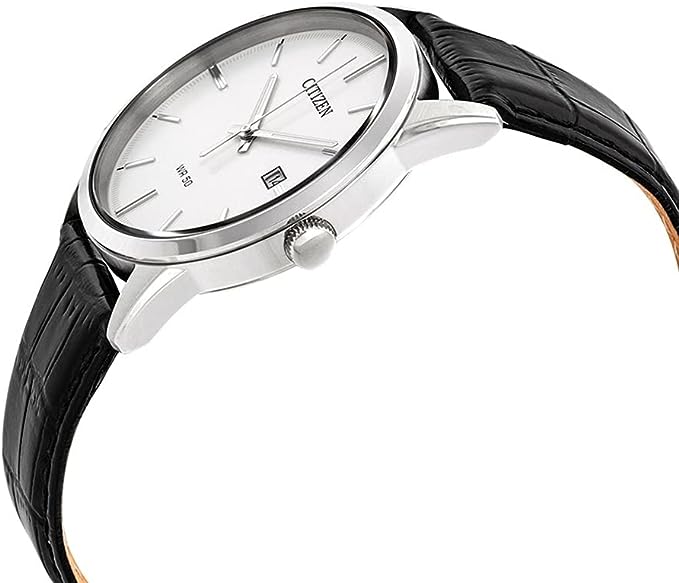 Value for Money
Considering its design, features, and performance, the Citizen Quartz Stainless Steel and Leather Casual Watch offers excellent value for money. Priced [vnd] on Amazon, this timepiece provides an affordable entry point into the world of Citizen watches without compromising on quality or style. The combination of stainless steel, genuine leather, and precise Quartz movement makes it a reliable companion for both formal and casual occasions.
In comparison to other watches within the same price range, the Citizen Quartz watch stands out with its elegant design and reputation for durability. While there are alternatives available, few can match the level of craftsmanship and brand reliability that Citizen offers. Investing in this timepiece not only guarantees accurate timekeeping but also adds a touch of sophistication to your wrist.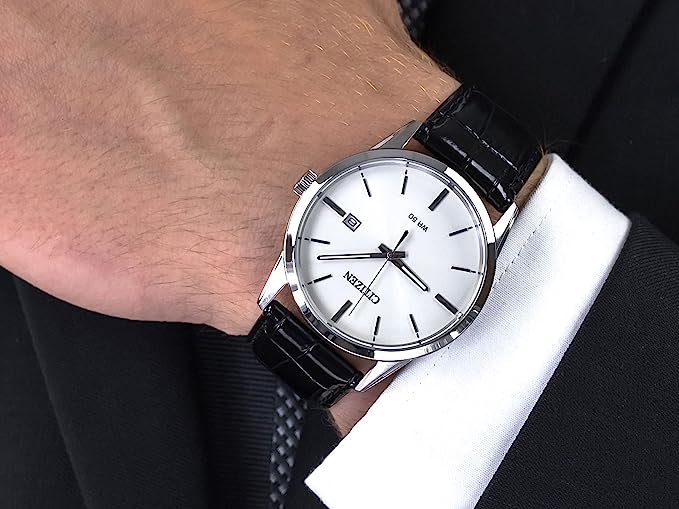 Conclusion
The Citizen Quartz Stainless Steel and Leather Casual Watch exemplify Citizen's commitment to excellence. With its refined design, practical features, and dependable performance, this timepiece is a testament to the brand's long-standing reputationfor quality and craftsmanship. The combination of stainless steel and leather in the watch's construction adds elegance and durability, making it suitable for both casual and formal occasions.
One of the standout features of the Citizen Quartz watch is its accuracy. Powered by a reliable quartz movement, it ensures precise timekeeping, allowing users to rely on it for everyday use. Additionally, the watch offers water resistance, adding an extra layer of convenience and versatility.
The design of the Citizen Quartz Stainless Steel and Leather Casual Watch is minimalist yet stylish, with a clean dial and sleek hands. The leather strap provides comfort and sophistication, while the stainless steel case enhances the overall aesthetics of the timepiece. This blend of materials creates a balanced and timeless look that will endure changing trends.
Furthermore, Citizen has a strong reputation for producing durable and long-lasting watches. The stainless steel construction of this watch ensures its ability to withstand daily wear and tear, maintaining its appearance and functionality over time. With proper care, this timepiece can become a reliable companion for years to come.
In conclusion, the Citizen Quartz Stainless Steel and Leather Casual Watch is an exceptional timepiece that embodies the essence of Citizen's commitment to excellence. Its refined design, practical features, and dependable performance make it a worthy investment. Whether worn casually or formally, this watch is sure to elevate any outfit and cater to the needs of individuals seeking both style and reliability in a timepiece.