When it comes to watches, Citizen is a brand that has earned a reputation for producing high-quality timepieces that are both stylish and reliable. The Citizen Quartz Mens Watch, Stainless Steel, Classic, Gold-Tone (Model: BF2013-56E) lives up to this reputation by offering a classic design combined with modern functionality. In this review, we will delve into the features, performance, and overall value of this watch.
Design and Durability
The first thing that catches your eye when you see the Citizen Quartz Mens Watch is its classic gold-tone finish. The stainless steel case and bracelet exude elegance and sophistication, making it suitable for both formal and casual occasions. The 41-mm case size strikes the perfect balance between being noticeable without being overpowering on the wrist.
The textured black dial adds a touch of uniqueness to the watch, setting it apart from other gold-tone timepieces in the market. The contrasting white hour markers and hands provide excellent legibility, even in low-light conditions. Additionally, the watch features a day/date window at the 3 o'clock position, which adds practicality to its classic design.
Durability is a key aspect of any timepiece, and the Citizen Quartz Mens Watch does not disappoint in this regard. The mineral dial window offers protection against scratches and minor impacts, ensuring that your watch remains in pristine condition for years to come. With a water resistance rating of 50 meters (165 feet), the watch can withstand occasional splashes and short periods of recreational swimming, but it is not designed for diving or snorkeling activities.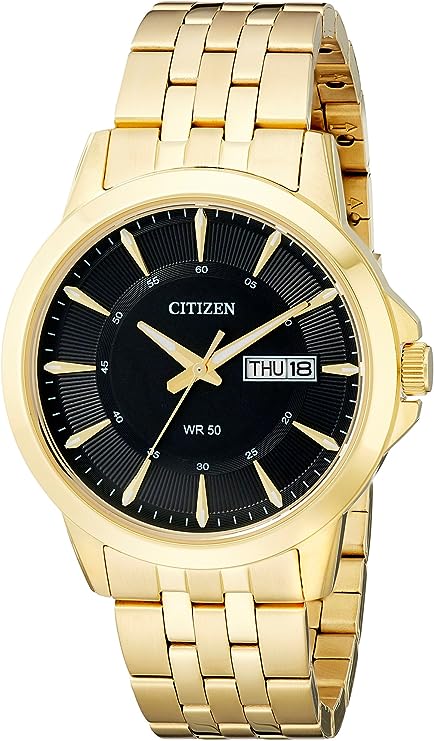 Movement and Accuracy
The Citizen Quartz Mens Watch is powered by a reliable Japanese quartz movement. Known for their precision and longevity, quartz movements are highly regarded in the watch industry. This watch's quartz movement ensures accurate timekeeping, allowing you to rely on it for your daily activities.
One notable feature of this watch is its luminous accents. The hour markers and hands are coated with a luminescent material that absorbs light and emits it in dark conditions. This makes it easy to read the time even when there is limited or no external light source available. Whether you're attending a dimly lit event or checking the time during nighttime, the luminous accents come in handy.
Comfort and Fit
A watch should not only look good but also feel comfortable on the wrist. The Citizen Quartz Mens Watch excels in this aspect, thanks to its stainless steel bracelet with a fold-over clasp. The bracelet is adjustable, allowing you to find the perfect fit for your wrist size. The links are well-designed and do not pinch or pull on the skin, ensuring a pleasant wearing experience throughout the day.
The weight of the watch is also worth mentioning. Despite its stainless steel construction, the Citizen Quartz Mens Watch feels lightweight on the wrist. This is important for those who prefer a watch that doesn't weigh them down or cause discomfort during extended wear.

Versatility and Style
One of the standout features of the Citizen Quartz Mens Watch is its versatility. The classic gold-tone design makes it suitable for various occasions, whether you're attending a formal event, going to the office, or simply meeting friends for a casual outing. The watch seamlessly transitions from day to night, adding a touch of sophistication to any ensemble.
The timeless appeal of the Citizen Quartz Mens Watch ensures that it will remain in style for years to come. Unlike trendy watches that may quickly go out of fashion, this timepiece offers a classic design that withstands ever-changing trends. It is not just a watch; it is an accessory that can become a part of your signature style.
Value for Money
Priced at [usd], the Citizen Quartz Mens Watch offers excellent value for money. The combination of its high-quality materials, reliable movement, and timeless design makes it a worthwhile investment. Compared to other luxury watches in the market, this timepiece provides exceptional quality at an affordable price point.
Additionally, Citizen is a brand known for its commitment to customer satisfaction and after-sales service. With their reputation for producing durable and reliable watches, you can have peace of mind knowing that your purchase is backed by a reputable company.

Pros and Cons
To summarize the review, let's take a look at the pros and cons of the Citizen Quartz Mens Watch.
Pros:
Classic gold-tone design with a textured black dial
High-quality stainless steel construction
Accurate Japanese quartz movement
Luminous accents for enhanced visibility in low-light conditions
Comfortable fit with adjustable stainless steel bracelet
Versatile style suitable for various occasions
Excellent value for money
Cons:
-Cons:
Limited water resistance of 50 meters (165 feet), not suitable for diving or snorkeling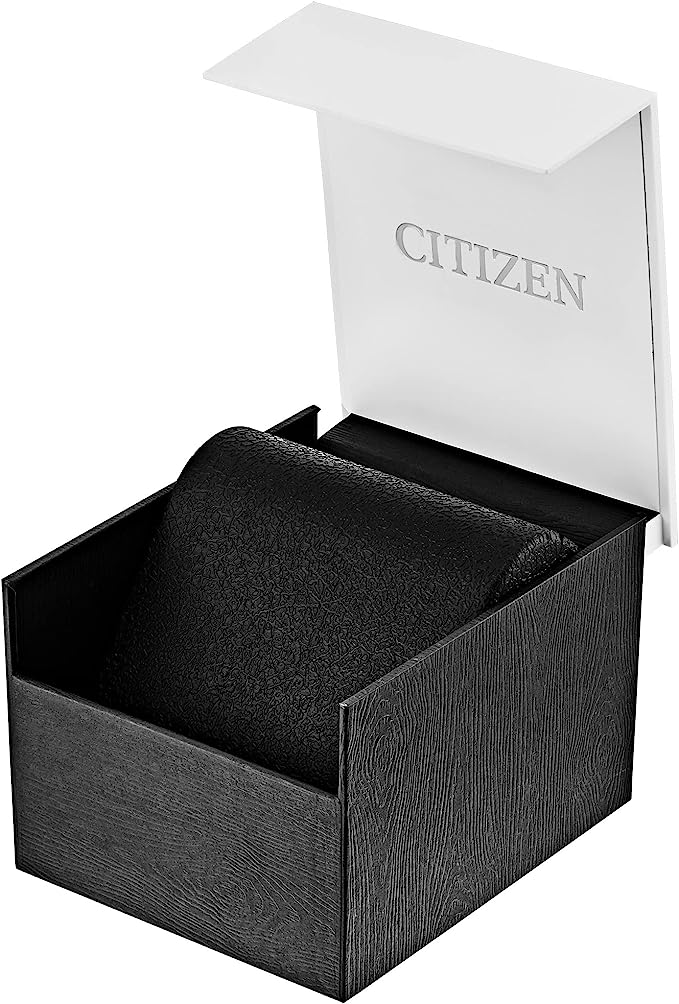 Conclusion
In conclusion, the Citizen Quartz Mens Watch, Stainless Steel, Classic, Gold-Tone (Model: BF2013-56E) is a timepiece that combines timeless elegance with modern functionality. Its classic gold-tone design, textured black dial, and luminous accents make it a standout accessory for any occasion. The watch's durable stainless steel construction ensures longevity, while its adjustable bracelet provides a comfortable fit.
The reliable Japanese quartz movement guarantees accurate timekeeping, and the luminous accents enhance visibility in low-light conditions. The watch's versatility allows it to complement various outfits and styles, making it a versatile addition to your collection. Priced at [usd], this timepiece offers excellent value for money, backed by Citizen's reputation for quality and customer satisfaction.
While the limited water resistance may be a drawback for those looking for a watch suitable for water activities, the Citizen Quartz Mens Watch excels in all other aspects. It is a stylish and reliable option for anyone seeking a classic and sophisticated timepiece.
In summary, the Citizen Quartz Mens Watch, Stainless Steel, Classic, Gold-Tone (Model: BF2013-56E) is a testament to Citizen's commitment to producing high-quality watches. Whether you're a watch enthusiast or simply someone who appreciates a well-crafted accessory, this timepiece is sure to impress. Invest in elegance and reliability with the Citizen Quartz Mens Watch.