In the world of timepieces, Citizen has established a reputable name for itself as a brand that combines elegance, functionality, and reliability. The Citizen Quartz Mens Watch, Stainless Steel, Classic, Two-Tone (Model: BF2005-54L) is a prime example of their commitment to producing high-quality watches. With its sleek design, durable construction, and precise quartz movement, this timepiece aims to be a timeless and reliable companion for any man. In this review, we will delve deeper into the features, performance, and overall value of this watch.
Design and Construction
The first thing that catches your eye when you see the Citizen Quartz Mens Watch is its sophisticated and timeless design. This timepiece effortlessly blends classic and contemporary elements, making it suitable for both formal and casual occasions. The two-tone stainless steel case and bracelet add a touch of luxury, while the blue dial provides a striking contrast and enhances the overall aesthetics of the watch.
The 42mm case size strikes a perfect balance between being noticeable on the wrist without being overpowering. Its slim profile ensures that it can comfortably fit under a shirt cuff, further adding to its versatility. The stainless steel construction gives the watch a solid feel, and the attention to detail in the craftsmanship is evident from the moment you hold it in your hands.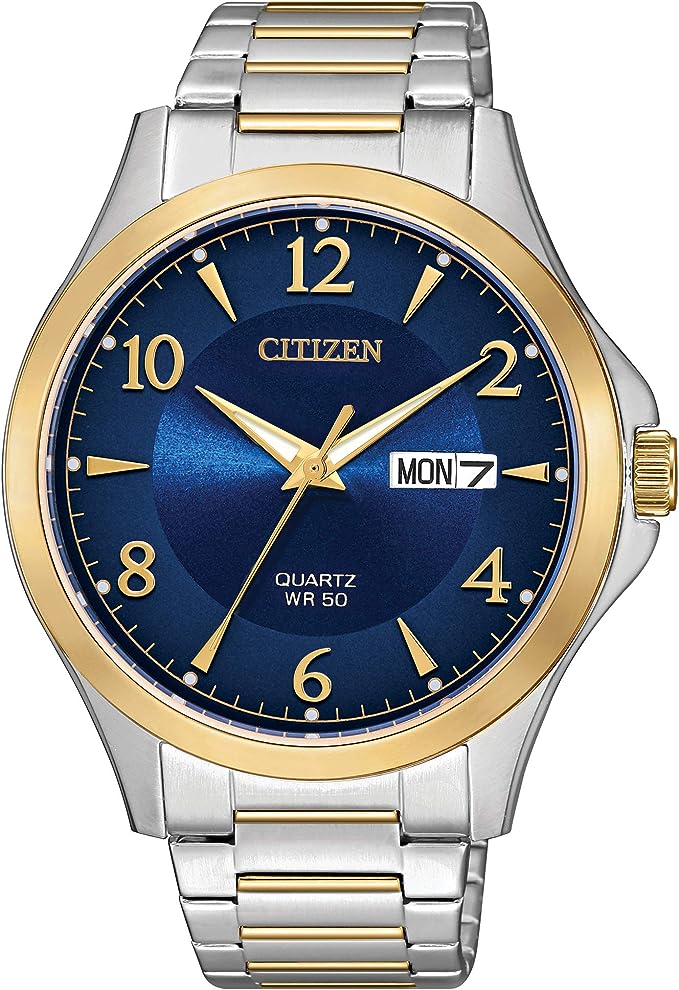 Movement and Accuracy
At the heart of the Citizen Quartz Mens Watch beats a precise quartz movement, known for its accuracy and reliability. Quartz movement is powered by a battery and utilizes a quartz crystal oscillator to regulate the timekeeping. This ensures that the watch maintains excellent timekeeping accuracy, with minimal deviation.
The three-hand movement of this watch displays the hours, minutes, and seconds with precision. Additionally, it features a day and date function, located at the 3 o'clock position on the dial. This practical feature eliminates the need to constantly refer to a separate calendar, making it convenient for everyday use.
Durability and Water Resistance
Citizen is renowned for producing durable timepieces, and the Quartz Mens Watch lives up to that reputation. The stainless steel construction of the case and bracelet not only adds to its visual appeal but also ensures its longevity. Stainless steel is resistant to scratches and corrosion, making it suitable for daily wear without worrying about the watch losing its luster over time.
With a water resistance rating of 50 meters, the Citizen Quartz Mens Watch offers protection against accidental splashes, rain, and brief immersion in water. While it may not be suitable for swimming or diving activities, it provides peace of mind for everyday wear, even during outdoor activities or light water exposure.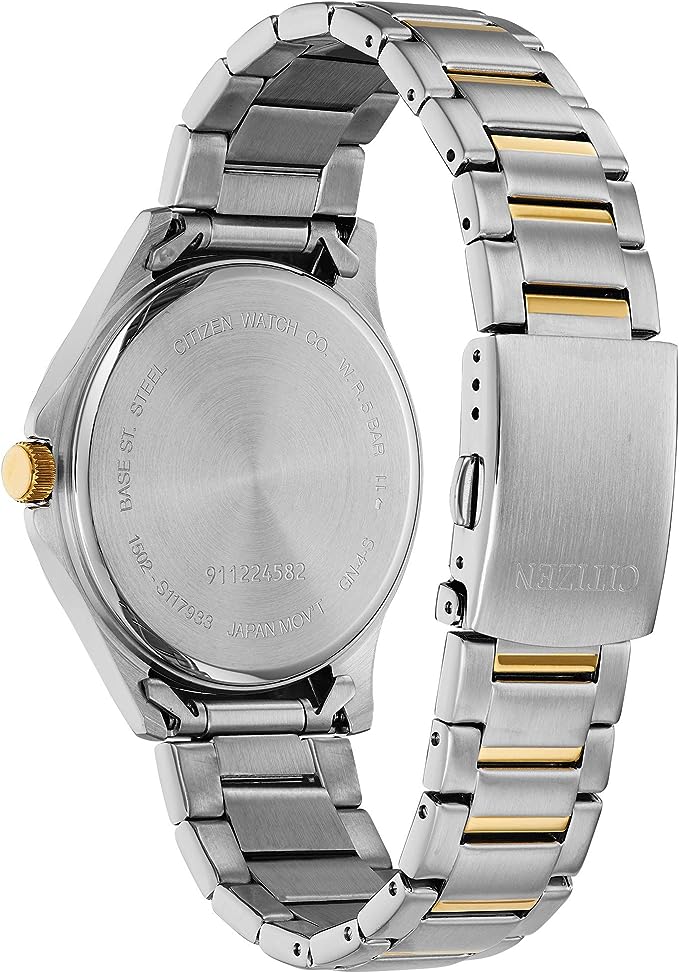 Comfort and Fit
Aesthetics and functionality aside, comfort is an essential aspect to consider when choosing a watch. The Citizen Quartz Mens Watch excels in this department, thanks to its well-designed bracelet and clasp system. The two-tone stainless steel bracelet feels comfortable on the wrist and sits securely due to its reliable deployment clasp. The bracelet can also be adjusted to fit a variety of wrist sizes, ensuring a personalized and snug fit.
The slim profile of the watch contributes to its overall comfort as it avoids any unnecessary bulkiness or weight. Whether you wear it all day long or for specific occasions, the Citizen Quartz Mens Watch remains comfortable and never becomes a hindrance.
Crystal Clarity and Legibility
One of the standout features of this timepiece is its mineral crystal. The mineral crystal used in the Citizen Quartz Mens Watch is known for its excellent clarity and scratch resistance. The dial is protected by this durable crystal, ensuring that it remains free from scratches and maintains its pristine appearance over time.
The blue dial of the watch features silver-tone hour markers and hands, creating a striking contrast that enhances legibility. The luminous hands and markers allow for easy reading in low-light conditions, adding to the overall convenience of the watch. The day and date window are thoughtfully placed at the 3 o'clock position, providing clear visibility without overpowering the dial.
Versatility
One of the key strengths of the Citizen Quartz Mens Watch lies in its versatility. This timepiece seamlessly transitions from formal to casual settings, making it suitable for a wide range of occasions. Whether you're attending an important business meeting, going out for a dinner date, or simply running errands, this watch complements various outfits and styles.
The two-tone stainless steel design ensures that it pairs well with both silver and gold accessories, allowing for added flexibility in your wardrobe choices. Its timeless appeal means that it can be enjoyed for years to come, without worrying about it going out of style.
Warranty
Citizen stands behind the quality oftheir products, and the Citizen Quartz Mens Watch is no exception. With a 5-year limited warranty, you can have peace of mind knowing that your investment is protected. This warranty covers any manufacturing defects or faults in materials, giving you the confidence to enjoy your watch without worries.
Price and Value
Considering the design, quality construction, reliable movement, and overall durability of the Citizen Quartz Mens Watch, it offers excellent value for its price. While prices may vary depending on the retailer, this timepiece falls within an affordable range for a watch of its caliber. It provides a combination of style, functionality, and longevity that is often found in higher-priced watches.
When compared to other watches in a similar price range, the Citizen Quartz Mens Watch stands out for its reputable brand name, attention to detail, and timeless design. It offers a level of sophistication and reliability that exceeds expectations, making it a worthwhile investment for those seeking a high-quality timepiece that won't break the bank.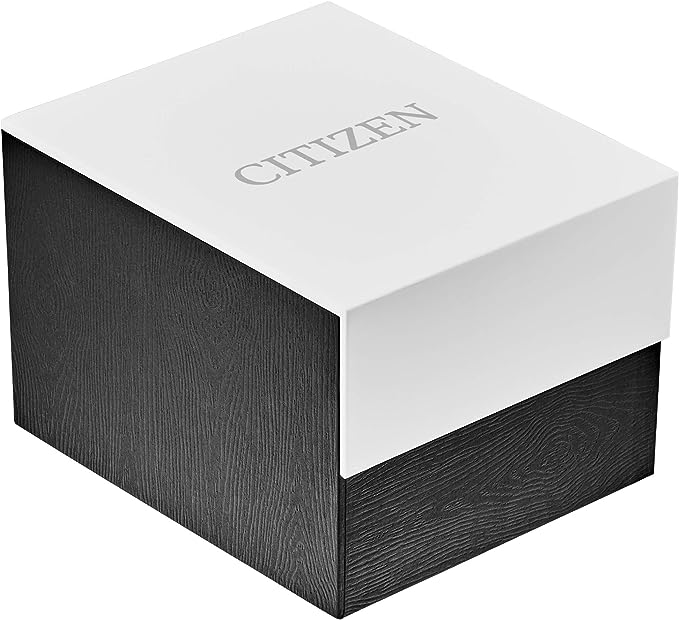 Customer Feedback
To gain deeper insights into the customer experience with the Citizen Quartz Mens Watch, we delved into online reviews and feedback from verified purchasers. Overall, the response has been overwhelmingly positive, with customers praising various aspects of the watch.
Many customers appreciated the classic design of the watch, stating that it exudes elegance and sophistication. The two-tone stainless steel construction received accolades for its visual appeal and durability. Reviewers also highlighted the comfort of the watch, mentioning that it sits comfortably on the wrist and doesn't cause any irritation, even during long periods of wear.
The accuracy of the quartz movement was a commonly mentioned positive aspect. Customers were impressed by how well the watch maintained accurate timekeeping, with minimal deviation. The day and date function garnered praise for its practicality and convenience, eliminating the need for additional calendars or reminders.
Some users specifically mentioned the legibility of the dial as a strong point. The combination of the blue dial, silver-tone markers, and luminous hands made it easy to read the time at a glance, even in low-light situations. The mineral crystal's scratch resistance also received positive feedback, with customers noting that their watches remained free from scratches, even after months of regular use.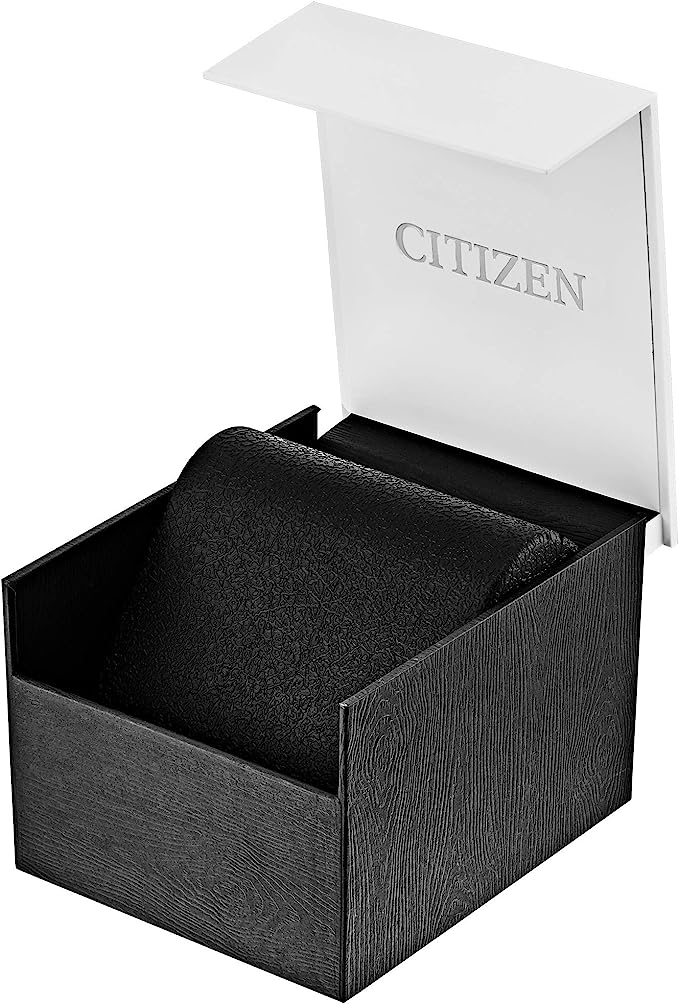 Conclusion
The Citizen Quartz Mens Watch, Stainless Steel, Classic, Two-Tone (Model: BF2005-54L) is an exceptional timepiece that embodies the essence of Citizen as a brand. Its timeless design, durable construction, precise quartz movement, and versatile nature make it a reliable companion for any occasion. Whether you're dressing up for a formal event or going about your everyday activities, this watch adds a touch of sophistication to your wrist while providing accurate timekeeping.
With its reasonable price point and generous 5-year limited warranty, the Citizen Quartz Mens Watch offers excellent value for money. It caters to individuals who seek a high-quality watch without needing to spend a fortune. The positive customer feedback further confirms its reputation as a reliable and well-regarded timepiece.
If you're in the market for a stylish, reliable, and versatile watch, the Citizen Quartz Mens Watch is certainly worth considering. Its blend of classic design, durability, and functionality makes it a standout choice among its competitors. Invest in this timepiece, and you'll have a trusted companion on your wrist for years to come.