The Citizen Quartz Mens Watch, Stainless Steel, Classic, Two-Tone (Model: BF2018-52E) is a stunning timepiece that combines classic design with modern functionality. It boasts a sleek two-tone stainless steel construction that exudes elegance and sophistication. With its textured black dial, day/date window, luminous hands, and markers, this watch offers not only style but also practicality. Let's delve deeper into the features and qualities that make this watch an exceptional choice for any gentleman.
Design and Construction
The first thing that captivates you about the Citizen Quartz Mens Watch is its impeccable design. The combination of silver and gold tones on the stainless steel bracelet and case creates a visually appealing contrast. The 41 mm stainless steel case houses a mineral dial window that protects the delicate components while offering excellent durability against daily wear and tear.
The black dial sets the stage for the gold-toned luminous hands and markers, providing a clear and legible display even in low-light conditions. The inclusion of a day/date window further enhances its functionality, allowing you to keep track of both the day and date without any hassle.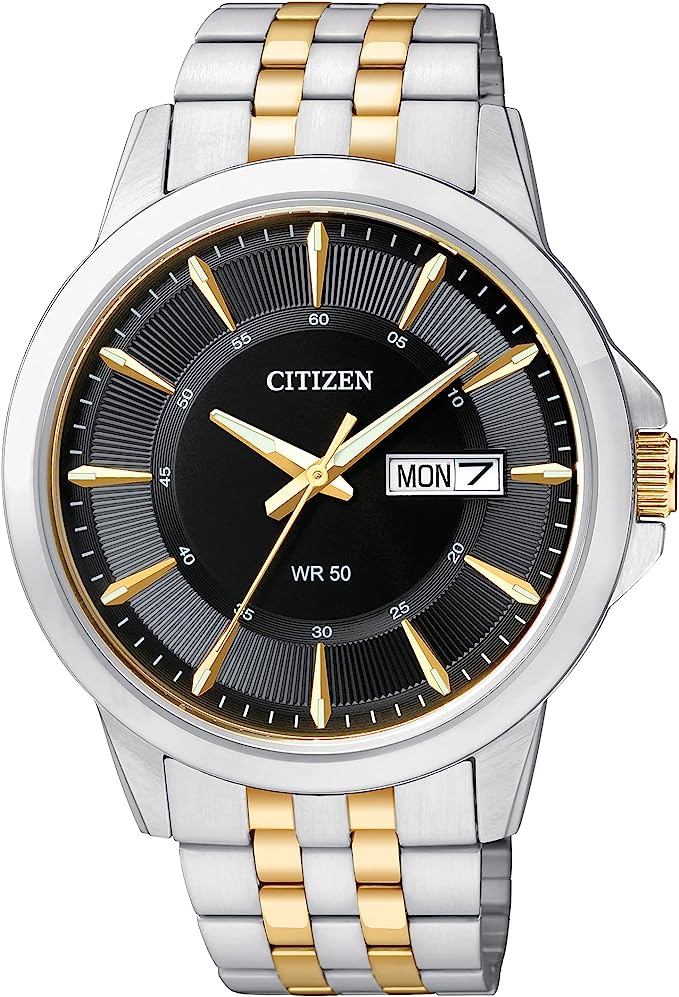 Movement and Accuracy
Powered by reliable Japanese quartz movement, the Citizen Quartz Mens Watch ensures accurate timekeeping. Quartz movement is known for its precision, making this watch highly dependable. You can trust that it will always keep you on schedule, whether you're attending a business meeting or enjoying a leisurely weekend.
Comfort and Fit
Aside from its stylish appearance, the Citizen Quartz Mens Watch excels in providing a comfortable fit. The stainless steel bracelet features a fold-over-clasp closure, allowing for easy adjustment to achieve the perfect fit on your wrist. The weight of the watch is well-balanced, ensuring that it doesn't feel cumbersome during extended wear.
Water Resistance
With a water resistance rating of 50 meters (165 feet), this timepiece can withstand splashes and brief immersion in water. While it may not be suitable for swimming or diving activities, it offers sufficient protection against accidental water exposure in everyday situations. You won't have to worry about taking it off when washing your hands or getting caught in the rain.

Durability and Longevity
Citizen is renowned for producing watches of exceptional quality, and the Citizen Quartz Mens Watch is no exception. Its stainless steel construction provides durability, preventing scratches and corrosion from compromising its appearance. The mineral dial window is also resistant to minor impacts, enhancing the longevity of the watch.
Versatility
The classic design of the Citizen Quartz Mens Watch makes it a versatile accessory that complements various outfits and occasions. Whether you're dressing up for a formal event or going for a casual look, this timepiece effortlessly adds a touch of sophistication to your ensemble. It transitions seamlessly from day to night, making it a reliable companion throughout your endeavors.
Customer Feedback
Customers who have purchased the Citizen Quartz Mens Watch have been overwhelmingly positive in their reviews. Many praise its elegant appearance and accurate timekeeping, highlighting its value for money. Some users appreciate the versatility of the watch, noting that it can be worn for both professional and social occasions. The comfort and fit have also received commendation, with customers reporting that it feels secure and comfortable on the wrist.

Conclusion
In conclusion, the Citizen Quartz Mens Watch, Stainless Steel, Classic, Two-Tone (Model: BF2018-52E) is a timepiece that combines timeless elegance with modern functionality. Its sleek two-tone design, reliable quartz movement, and various features make it a standout choice for any gentleman seeking a versatile and dependable watch. The durability and comfort it offers ensure that it will be a cherished accessory for years to come. Whether you're attending a formal event or going about your daily routine, this watch will always have you looking elegant and on time.