In the world of horology, Citizen is a well-known and respected brand that has been creating exceptional timepieces for decades. With their commitment to quality craftsmanship and innovative technology, it's no surprise that Citizen watches are highly sought after by watch enthusiasts and collectors alike. One particular model that has caught my attention is the Citizen Stainless Steel Quartz Watch, featuring a sleek design, reliable quartz movement, and a luxury leather calfskin band. In this review, I will take an in-depth look at this timepiece, evaluating its design, performance, and overall value.
Design and Aesthetics
The first thing that strikes you about the Citizen Stainless Steel Quartz Watch is its elegant and sophisticated design. The round stainless steel case measures 42mm in diameter, making it a great size for most wrists. The polished silver finish of the case gives it a timeless appeal, while the minimalistic black dial adds a touch of modernity.
One feature that sets this watch apart from others in its price range is the exhibition case back. This transparent panel allows you to see the inner workings of the watch, including the precise quartz movement. It's a fascinating detail that adds to the overall allure of the timepiece.
The hour markers on the dial are represented by silver-tone baton-style indices, which provide a clean and uncluttered look. The hands are also silver-tone, ensuring optimal legibility against the black background. The inclusion of a date window at the 3 o'clock position further enhances the functionality of the watch.
To complement the stainless steel case, the Citizen Stainless Steel Quartz Watch comes with a premium leather calfskin band. The black strap is soft, comfortable to wear, and exhibits excellent craftsmanship. The deployment clasp ensures a secure fit, while the embossed Citizen logo on the strap adds a subtle touch of branding. Overall, the design and aesthetics of this timepiece exude a sense of refinement and classic style.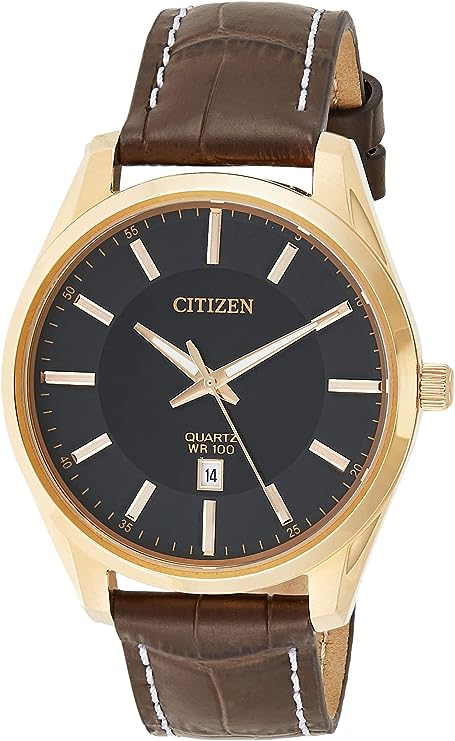 Movement and Performance
At the heart of the Citizen Stainless Steel Quartz Watch is a reliable quartz movement. Quartz movements are known for their accuracy and low maintenance, making them an excellent choice for everyday wear. This particular movement is powered by a battery and utilizes a crystal oscillator to maintain precise timekeeping.
What sets this watch apart from other quartz timepieces is its Eco-Drive technology. Citizen has been a pioneer in solar-powered watches, and the Eco-Drive system is a testament to their commitment to sustainable timekeeping. The Eco-Drive technology harnesses both natural and artificial light to charge the watch's battery, eliminating the need for regular battery replacements. With sufficient exposure to light, the watch can continuously operate for months or even years without needing any external power source.
In terms of performance, the Citizen Stainless Steel Quartz Watch exceeds expectations. The quartz movement ensures accurate timekeeping, with minimal deviation over extended periods. The crown allows for easy adjustment of the time and date, while the overall build quality of the watch instills confidence in its durability. Whether you're wearing it to a business meeting or a casual outing, this timepiece will reliably keep you on schedule.
Features and Functionality
While the Citizen Stainless Steel Quartz Watch boasts a simple and elegant design, it doesn't compromise on functionality. In addition to the standard timekeeping features, such as hours, minutes, seconds, and a date display, this watch also offers water resistance up to 50 meters (165 feet). While it's not designed for extensive water activities, it can withstand splashes, rain, and accidental submersion.
Another notable feature of this timepiece is the luminous hands and hour markers. The luminescent material used provides excellent visibility in low-light conditions, ensuring that you can read the time even in dimly lit environments. This feature is particularly useful for those who frequently find themselves in dark settings or need to check the time during nighttime hours.
The inclusion of an exhibition case back, as mentioned earlier, adds a unique touch to the watch. It allows you to appreciate the intricate inner workings of the movement and serves as a conversation starter for watch enthusiasts. While it doesn't contribute directly to the functionality, it adds to the overall appeal and value of the timepiece.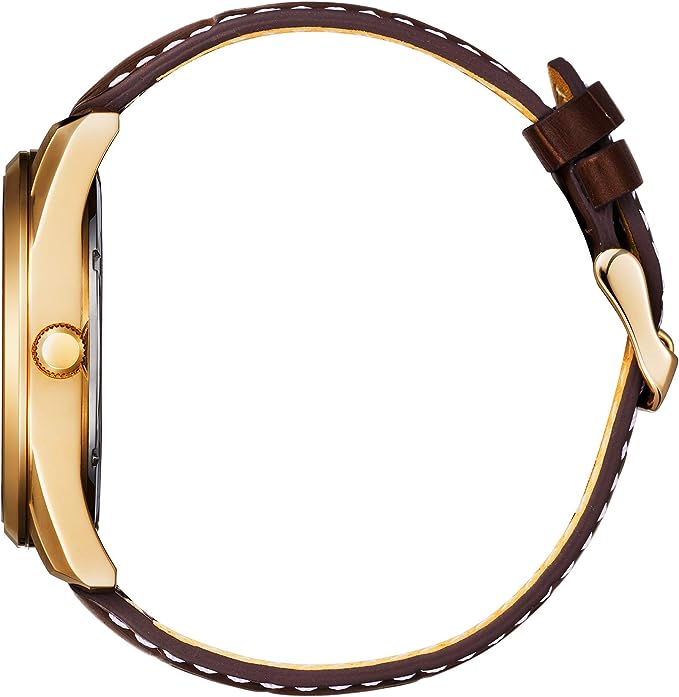 Value for Money
When it comes to luxury watches, the price can often be a significant deciding factor. The Citizen Stainless Steel Quartz Watch strikes a balance between affordability and quality craftsmanship, making it a great value for money option. Priced competitively, this timepiece offers features and design elements that are typically found in higher-priced watches.
Considering the attention to detail in its design, the use of high-quality materials, and the inclusion of Eco-Drive technology, the Citizen Stainless Steel Quartz Watch offers exceptional value. Additionally, Citizen is renowned for its customer service and after-sales support, further adding to the overall value proposition of their timepieces.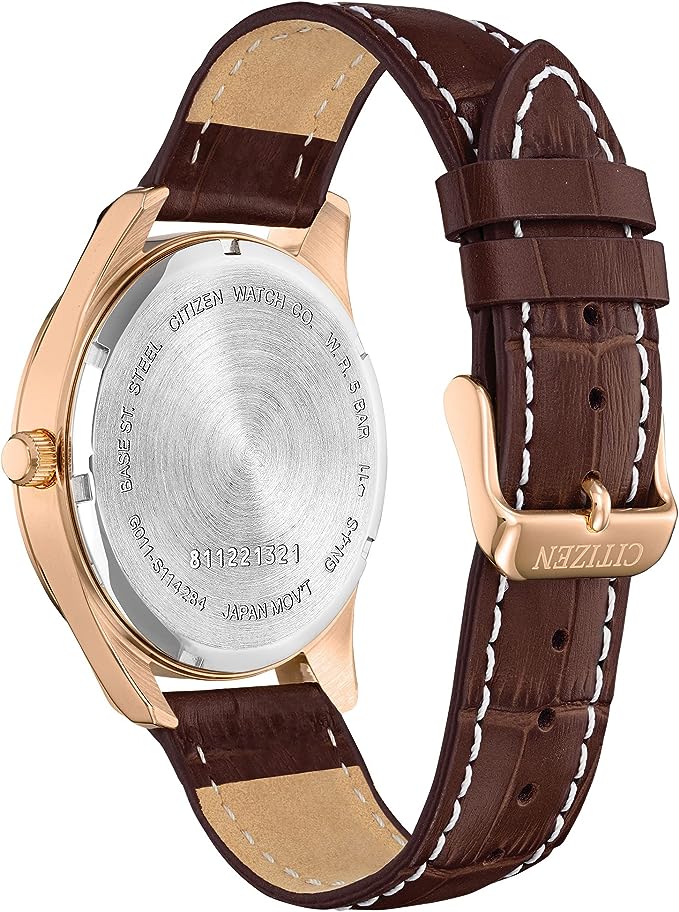 Conclusion
In conclusion, the Citizen Stainless Steel Quartz Watch is a stylishand reliable timepiece that combines classic design with modern technology. Its elegant stainless steel case, minimalistic dial, and luxurious leather calfskin band make it a versatile accessory that can be worn for both formal and casual occasions. The inclusion of an exhibition case back allows you to appreciate the inner workings of the watch, showcasing the precision of its quartz movement.
Speaking of the movement, the quartz mechanism ensures accurate timekeeping, while the Eco-Drive technology sets this watch apart from others in its price range. With its ability to harness light as a power source, the Citizen Stainless Steel Quartz Watch eliminates the need for frequent battery replacements, providing convenience and sustainability.
The functionality of this timepiece is enhanced by features such as the date display, water resistance, and luminous hands and hour markers. These practical elements make the watch a reliable companion for everyday use, ensuring that you stay on schedule and can easily read the time in various lighting conditions.
Considering its quality craftsmanship, attention to detail, and the reputation of the Citizen brand, the Stainless Steel Quartz Watch offers excellent value for money. While it may not be the most affordable option on the market, it provides a level of sophistication and reliability that justifies its price. Moreover, Citizen's commitment to customer service adds peace of mind knowing that you will receive support should any issues arise with your timepiece.
In conclusion, if you are in search of a well-designed, reliable, and eco-friendly timepiece, the Citizen Stainless Steel Quartz Watch is worth considering. Its sleek aesthetics, high-quality materials, and innovative technology make it a standout choice in its price range. Whether you are a watch enthusiast or simply someone who appreciates a stylish and functional accessory, this timepiece is sure to impress.