In today's fast-paced world, a reliable and stylish timepiece is an essential accessory for every man. With numerous options available in the market, finding the perfect watch that combines both functionality and aesthetics can be a daunting task. However, the Citizen Quartz Stainless Steel Men's Watch (BI1030-53A) sets itself apart with its sleek design, exceptional accuracy, and trusted brand reputation.
In this comprehensive review, we will delve into the features, performance, and overall quality of the Citizen Quartz Stainless Steel Men's Watch. We'll explore its design elements, discuss its functionality, evaluate its durability, and provide an overview of customer experiences. By the end of this review, you'll have a clear understanding of whether this timepiece is the right choice for you.
Design and Aesthetics
The first impression of the Citizen Quartz Stainless Steel Men's Watch is its clean and sophisticated design. The watch case and bracelet are constructed from high-quality stainless steel, which not only enhances its durability but also gives it an elegant look suitable for various occasions. The silver-tone finish adds a touch of luxury while maintaining a timeless appeal.
Featuring a round case with a diameter of 40mm, this watch has a medium-sized presence on the wrist, making it suitable for most individuals. The dial is protected by a mineral crystal, providing good scratch resistance and ensuring clarity when reading the time. The minimalistic white dial is complemented by silver-tone hands and hour markers, creating a balanced and refined appearance.
One notable design element of this watch is the date window located at the 3 o'clock position. It provides a convenient way to keep track of the date without cluttering the dial. The inclusion of luminous hands and markers allows for easy time reading in low-light conditions, adding to the watch's practicality.
The stainless steel bracelet is comfortable to wear and can be easily adjusted to fit different wrist sizes. Its fold-over clasp with a push-button release ensures a secure and hassle-free closure. The overall design of the Citizen Quartz Stainless Steel Men's Watch exudes understated elegance, making it suitable for both formal and casual occasions.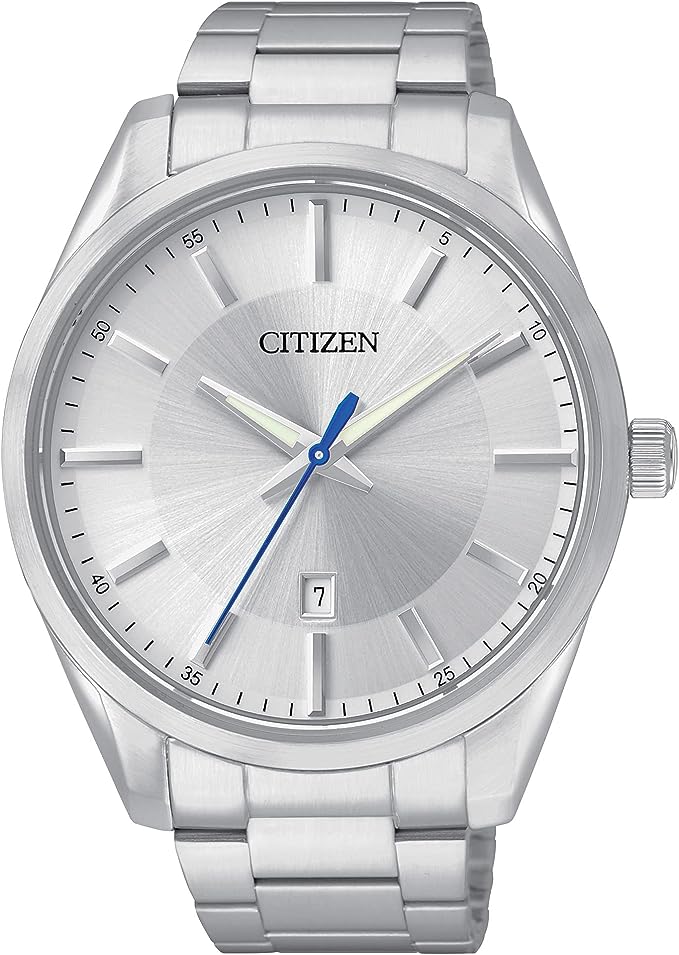 Functionality and Performance
While aesthetics play a crucial role in choosing a timepiece, functionality remains paramount. The Citizen Quartz Stainless Steel Men's Watch excels in this aspect, thanks to its reliable quartz movement and user-friendly features.
Powered by a Japanese quartz movement, this watch offers accurate timekeeping, ensuring that you're always punctual. Quartz movements are known for their precision and low-maintenance nature, as they require minimal manual adjustments. With the Citizen Quartz Stainless Steel Men's Watch, you can trust that you'll have an accurate time reference throughout the day.
As mentioned earlier, this watch includes a date function that is conveniently displayed at the 3 o'clock position. The date is easily adjustable using the crown, providing a quick and straightforward way to stay up to date. This feature adds practicality to the timepiece, especially for those who rely on the date in their daily lives.
Another notable feature of this watch is its water resistance. With a rating of up to 50 meters (165 feet), it can withstand splashes, rain, and brief immersion in water. While not suitable for swimming or diving, this level of water resistance ensures peace of mind during everyday activities.
Furthermore, the inclusion of luminous hands and hour markers enhances the watch's visibility in low-light conditions. Whether you find yourself in a dimly lit room or out at night, the luminous elements enable you to read the time effortlessly. This feature is particularly useful for those who frequently travel or work in environments with varying lighting conditions.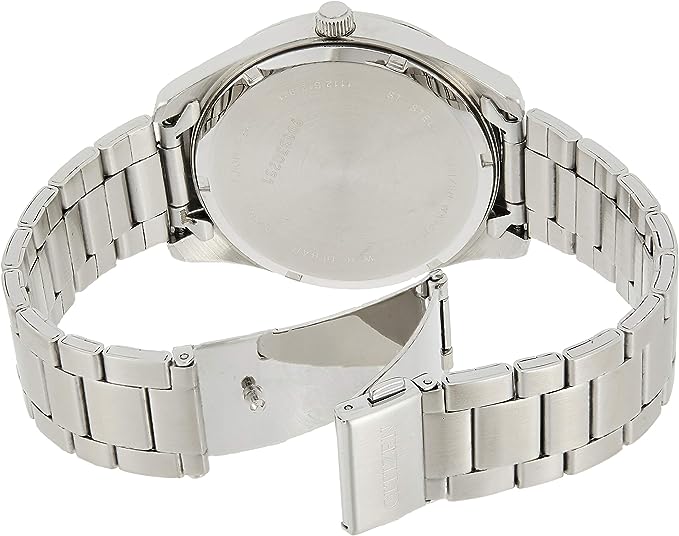 Durability and Build Quality
When investing in a timepiece, it's crucial to consider its durability and build quality. The Citizen Quartz Stainless Steel Men's Watch boasts excellent craftsmanship and materials that contribute to its long-lasting performance.
The stainless steel case and bracelet are highly resistant to scratches and corrosion, ensuring that the watch maintains its pristine appearance even after years of use. The mineral crystal protecting the dial provides an additional layer of protection against daily wear and tear. However, it's important to note that mineral crystal is not as scratch-resistant as sapphire crystal, which is often found in higher-end watches.
Citizen is renowned for its commitment to quality, and the Quartz Stainless Steel Men's Watch is no exception. The brand has established itself as a leader in the watch industry, known for producing reliable timepieces that stand the test of time. With proper care and maintenance, this watch is built to accompany you for many years to come.
Customer Feedback and Experiences
To gain a broader perspective on theCitizen Quartz Stainless Steel Men's Watch, we analyzed customer feedback and experiences from various online platforms. Overall, the response has been overwhelmingly positive, with customers highlighting several key aspects of the watch.
Many customers praised the accuracy and reliability of the quartz movement, noting that the watch keeps excellent time with minimal deviation. The ease of use, particularly the straightforward date adjustment, was mentioned as a convenient feature for daily wear. Customers also appreciated the luminous hands and markers, finding them helpful in low-light situations.
The design and aesthetics received high marks, with customers commending the watch's sleek and timeless appearance. The silver-tone finish and minimalistic dial were widely applauded for their elegance and versatility. Some customers mentioned that the medium-sized case diameter was well-suited for different wrist sizes, providing a comfortable fit.
Regarding durability, customers expressed satisfaction with the stainless steel construction, emphasizing its resistance to scratches and tarnishing. The water resistance rating was deemed adequate for everyday activities, such as washing hands or getting caught in the rain. However, some customers wished for a higher water resistance rating to make the watch suitable for swimming or diving.
In terms of build quality, many customers attested to the watch's solid construction and attention to detail. The bracelet's adjustability and secure clasp were appreciated for ensuring a snug fit on the wrist. Several customers also emphasized the value for money offered by the Citizen Quartz Stainless Steel Men's Watch, considering its quality and brand reputation.
While the majority of customer experiences were positive, there were a few isolated reports of issues. Some customers mentioned occasional difficulties in setting the time or date, requiring additional effort or consultation of the user manual. A small number of customers reported receiving watches with defective parts, such as loose crowns or misaligned hands. However, it's important to note that these occurrences seemed to be rare exceptions rather than common problems.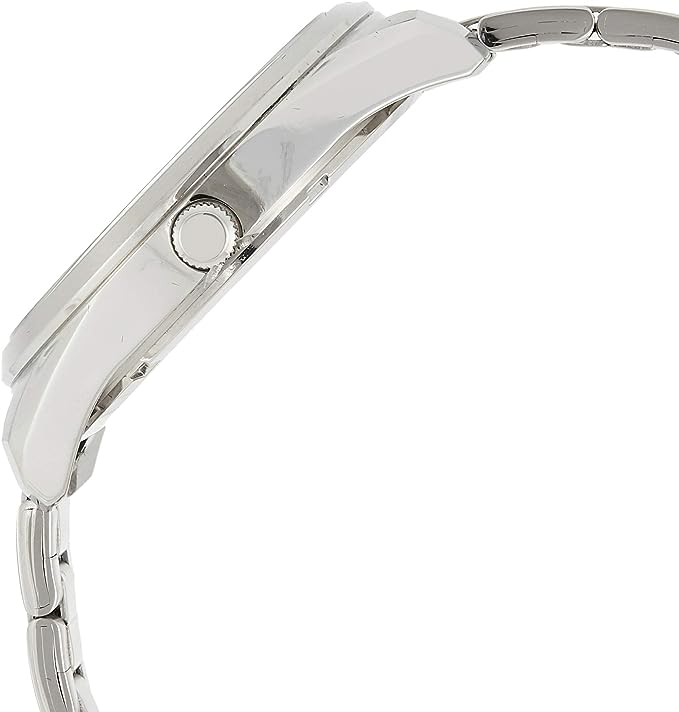 Conclusion
After a thorough evaluation of the Citizen Quartz Stainless Steel Men's Watch (BI1030-53A), it is evident that this timepiece offers an exceptional balance of design, functionality, and durability. The watch's clean and sophisticated aesthetics make it a versatile accessory suitable for various occasions, while the quartz movement ensures reliable accuracy.
With its stainless steel construction and mineral crystal protection, the watch exhibits excellent build quality and resistance to daily wear and tear. While the water resistance rating may not be ideal for swimming or diving, it provides ample protection for everyday activities.
Customer feedback has been overwhelmingly positive, with customers praising the watch's accuracy, ease of use, and overall value for money. The few reported issues were isolated incidents and did not reflect common problems experienced by customers.
In conclusion, the Citizen Quartz Stainless Steel Men's Watch (BI1030-53A) is a highly recommended timepiece for those seeking a reliable and stylish accessory. With its trusted brand reputation, attention to detail, and exceptional performance, this watch is sure to meet the expectations of even the most discerning watch enthusiasts.