The Citizen Quartz Mens Watch is a stunning timepiece that combines elegance and functionality in a classic design. With its gold-tone bracelet and black rectangular dial, this watch exudes a sense of sophistication that is perfect for both formal and casual occasions. In this review, we will explore the features, quality, and overall performance of this watch.
Design and Build Quality
One of the first things that caught my attention about this watch is its sleek and timeless design. The gold-tone bracelet adds a touch of luxury, while the black rectangular dial provides a striking contrast. The dauphine hands and stick markers further enhance the overall aesthetics of the watch.
The 26-mm stainless steel case feels sturdy and durable, giving the watch a substantial feel on the wrist. The mineral dial window offers adequate protection against scratches and everyday wear, ensuring that the watch maintains its pristine appearance over time.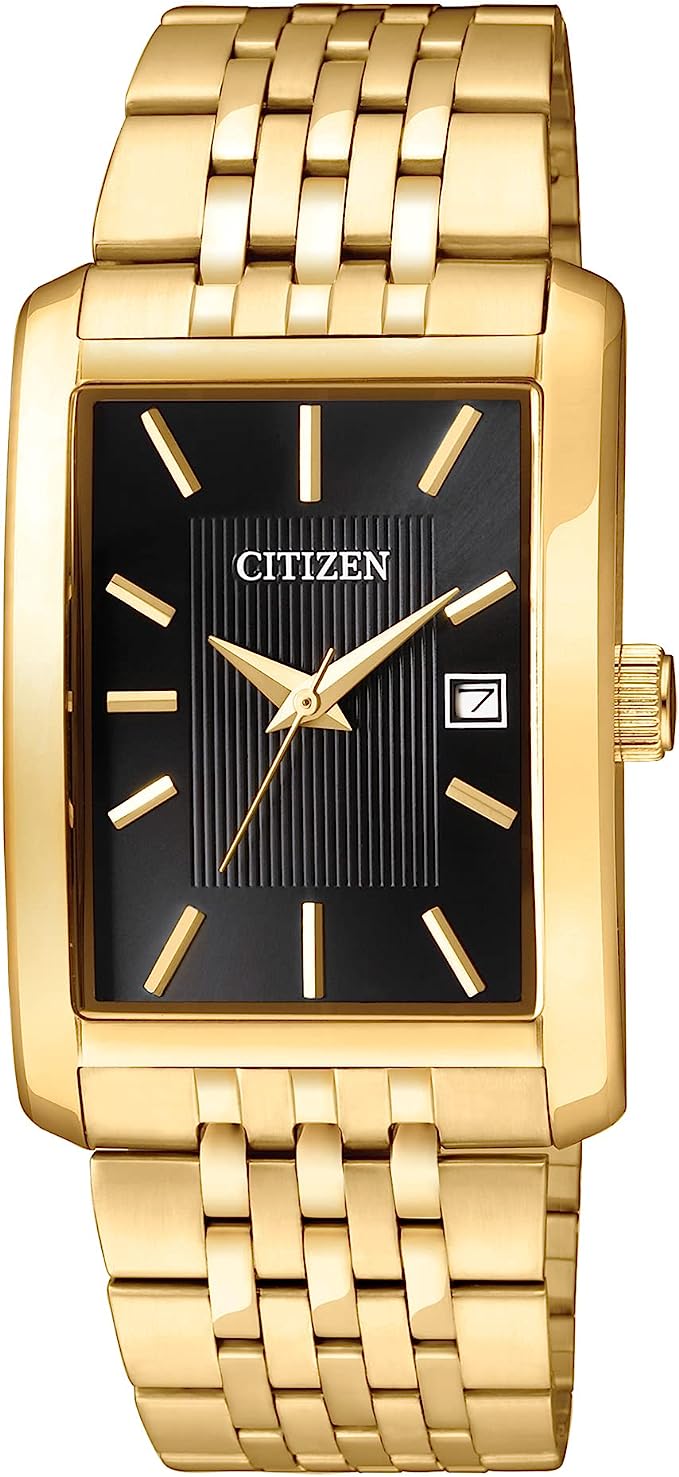 Movement and Accuracy
Powered by a Japanese quartz movement, the Citizen Quartz Mens Watch delivers reliable and precise timekeeping. Quartz movements are known for their accuracy, and this watch is no exception. Whether you are attending a business meeting or going about your daily activities, you can trust that this watch will keep track of time with impeccable precision.
Functionality
The Citizen Quartz Mens Watch offers more than just timekeeping. It features a convenient date window located at the 3 o'clock position on the dial. This allows you to easily keep track of the date without having to refer to a separate calendar. While the date window is relatively small, it remains legible and does not detract from the overall design of the watch.

Comfort and Fit
Wearing a watch should be a comfortable experience, and the Citizen Quartz Mens Watch delivers in this aspect. The gold-tone bracelet is adjustable, allowing you to find the perfect fit for your wrist. The fold-over clasp ensures that the watch remains securely fastened throughout the day, providing peace of mind.
The 26-mm case size makes this watch suitable for both men with larger wrists and those who prefer a more understated look. It strikes a balance between being noticeable without being overly bulky. Additionally, the lightweight nature of the watch makes it comfortable to wear for extended periods.
Water Resistance
The Citizen Quartz Mens Watch offers a water resistance rating of 30 meters (99 feet). While this level of water resistance is not suitable for swimming or diving, it provides ample protection against splashes and brief immersion in water. You can confidently wear this watch while washing your hands or getting caught in the rain without worrying about damage.

Overall Impressions
As a proud owner of the Citizen Quartz Mens Watch, I have been thoroughly impressed with its design, build quality, and performance. The combination of the gold-tone bracelet and black dial creates a visually striking timepiece that never fails to garner compliments. The attention to detail and craftsmanship is evident, making this watch an excellent addition to any collection.
The quartz movement ensures accurate and reliable timekeeping, while the date window adds a practical touch to the watch's functionality. Whether I am attending formal events or going about my daily routine, this watch has become my go-to accessory due to its versatility and timeless appeal.
Furthermore, the comfort and fit of the watch make it a joy to wear. The adjustable bracelet and secure fold-over clasp provide a customized and secure fit, ensuring that the watch stays in place throughout the day. The lightweight nature of the watch prevents it from feeling cumbersome, adding to the overall comfort.
While the water resistance rating of 30 meters may not be suitable for swimming or diving, it offers adequate protection against everyday water exposure. This feature gives me peace of mind knowing that my watch can withstand occasional splashes or brief immersion in water without sustaining damage.
In conclusion, the Citizen Quartz Mens Watch is a remarkable timepiece that combines elegance, functionality, and reliability. Its design exudes sophistication, making it suitable for any occasion. Whether you are a watch enthusiast, a professional, or someone who appreciates fine craftsmanship, this watch is an excellent choice that will undoubtedly stand the test of time.