Are you looking for a watch that's both stylish and reliable? Look no further than the Coach Boyfriend watch! In this review, we'll dive into what makes this watch so great, compare it to other popular brands, and give you some tips on how to make the most of your purchase.
What Makes the Coach Boyfriend Watch So Great
First and foremost, the Coach Boyfriend watch is incredibly stylish. It features a silver-tone case, a white silicone strap, and a stunning silver sunray dial that's sure to catch the eye. But don't let its good looks fool you – this watch is also packed with practical features that make it an excellent choice for everyday wear.
One of the standout features of the Coach Boyfriend watch is its water resistance. With a rating of up to 30 meters, this watch can withstand splashes of water and even brief immersion. This makes it perfect for wearing while washing your hands or doing light water activities.
Another great feature of this watch is its accuracy. The quartz movement ensures that the time is always accurate, while the scratch-resistant mineral crystal protects the dial from damage. And with a battery life of up to 2 years, you won't have to worry about constantly replacing the battery.
But perhaps the best thing about the Coach Boyfriend watch is its versatility. Whether you're dressing up for a night out or running errands on a Saturday afternoon, this watch will complement any outfit. And with its affordable price tag, it won't break the bank either.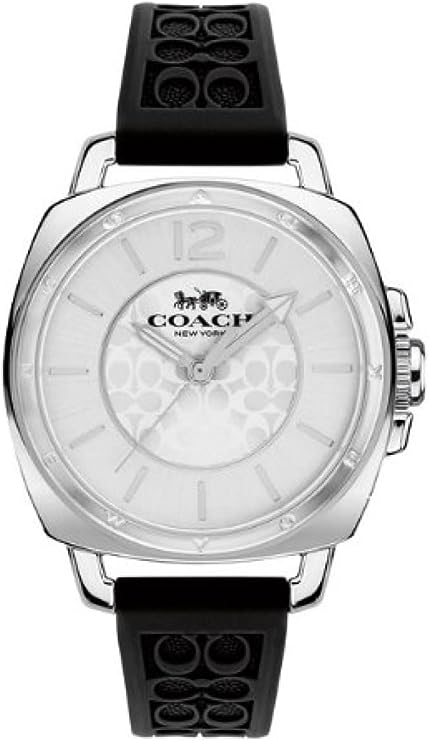 Coach vs Other Popular Brands
When it comes to watches, there are plenty of options on the market. So how does the Coach Boyfriend watch stack up against other popular brands?
Let's start with Fossil, another fashion-forward brand known for its stylish watches. While Fossil watches are also highly fashionable, they tend to be on the pricier side. Comparable Fossil watches can easily cost twice as much as the Coach Boyfriend watch.
Next up is Michael Kors, a brand that's known for its luxury watches. While Michael Kors watches are undeniably beautiful, they come with a much higher price tag than the Coach Boyfriend watch. You'll pay several hundred dollars more for a comparable Michael Kors watch, making the Coach option a much more accessible choice.
Finally, we have Timex, a brand that's been around since the 1850s. While Timex watches are certainly affordable, they don't have the same fashion-forward look as the Coach Boyfriend watch. And while some Timex watches do offer water resistance, they typically can't withstand immersion like the Coach watch can.
Overall, the Coach Boyfriend watch stands out as an excellent choice for those who want both fashion and function from their timepiece.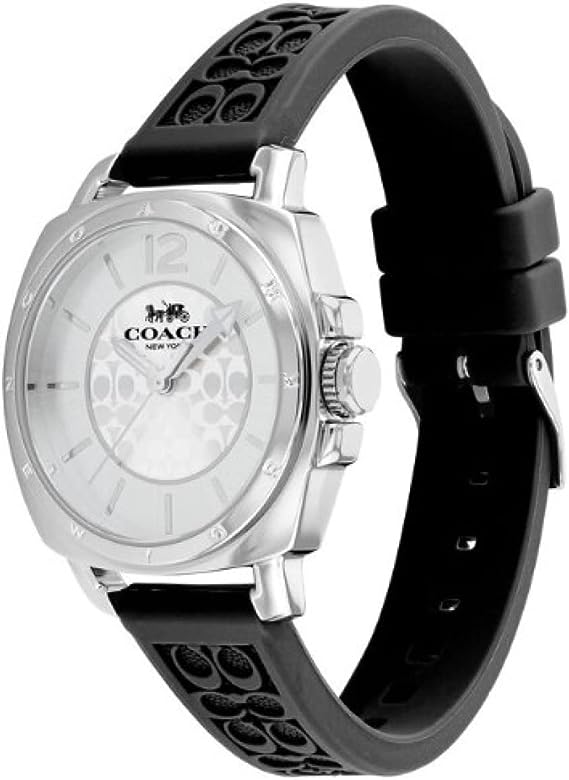 Tips for Getting the Most Out of Your Coach Watch
Now that you've decided to purchase a Coach Boyfriend watch, how can you make sure you're getting the most out of it? Here are some tips:
Take care of your watch. While the Coach Boyfriend watch is durable, it's still important to take care of it properly. Avoid exposing it to extreme temperatures or leaving it in direct sunlight for extended periods of time.
Consider purchasing additional straps. While the white silicone strap that comes with the watch is stylish, it may not be the best choice for every outfit. Consider investing in additional straps, such as leather or metal, to mix and match with different looks.
Use your watch as a statement piece. The Coach Boyfriend watch is a standout accessory, so don't be afraid to show it off! Wear it with confidence and let it add a touch of glamour to any outfit.
In conclusion, the Coach Boyfriend watch is an excellent choice for those looking for a stylish and practical timepiece. With its water resistance, accuracy, and affordability, it stands out as a great option compared to other popular brands. By taking care of your watch and using it as a statement piece, you can get the most out of your purchase and enjoy it for years to come.
Product URL: https://www.amazon.com/Boyfriend-14503877-Silver-Silicone-Womens/dp/B0B354XS5W/ref=sr_1_28?crid=23UXRXWNYIGFJ&keywords=coach+watch&qid=1692688814&sprefix=Coach+watch%2Caps%2C374&sr=8-28
Product Price: 78$