Watches are more than just time-telling devices, they are an extension of one's personality and style. With a plethora of options available in the market, it can be overwhelming to choose the perfect watch that meets your needs and stands out from the crowd. In this article, we will explore the Fossil ME3110 Townsman Automatic Leather Watch for men and see how it fares in terms of quality, design, and overall value.
Design and Features
The Fossil ME3110 Townsman Automatic Leather Watch is a classic and timeless piece that exudes elegance and sophistication. It has a 44mm stainless steel case with a polished finish and a thickness of 12mm, which gives it a sturdy and substantial feel on the wrist. The watch has a black dial with rose-gold-tone hands and markers, which contrasts beautifully with the brown leather strap. The strap is made of genuine leather and has a width of 22mm, making it comfortable to wear for long periods.
One of the standout features of this watch is its automatic movement, which means that it is powered by the natural motion of the wearer's wrist instead of a battery. This not only makes the watch more environmentally friendly but also eliminates the need for regular battery replacements. The watch has a power reserve of up to 40 hours, which means that it can run for up to 40 hours without being worn.
Another noteworthy feature of the Fossil ME3110 is its water resistance of up to 50 meters, which makes it suitable for swimming and snorkeling. However, it is not recommended for diving or any other activities that involve high water pressure.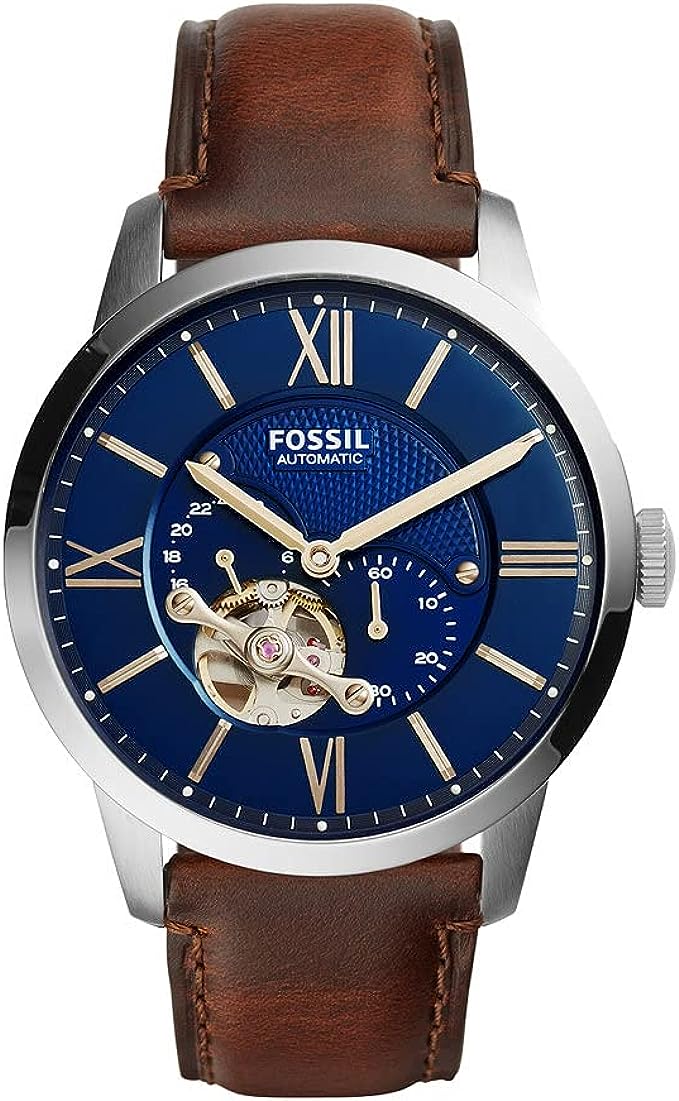 Case Studies
The Fossil ME3110 Townsman Automatic Leather Watch has received rave reviews from customers worldwide. Many have praised its classic and elegant design, as well as its durability and reliability. One customer wrote, "I have been wearing this watch for over a year now, and it still looks brand new. The leather strap has held up very well, and the automatic movement keeps accurate time."
Another customer commented on the watch's versatility, saying, "This watch can be dressed up or down depending on the occasion. It looks just as good with a suit as it does with jeans and a t-shirt."
However, some customers have noted that the watch may not be suitable for individuals with smaller wrists, as the case size is quite large. Additionally, the lack of a date display may be a drawback for those who rely on their watch to keep track of the date.
Comparisons
When compared to other watches in its price range, the Fossil ME3110 Townsman Automatic Leather Watch holds its own. One of its closest competitors is the Tissot Le Locle Automatic Watch, which has a similar design and features. However, the Fossil ME3110 is significantly more affordable than the Tissot Le Locle, making it a great value for money.
Another comparable watch is the Hamilton Jazzmaster Automatic Watch, which also has an automatic movement and a classic design. However, the Hamilton Jazzmaster is slightly larger in size and has a higher price point than the Fossil ME3110.
Overall, the Fossil ME3110 Townsman Automatic Leather Watch offers a balance of quality, design, and affordability, making it a great option for individuals looking for a classic and reliable timepiece.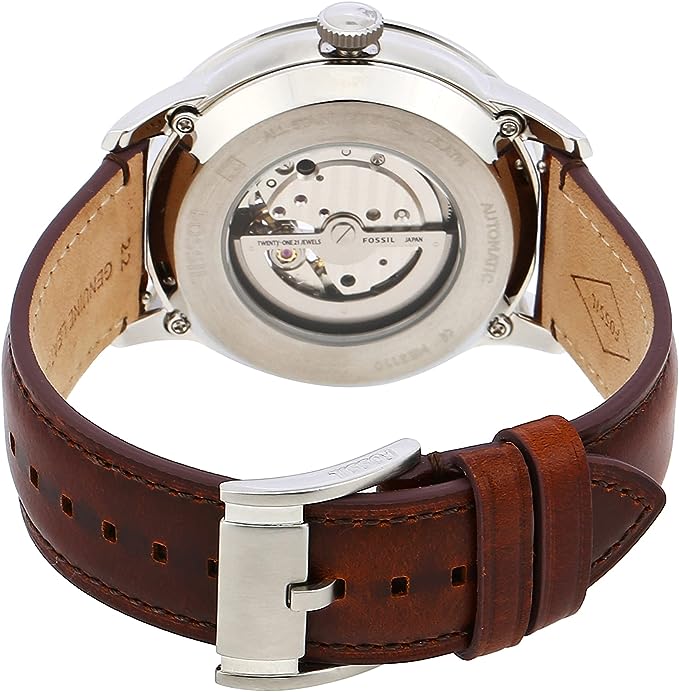 Advices
If you are considering purchasing the Fossil ME3110 Townsman Automatic Leather Watch, here are some tips to ensure that you get the most out of your investment:
Take care of the leather strap: The leather strap is a key feature of this watch and requires proper care to ensure its longevity. Avoid exposing it to water or extreme temperatures and consider using a leather conditioner to keep it looking new.
Wind the watch regularly: Since this watch is powered by natural motion, it is important to wear it regularly or wind it manually to keep it running smoothly.
Keep it away from magnets: Magnetism can affect the accuracy of the watch's movement, so it is best to avoid exposing it to magnetic fields.
Store it properly: When not in use, store the watch in a cool, dry place away from direct sunlight and moisture.
In conclusion, the Fossil ME3110 Townsman Automatic Leather Watch for men is a timeless and elegant timepiece that offers great value for money. With its classic design, automatic movement, and durable construction, it is sure to be a reliable companion for years to come.