In the realm of timekeeping, Casio has long been a trusted brand known for its innovation and durability. The Casio G-Shock series, in particular, has gained immense popularity among watch enthusiasts and outdoor adventurers alike. With its rugged design and advanced features, the Casio G-Shock GA-2100-1A1 Retro-Style Ana-Digi Watch is an intriguing addition to this iconic line.
In this comprehensive product review, we will explore the key features, design, performance, and overall value of the Casio G-Shock GA-2100-1A1. Whether you are a fan of the G-Shock series or simply looking for a reliable timepiece with a touch of retro flair, this review aims to provide you with all the information you need to make an informed purchasing decision.
Key Features
The Casio G-Shock GA-2100-1A1 encompasses several notable features that set it apart from other watches on the market. Let's delve into some of its key attributes:
1. Retro Design
One of the standout features of the GA-2100-1A1 is its retro-inspired design. Drawing inspiration from the original G-Shock models, this watch combines a sleek black resin case with silver accents, showcasing a harmonious blend of modern and vintage aesthetics. The octagonal shape of the case adds a unique touch to its overall appearance, making it a fashionable accessory for both casual and formal occasions.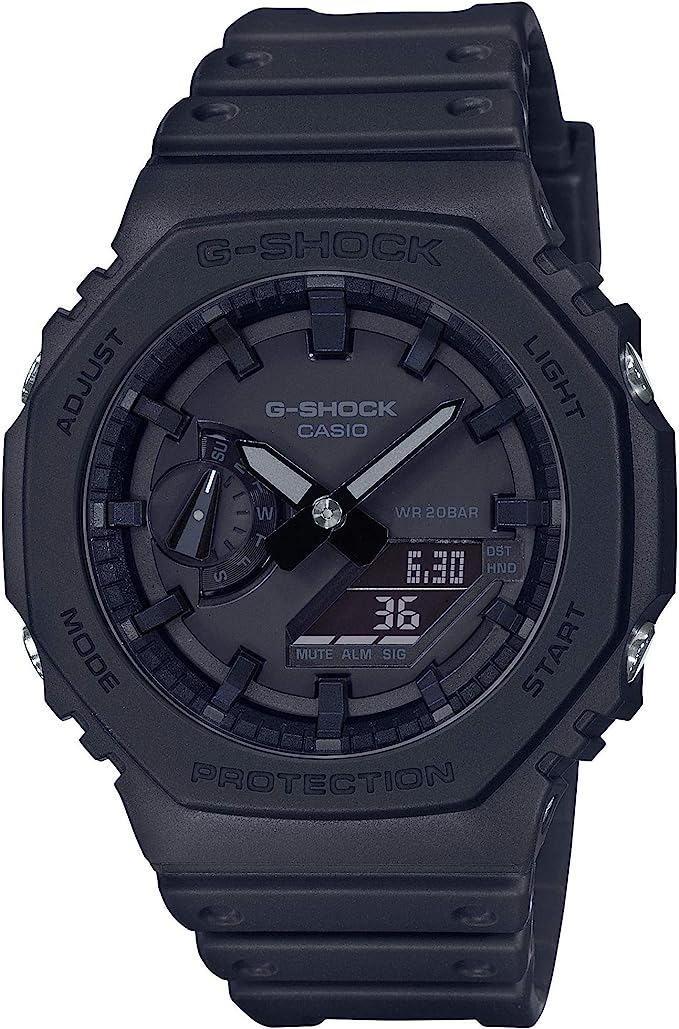 2. Ana-Digi Display
The GA-2100-1A1 features an ana-digi display, which combines analog and digital elements to provide users with a versatile timekeeping experience. The traditional analog hands offer a classic and elegant look, while the digital display offers additional functionalities such as date, alarms, stopwatch, countdown timer, and world time. This hybrid approach ensures that you can enjoy the benefits of both analog and digital watches in a single timepiece.
3. Shock Resistance
As a part of the G-Shock series, this watch boasts exceptional shock resistance capabilities. The rugged design and robust construction ensure that it can withstand harsh environments and survive accidental impacts without compromising its functionality or accuracy. Whether you are engaged in outdoor activities or simply leading an active lifestyle, the GA-2100-1A1 can keep up with your adventures.
4. Carbon Core Guard Structure
The GA-2100-1A1 incorporates Casio's innovative Carbon Core Guard Structure, which enhances the watch's durability while maintaining a lightweight profile. The carbon fiber-reinforced resin case provides excellent impact resistance, making it suitable for various demanding situations. This feature not only adds to the watch's overall longevity but also contributes to its comfortable wearability throughout the day.
5. Water Resistance
With a water resistance rating of 200 meters (20 bar), the GA-2100-1A1 is more than capable of handling water-related activities. Whether you're swimming, snorkeling, or engaging in other water-based sports, this watch ensures reliable performance even when submerged. However, it's important to note that the watch is not suitable for scuba diving or high-pressure water activities.
6. Super Illuminator LED Light
Nighttime visibility is crucial for many individuals, particularly those who engage in outdoor activities or work in low-light conditions. The Super Illuminator LED light on the GA-2100-1A1 provides ample brightness to ensure clear visibility of the dial, digital display, and hands in the dark. This feature proves to be a valuable asset when you need to quickly check the time or access various functions in low-light environments.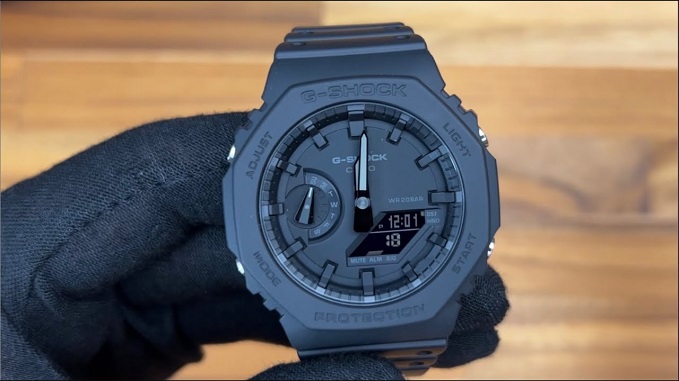 Design and Comfort
The Casio G-Shock GA-2100-1A1 strikes a perfect balance between retro-inspired design and contemporary appeal. The black resin case is complemented by silver accents on the octagonal bezel and dial, creating a visually appealing contrast. The watch's slim profile and lightweight construction make it comfortable to wear for long periods without causing any discomfort or fatigue.
The analog hands and hour markers feature luminescent material, ensuring easy readability even in dimly lit conditions. The digital display, located at the bottom of the dial, provides a clear view of additional information such as date, alarms, timer, and world time. The combination of analog and digital elements adds a layer of versatility to the watch, making it suitable for both casual and professional settings.
The strap on the GA-2100-1A1 is made from durable resin that not only enhances its resilience but also contributes to its overall comfort. The adjustablebuckle closure ensures a secure fit, allowing the watch to stay in place even during rigorous activities. The strap can be easily adjusted to accommodate different wrist sizes, making it suitable for both men and women.
Another noteworthy aspect of the design is the presence of textured buttons on the side of the case. These buttons not only add a tactile element to the watch but also make it easier to operate various functions, even when wearing gloves or in situations where dexterity may be limited.
Overall, the design of the Casio G-Shock GA-2100-1A1 exudes a sense of ruggedness and durability while incorporating elements of retro charm. It successfully merges style with functionality, making it an attractive choice for individuals who value both fashion and practicality in their timepieces.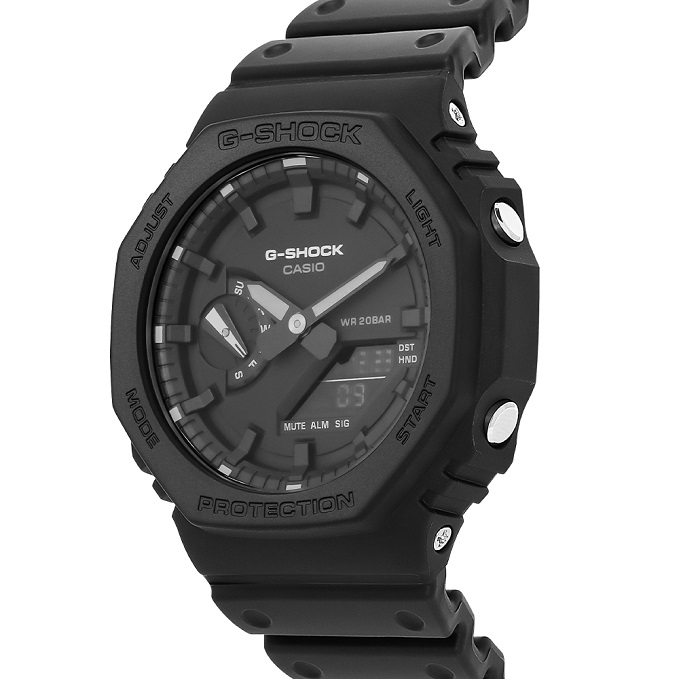 Performance and Functionality
Beyond its appealing design, the Casio G-Shock GA-2100-1A1 excels in terms of performance and functionality. Let's explore some of its key features and how they enhance the overall user experience:
1. Timekeeping Accuracy
At the core of any watch is its ability to provide accurate timekeeping, and the GA-2100-1A1 does not disappoint in this regard. Powered by a reliable quartz movement, this watch ensures precise and consistent timekeeping, allowing you to trust its accuracy in your daily activities.
2. World Time Functionality
For frequent travelers or individuals who work across multiple time zones, the world time functionality of the GA-2100-1A1 proves to be incredibly useful. With the ability to display the time in up to 31 different time zones, this feature allows you to effortlessly keep track of time around the world without the need for manual adjustments.
3. Alarm and Timer Functions
The GA-2100-1A1 comes equipped with multiple alarm settings, allowing you to set reminders for important tasks or events throughout the day. Additionally, the countdown timer function proves handy for activities that require precise timing, such as workouts or cooking. These features ensure that you can stay organized and on schedule, enhancing your overall productivity.
4. Stopwatch
Whether you're an athlete tracking your lap times or simply need to measure the duration of an activity, the built-in stopwatch on the GA-2100-1A1 comes in handy. With its accurate timekeeping capabilities and easy-to-use controls, you can effortlessly track elapsed time with precision.
5. Long Battery Life
The GA-2100-1A1 boasts an impressive battery life that ensures uninterrupted usage over extended periods. With a typical battery lifespan of up to two years, you can rely on this watch to keep ticking without the hassle of frequent battery replacements. This longevity is particularly beneficial for individuals who prefer low-maintenance timepieces.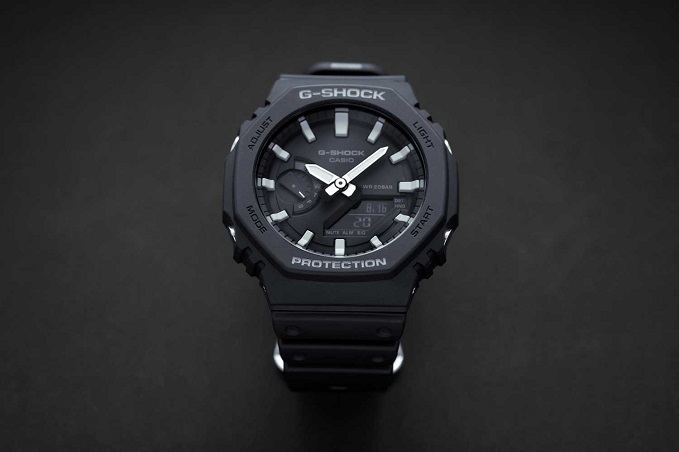 Value for Money
Considering its retail price, the Casio G-Shock GA-2100-1A1 offers exceptional value for money. Priced competitively within the G-Shock series, it provides a wide range of features and functionalities that cater to various needs and preferences.
When compared to other watches in a similar price range, the GA-2100-1A1 stands out due to its unique retro design, durable construction, and reliable performance. The inclusion of advanced features such as world time, alarms, timers, and a stopwatch further enhances its appeal and versatility.
Moreover, the reputation of the G-Shock brand adds to the intrinsic value of the GA-2100-1A1. Casio has established itself as a trusted and reputable manufacturer, known for producing high-quality and long-lasting watches. This reputation, combined with the extensive feature set and reasonable price point, makes the GA-2100-1A1 a worthwhile investment for watch enthusiasts and casual wearers alike.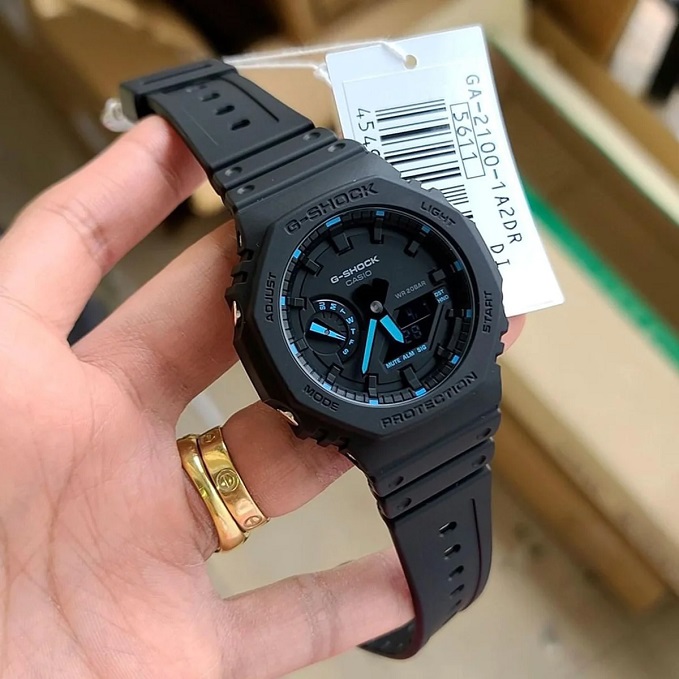 Conclusion
The Casio G-Shock GA-2100-1A1 Retro-Style Ana-Digi Watch proves to be an impressive addition to the esteemed G-Shock series. With its retro design, advanced features, and durable construction, it offers a compelling package for those seeking a reliable timepiece with a touch of vintage charm.
From its shock resistance capabilities to its water resistance rating, the GA-2100-1A1 is designed to withstand various demanding environments and activities. The ana-digi display provides a versatile timekeeping experience, while the inclusion of additional functions such as alarms, timers, and world time ensures practicality and convenience.
Considering its attractive design, exceptional performance, and reasonable price point, the Casio G-Shock GA-2100-1A1 Retro-Style Ana-Digi Watch emerges as a highly recommended option for individuals who prioritize durability, functionality, and style in their timepieces.