The Casio G-Shock GA-2100-1A1 is a unique timepiece that combines the retro charm of analog-digital watches with modern features and durability. With its sleek design, robust construction, and reliable performance, this watch has gained popularity among watch enthusiasts and casual users alike. In this review, we will delve into the various aspects of this remarkable timepiece and explore why it has become a must-have accessory for many.
Design and Aesthetics
The GA-2100-1A1 stands out with its strikingly thin profile, which sets it apart from other bulky G-Shock models. The watch measures only 11.8mm thick, making it one of the thinnest G-Shock watches available. This slimness is achieved through the use of innovative materials and design techniques without compromising the watch's ruggedness.
The case of the GA-2100-1A1 is constructed using a combination of resin and carbon fiber, resulting in a lightweight yet highly durable timepiece. The black color scheme enhances the watch's sophisticated appearance, lending it a versatile aesthetic that complements both casual and formal attire. The octagonal shape of the case, reminiscent of luxury watches, adds a touch of elegance to the overall design.
The dial features a blend of analog and digital displays, combining the best of both worlds. The analog hands provide a traditional look, while the digital displays offer additional functionality and convenience. The hour markers and hands are coated with a luminous material to ensure clear visibility in low-light conditions. The display is protected by a scratch-resistant mineral crystal, guaranteeing the watch's longevity.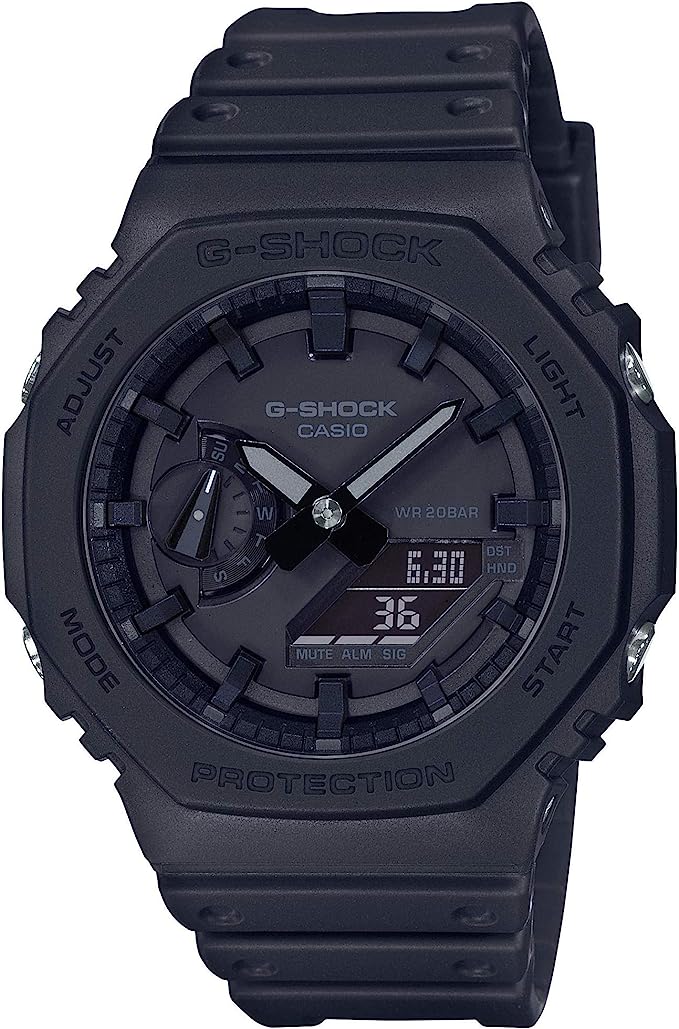 Features and Functionality
The GA-2100-1A1 offers a plethora of features that make it more than just a stylish accessory. As a G-Shock watch, it is built to withstand various harsh conditions, making it suitable for outdoor activities and everyday use. The watch is water-resistant up to 200 meters, allowing you to take it on diving adventures or wear it while swimming without worrying about damaging it.
One of the standout features of this timepiece is its shock resistance. The G-Shock range has always been known for its ability to absorb shocks and vibrations, ensuring the watch remains intact even in extreme situations. The GA-2100-1A1 lives up to this reputation, thanks to its resilient construction, protecting the delicate internal components from external impacts.
In addition to its ruggedness, the GA-2100-1A1 offers a variety of functionalities. It includes a world time function, allowing you to keep track of multiple time zones simultaneously. With a total of 31 time zones available, this feature is particularly useful for frequent travelers or individuals who work with colleagues around the globe. The watch also incorporates a stopwatch, countdown timer, and alarm, adding practicality to its repertoire.
Furthermore, the GA-2100-1A1 features an automatic calendar that accurately displays the date until the year 2099. This eliminates the need for manual adjustments at the end of each month, ensuring hassle-free timekeeping. Additionally, the watch has a battery life of approximately three years, meaning you won't have to worry about frequent battery replacements.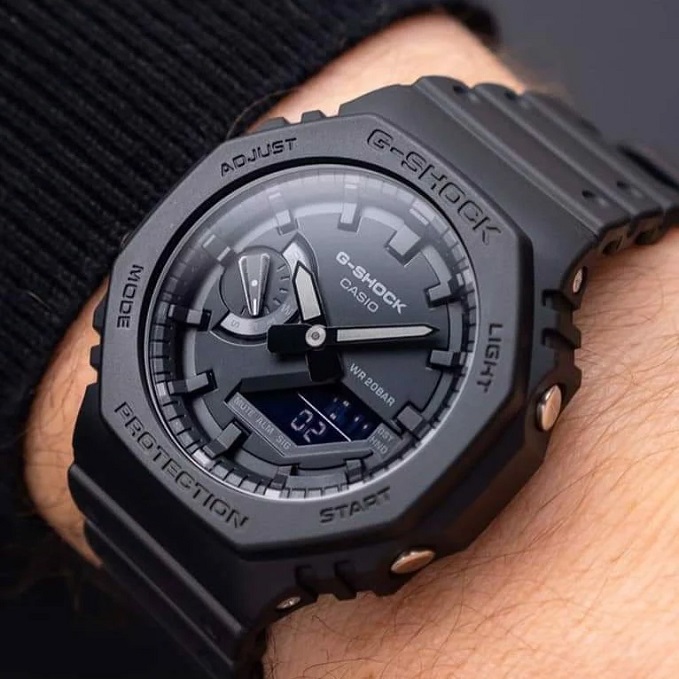 Comfort and Wearability
Despite its robust construction, the GA-2100-1A1 is surprisingly comfortable to wear. The slim profile and lightweight materials make it easy to forget that you're wearing a watch, offering a pleasant experience throughout the day. The resin strap is both comfortable and adjustable, ensuring a secure fit on your wrist.
The buckle closure system allows for easy adjustment, making it suitable for individuals with different wrist sizes. The strap's durability matches that of the watch itself, ensuring it can withstand regular use without showing signs of wear and tear. Whether you're engaged in physical activities or simply going about your daily routine, the GA-2100-1A1 stays firmly in place and provides a hassle-free wearing experience.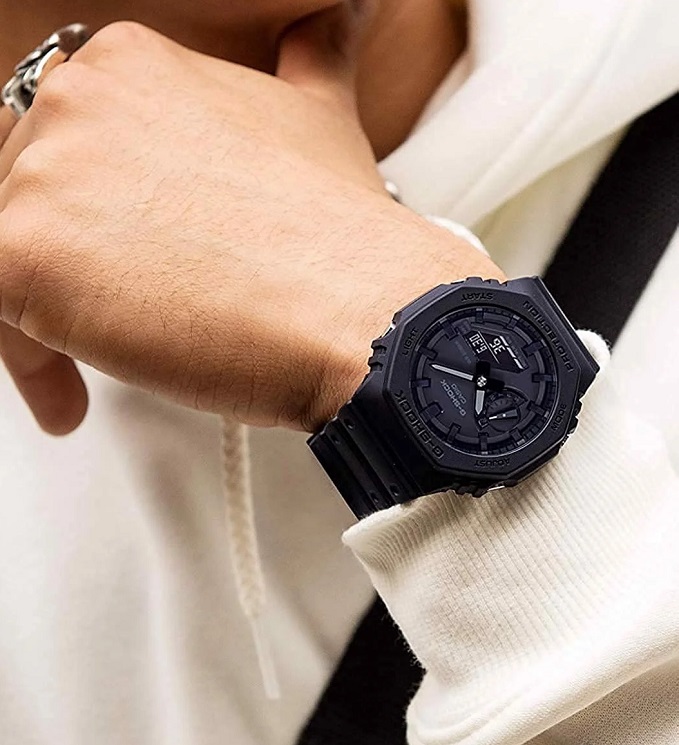 User Experience and Verdict
The Casio G-Shock GA-2100-1A1 delivers an exceptional user experience, combining style, functionality, and durability into one impressive timepiece. Its retro-inspired design paired with modern features makes it appealing to watch enthusiasts who appreciate a blend of classic and contemporary aesthetics.
The analog-digital display offers clear visibility, allowing for quick and accurate timekeeping. The combination of rugged construction and advanced features ensures that the watch can withstand various conditions without compromising performance. Whether you're hiking, swimming, or engaged in other outdoor activities, the GA-2100-1A1 remains reliable and functional.
Furthermore, the comfortand wearability of the GA-2100-1A1 make it an ideal everyday watch. Its slim profile, lightweight materials, and adjustable strap ensure a comfortable fit for extended periods, while the durable construction ensures that it can withstand regular use without showing signs of wear.
The versatility of the GA-2100-1A1 is another notable aspect. Its sleek and sophisticated design allows it to seamlessly transition from casual to formal settings. Whether you're wearing it with jeans and a t-shirt or a suit and tie, the watch adds a touch of style to any outfit. The black color scheme and minimalistic yet attention-grabbing design make it a versatile accessory that complements various fashion choices.
It's also worth mentioning the positive user feedback regarding the legibility of the GA-2100-1A1. The high contrast between the hands, markers, and digital display ensures easy readability at a glance, even in bright sunlight. The luminous coating on the hands and markers further enhances visibility in low-light conditions, making it convenient for nighttime use.
One minor drawback some users have noted is the absence of a backlight for the digital display. While the luminous markers provide ample visibility, a backlight would have been a useful addition for situations where additional illumination is required. However, this issue is relatively minor and does not significantly impact the overall functionality and user experience of the watch.
In terms of value for money, the GA-2100-1A1 offers an excellent proposition. With its combination of durability, features, and aesthetics, it competes favorably with higher-priced watches in the market. Casio's reputation for manufacturing reliable timepieces further assures customers of the long-term value provided by the GA-2100-1A1.
Overall, the Casio G-Shock GA-2100-1A1 is a standout watch that successfully blends retro charm with modern functionality. Its slim profile, durable construction, and versatile design make it a worthy addition to any watch collection or the perfect everyday timepiece. Whether you're an outdoor enthusiast, a fashion-conscious individual, or someone who appreciates reliable performance, the GA-2100-1A1 delivers on all fronts.
So, if you're in the market for a stylish and robust analog-digital watch that offers a range of features without compromising comfort, the Casio G-Shock GA-2100-1A1 is definitely worth considering. Its unique combination of retro aesthetics and modern functionality sets it apart from the crowd, making it a standout choice for individuals seeking a timepiece that stands the test of time.