The Hamilton Watch Khaki Navy Scuba Quartz Watch for Men is a timepiece that exudes durability, reliability, and style. With its Swiss craftsmanship and impressive features, this watch is designed to meet the demands of adventurous individuals who seek both functionality and aesthetics in their wristwear. In this review, we'll delve into the notable aspects of the watch, from its design and construction to its performance and comfort.
Design and Construction
The Hamilton Khaki Navy Scuba watch boasts a sleek and sophisticated design that effortlessly combines ruggedness with elegance. The 37 mm stainless steel case provides a sturdy and robust foundation for the watch, ensuring it can withstand the rigors of daily wear and tear. Its compact size also allows for comfortable wear on different wrist sizes, catering to a wide range of users.
The grey dial of the watch adds a touch of uniqueness and modernity to its overall appearance. It showcases bold hour markers and hands that are coated with Super-LumiNova, a luminescent material known for its exceptional visibility in low-light conditions. This feature ensures that you can easily read the time, even in the dark or underwater environments.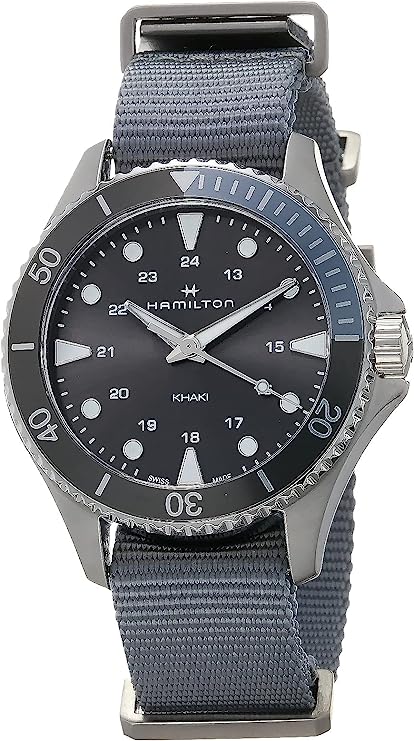 Water Resistance
One of the standout features of the Hamilton Khaki Navy Scuba watch is its impressive water resistance. Built for underwater adventures, this timepiece is capable of withstanding water pressure up to 100 meters (330 feet). Whether you're swimming, snorkeling, or engaging in other water activities, you can rely on this watch to keep ticking accurately. Its waterproof nature gives you the freedom to explore without worrying about damaging your timepiece.
Movement and Timekeeping Accuracy
Powered by a Swiss quartz movement, the Hamilton Khaki Navy Scuba watch offers precise timekeeping that ensures you always stay on schedule. Swiss quartz movements are renowned for their reliability and accuracy, making them a preferred choice for many watch enthusiasts. This timepiece delivers consistent performance, allowing you to trust its timekeeping capabilities without any reservations.

Comfort and Strap
Wearing a watch should be a comfortable experience, especially for those who lead an active lifestyle. The Hamilton Khaki Navy Scuba watch addresses this need by featuring a NATO grey textile band that is lightweight and gentle on the wrist. The soft and breathable nature of the strap prevents discomfort even during extended wear. Furthermore, the adjustable nature of the NATO strap allows for a personalized fit, ensuring maximum comfort for each individual wearer.
Versatility
The Hamilton Khaki Navy Scuba watch strikes an excellent balance between being an adventure companion and a stylish accessory. Its versatile design seamlessly transitions from casual outdoor activities to formal occasions. Whether you're exploring the depths of the ocean or attending a social gathering, this timepiece effortlessly complements various outfits and settings.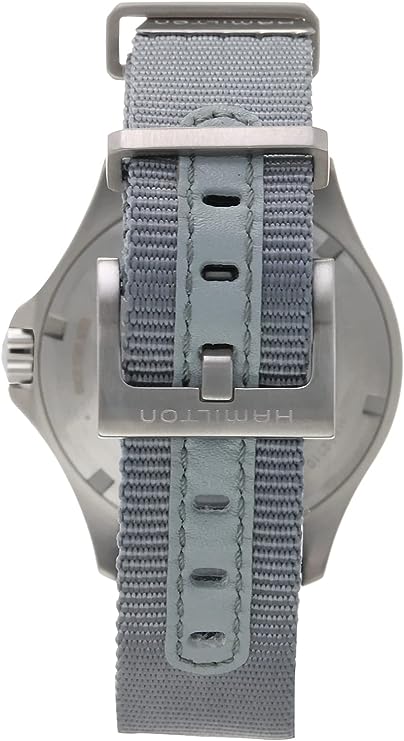 Pros and Cons
Pros:
Durable stainless steel case withstands everyday wear and tear.
Super-LumiNova-coated hands and hour markers enhance visibility in low-light conditions.
Water-resistant up to 100 meters, suitable for swimming and snorkeling.
Swiss quartz movement offers accurate and reliable timekeeping.
Lightweight and comfortable NATO grey textile band.
Versatile design suitable for both casual and formal settings.
Cons:
The 37 mm size may be too small for individuals with larger wrists.
Some users may prefer a different color option for the dial.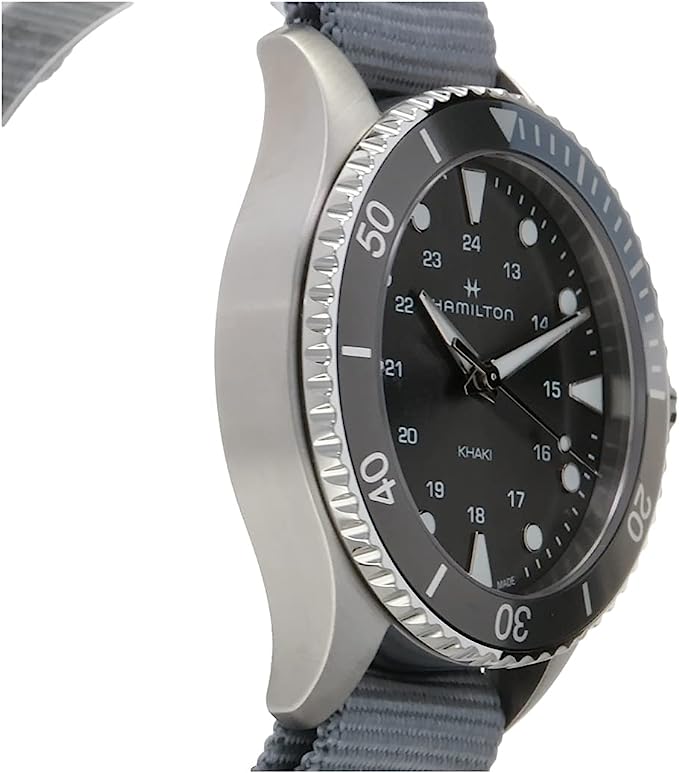 Conclusion
The Hamilton Watch Khaki Navy Scuba Quartz Watch for Men is a remarkable timepiece that embodies durability, functionality, and style. Its Swiss craftsmanship, water resistance, and reliable timekeeping make it an excellent choice for adventurers and watch enthusiasts alike. The comfortable NATO grey textile band ensures all-day wearability, while the versatile design allows it to effortlessly transition between various settings and outfits. If you're in search of a high-quality watch that combines aesthetics with performance, the Hamilton Khaki Navy Scuba Quartz Watch is certainly worth considering.