The world of watches is filled with a wide array of options, from contemporary designs to vintage-inspired timepieces. If you're someone who appreciates timeless elegance and a touch of nostalgia, the Invicta Men's Vintage 39033 Quartz Watch might just be the perfect addition to your collection. Combining classic design elements with modern functionality, this watch captures the essence of sophistication. In this article, we will delve into the details of this remarkable timepiece, exploring its features, aesthetics, and overall performance.
Design and Aesthetics
The Invicta Men's Vintage 39033 presents a striking visual appeal with its bold yet refined design. The 48mm gold-tone case demands attention while exuding an air of luxury. The contrast between the blue dial and ivory numerals creates a harmonious combination that is both eye-catching and easy to read. The carefully selected color palette adds depth and character to the watch, making it suitable for various occasions, from casual outings to formal events.
One of the standout features of this watch is its intricate detailing. The textured center of the dial adds an element of sophistication, while the luminous hands and hour markers ensure optimal visibility in low-light conditions. The addition of a small date window at the 3 o'clock position provides practicality without compromising the watch's overall aesthetic appeal.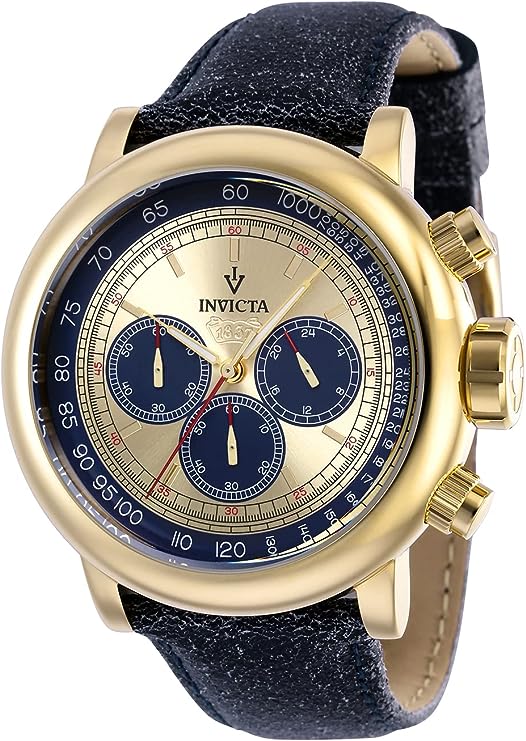 Build Quality and Durability
When investing in a timepiece, durability is a crucial aspect to consider. The Invicta Men's Vintage 39033 Quartz Watch excels in this regard, offering a well-crafted piece that is built to last. The stainless steel case provides sturdiness and protection for the inner mechanisms, ensuring longevity.
Moreover, the watch boasts a water resistance rating of 100 meters, making it suitable for everyday wear and offering peace of mind in wet conditions. Whether you're caught in a sudden downpour or enjoying water-based activities, this timepiece will withstand the elements without compromising its performance.
Movement and Accuracy
At the heart of the Invicta Men's Vintage 39033 lies a reliable quartz movement. Quartz movements are known for their accuracy and low maintenance requirements, making them a popular choice among watch enthusiasts. This particular movement guarantees precise timekeeping, ensuring that you're always on schedule.
The watch features a push crown for easy adjustment, allowing you to set the time and date with ease. The stationary bezel adds a touch of elegance while keeping the focus on the dial. Overall, the combination of the dependable movement and user-friendly functionality enhances the overall experience of owning this watch.
Comfort and Fit
Apart from its aesthetics and performance, the comfort of wearing a watch is essential for long-term satisfaction. The Invicta Men's Vintage 39033 Quartz Watch addresses this aspect by providing a comfortable leather band that measures 210mm in length and 24mm in width. The genuine leather strap feels supple against the skin and molds to your wrist over time, ensuring a snug fit.
The buckle clasp guarantees a secure closure, preventing accidental removal during daily activities. The size of the watch may appear larger than average due to its 48mm case, but the well-designed proportions ensure that it sits comfortably on the wrist without feeling oversized or cumbersome.
Versatility and Style
A versatile watch is a true wardrobe staple, seamlessly transitioning from casual to formal attire. The Invicta Men's Vintage 39033 achieves this versatility through its timeless design and elegant color scheme. The gold-tone case and blue dial combination complement a range of outfits, from jeans and a t-shirt to a tailored suit.
Whether worn during business meetings or social gatherings, this watch effortlessly adds a touch of refinement to any ensemble. The classic design pays homage to vintage aesthetics while incorporating modern elements, making it a stylish accessory for individuals with diverse fashion preferences.
Packaging and Presentation
The Invicta Men's Vintage 39033 Quartz Watch arrives in an elegant presentation box, exuding sophistication from the moment you open it. The sturdy box provides ample protection during shipping and serves as a storage solution when the watch is not in use.
Additionally, the thoughtful packaging makes this watch an excellent choice for gifting. Whether it's a birthday, anniversary, or any other special occasion, presenting someone with this timepiece is sure to evoke joy and appreciation.
Price and Value
Priced reasonably for its quality and design, the Invicta Men's Vintage 39033 Quartz Watch offers exceptional value for money. While there are watches available at higher price points, this timepiece rivals many more expensive options in terms of style and performance. Invcta has managed to strike a balance between affordability and quality, making this watch an excellent investment for both seasoned watch collectors and those looking to start their collection.
The Invicta Men's Vintage 39033 Quartz Watch is available on various online platforms, including the popular e-commerce site, Amazon. With its competitive pricing and the convenience of online shopping, acquiring this timepiece is just a few clicks away. Amazon provides a secure and reliable platform, ensuring a smooth purchasing experience.
Customer Feedback
To gain further insight into the user experience, we explored customer reviews of the Invicta Men's Vintage 39033 Quartz Watch. The overall sentiment was overwhelmingly positive, with many praising the watch's design, durability, and accuracy.
Customers were particularly impressed by the attention to detail in the watch's aesthetics, noting that it exceeded their expectations in terms of visual appeal. They appreciated the combination of the gold-tone case and blue dial, which added a touch of elegance to their everyday outfits. The luminous hands and hour markers were also commended for their functionality, allowing for easy time reading in any lighting condition.
In terms of durability, reviewers were pleased with the stainless steel construction of the case, stating that it felt solid and well-made. The water resistance rating of 100 meters was another highlight, with several users mentioning that they had worn the watch while swimming or engaging in water sports without any issues.
Accuracy was consistently mentioned as one of the watch's strong points. Many customers noted that the quartz movement provided precise timekeeping, eliminating the need for frequent adjustments. This reliability was particularly appreciated by those who relied on the watch for daily activities and professional engagements.
A few minor concerns raised by customers included the size of the watch, with some individuals finding it slightly larger than expected. However, most users clarified that despite its size, the watch remained comfortable to wear due to its well-proportioned design. There were no major complaints regarding the performance or functionality of the watch, indicating its overall satisfaction among customers.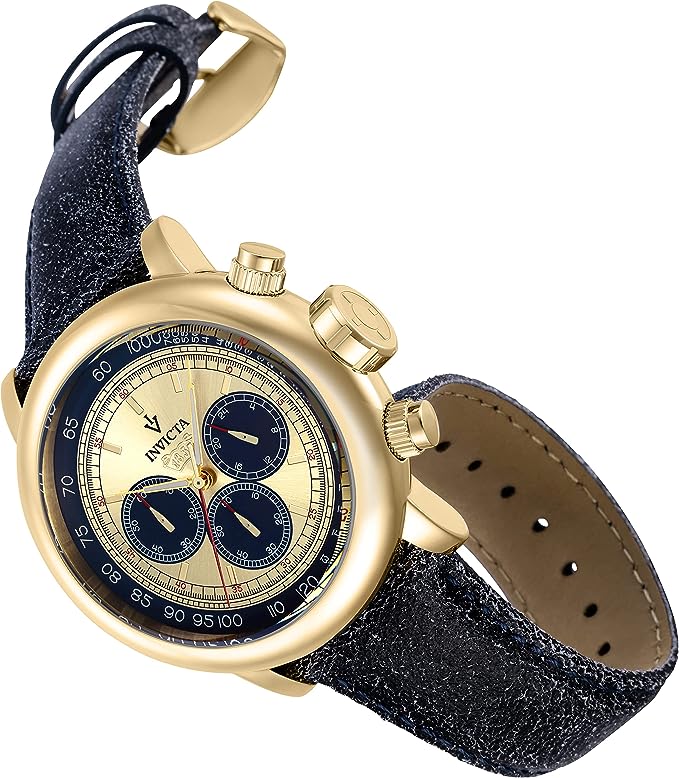 Pros and Cons
To summarize the key aspects discussed in this review, let's take a look at the pros and cons of the Invicta Men's Vintage 39033 Quartz Watch:
Pros:
Timeless design with a gold-tone case and blue dial
High-quality construction and durability
Accurate quartz movement for precise timekeeping
Water resistance rating of 100 meters for added versatility
Comfortable leather band with a secure buckle clasp
Versatile style suitable for various occasions
Thoughtful packaging for gifting purposes
Competitive pricing, offering excellent value for money
Cons:
Slightly larger case size may not suit those with smaller wrists
Final Thoughts
The Invicta Men's Vintage 39033 Quartz Watch is a testament to the brand's commitment to delivering beautifully designed timepieces without compromising on quality. This particular model captures the essence of classic elegance, combining it with modern functionality to create a versatile accessory suitable for any occasion.
From its striking aesthetics to its reliable timekeeping, this watch proves to be a valuable addition to any watch enthusiast's collection. The reasonable price point further enhances its appeal, making it accessible to a wide range of consumers.
If you're in search of a timeless yet contemporary watch that embodies sophistication and reliability, the Invicta Men's Vintage 39033 Quartz Watch is certainly worth considering. With its blend of style, durability, and accuracy, it promises to stand the test of time while elevating your personal style.
Now is the perfect time to add this remarkable timepiece to your collection. Don't miss out on the opportunity to own a watch that seamlessly blends vintage charm with modern sensibilities. Invest in the Invicta Men's Vintage 39033 Quartz Watch today and elevate your wrist game to new heights.