When it comes to luxury watches, few names evoke as much prestige and admiration as Rolex. With a legacy stretching back over a century, the Swiss watchmaker has become synonymous with exceptional craftsmanship, timeless design, and uncompromising quality.
The Rolex Day-Date Sundust Diamonds 228235 is a shining example of this legacy, combining cutting-edge technology with exquisite aesthetics and unparalleled accuracy. In this review, we will take a closer look at this iconic timepiece, exploring its features, performance, and overall value proposition.
Design and Aesthetics
One of the first things that strikes you about the Rolex Day-Date Sundust Diamonds 228235 is its stunning visual appeal. The watch boasts a sleek and sophisticated design that exudes luxury and refinement from every angle. The case is crafted from 18-karat Everose gold, a proprietary alloy developed by Rolex that offers superior resistance to wear and fading.
At the heart of the watch is a sunburst sundust dial that shimmers like a precious gemstone in the light. The dial is adorned with diamond hour markers, adding an extra touch of glamour and sophistication to the design. The hands and indices are coated with Chromalight, a luminescent material that ensures optimal legibility even in low-light conditions.
The president bracelet is another hallmark of the Rolex Day-Date collection, featuring three semicircular links that provide both comfort and style. The hidden Crownclasp adds a seamless finish to the bracelet, completing the watch's elegant and refined appearance.
Overall, the Rolex Day-Date Sundust Diamonds 228235 is a masterpiece of design and aesthetics, combining classic elegance with contemporary flair in a way that is uniquely Rolex.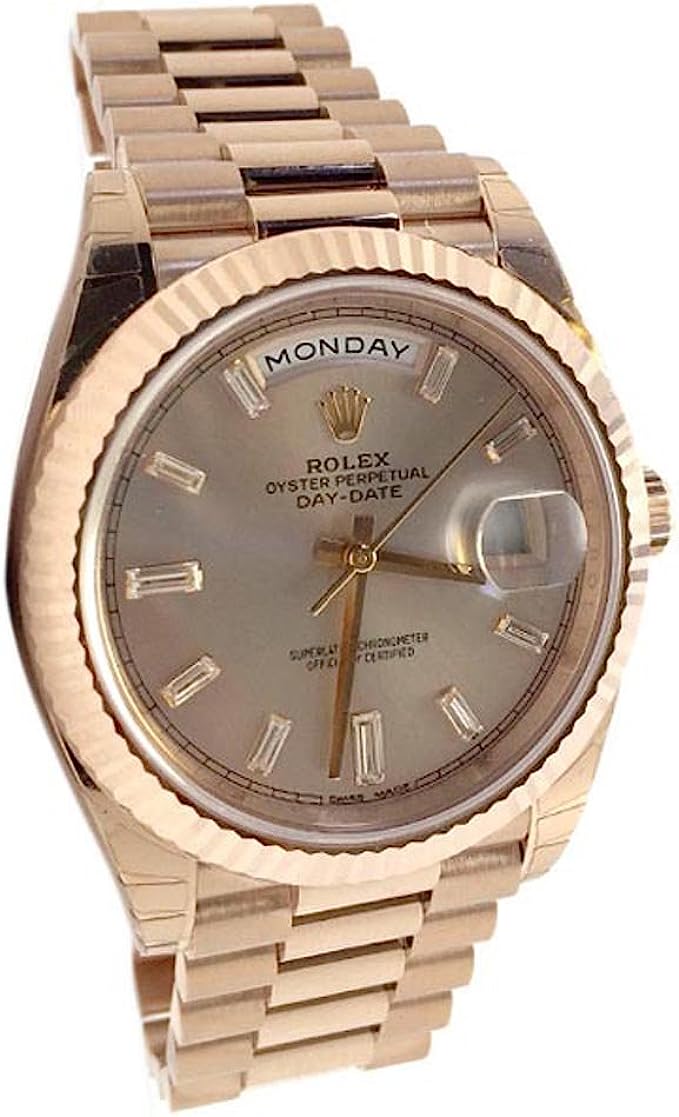 Features and Technology
Beyond its stunning looks, the Rolex Day-Date Sundust Diamonds 228235 is packed with cutting-edge features and technology that make it a true powerhouse of performance. Here are some of the key highlights:
Calibre 3255 Movement
At the heart of the Rolex Day-Date Sundust Diamonds 228235 is the Calibre 3255 movement, a state-of-the-art mechanical movement that sets new standards for precision and reliability. The movement boasts 14 patents and over 70 hours of power reserve, ensuring that the watch runs smoothly and accurately for days on end.
The movement also features Rolex's patented Chronergy escapement, which optimizes energy efficiency and reduces friction to enhance accuracy and longevity. The oscillator is equipped with a blue Parachrom hairspring, which is highly resistant to shocks and temperature variations, further improving the watch's precision and durability.
Day and Date Display
The Rolex Day-Date collection is known for its unique day and date display, which shows both the day of the week and the date in two separate windows on the dial. The display is available in 26 languages, making it a truly global timepiece.
The day and date change precisely at midnight, thanks to the instantaneous mechanism developed by Rolex. This mechanism ensures that the watch maintains optimal accuracy even during the transition between days.
Waterproof and Shockproof Design
Like all Rolex watches, the Day-Date Sundust Diamonds 228235 is built to withstand extreme conditions and rough use. The watch is waterproof up to 100 meters, making it suitable for swimming and snorkeling. The case is also equipped with a Twinlock winding crown, which provides double waterproofness protection, and a screw-down caseback, which enhances the watch's shock resistance.
Superlative Chronometer Certification
The Rolex Day-Date Sundust Diamonds 228235 is certified as a Superlative Chronometer, a designation that signifies its exceptional accuracy, precision, and reliability. The certification is awarded by the Swiss Official Chronometer Testing Institute (COSC), which tests each watch rigorously under various conditions to ensure that it meets the highest standards of performance.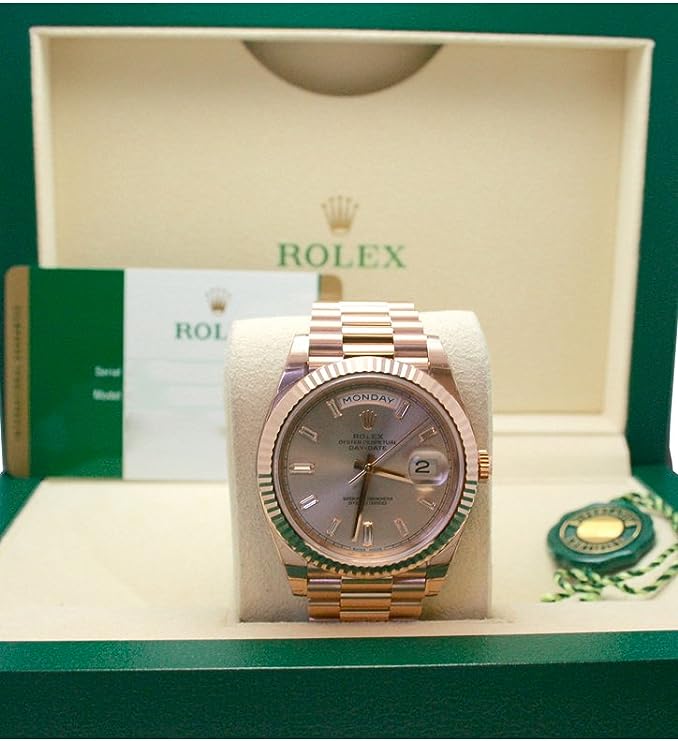 Performance and Value
With its unmatched blend of design, features, and technology, the Rolex Day-Date Sundust Diamonds 228235 is a timepiece that delivers outstanding performance and value. The watch is priced at the upper end of the luxury watch market, reflecting its exceptional quality and craftsmanship.
For collectors and enthusiasts who appreciate the finer things in life, the Rolex Day-Date Sundust Diamonds 228235 represents an investment in style and elegance that will endure for generations. As with all Rolex watches, this timepiece retains its value exceptionally well over time, making it a smart choice for those seeking a long-term investment.
Final Thoughts
In conclusion, the Rolex Day-Date Sundust Diamonds 228235 is a remarkable timepiece that embodies the best of what Rolex has to offer. With its exquisite design, cutting-edge technology, and unparalleled performance, this watch is truly in a league of its own. If you are looking for a watch that combines style, elegance, and functionality in away that is uniquely Rolex, then the Day-Date Sundust Diamonds 228235 is certainly worth considering.
While it may be out of reach for many buyers due to its high price point, for those who can afford it, this watch is an investment in luxury and prestige that will hold its value for years to come. With its exceptional craftsmanship, attention to detail, and superior performance, the Rolex Day-Date Sundust Diamonds 228235 is a timepiece that truly stands the test of time.
Whether you are a collector, an enthusiast, or simply someone who appreciates the finer things in life, the Rolex Day-Date Sundust Diamonds 228235 is a watch that is sure to impress. Its timeless design, cutting-edge technology, and outstanding performance make it a true masterpiece of horology, and one that will be admired and cherished for generations to come.